Bacchus here, god of wine and all earthly pleasures.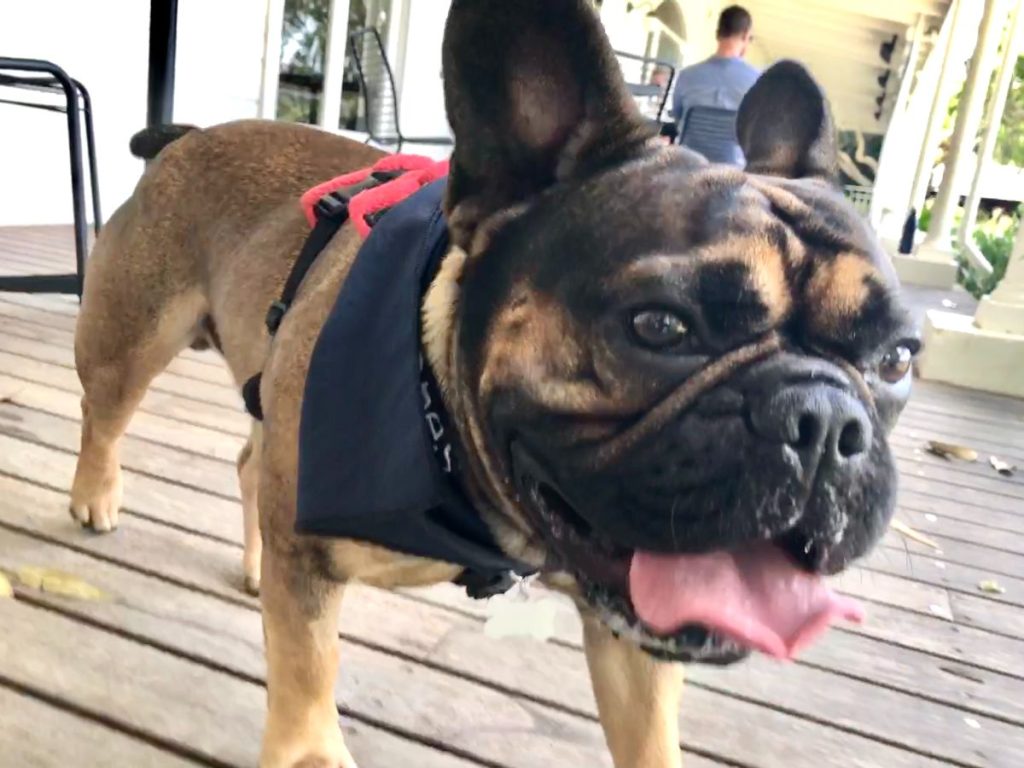 I'm en route to my new home in NZ, from my old home in London, via Abu Dhabi and now house-sitting in Melbourne!  Exhausted?  You bet I am.  No expense has been spared in relocating me from the Mother country to the Land of the Long White Cloud.  I'm costing my Mum a small fortune, a sum befitting for a god!
Now that I'm out of beastly quarantine (no wine in there let me tell you!) my Mum and I decided to celebrate with a wine tour with my uncles (Lorraine, Cory & Mik).  Fortunately, we found a pawesome business that does private wine tours of the Yarra Valley, just for God-dogs like me. Oh and Nina, the wiry one (see below).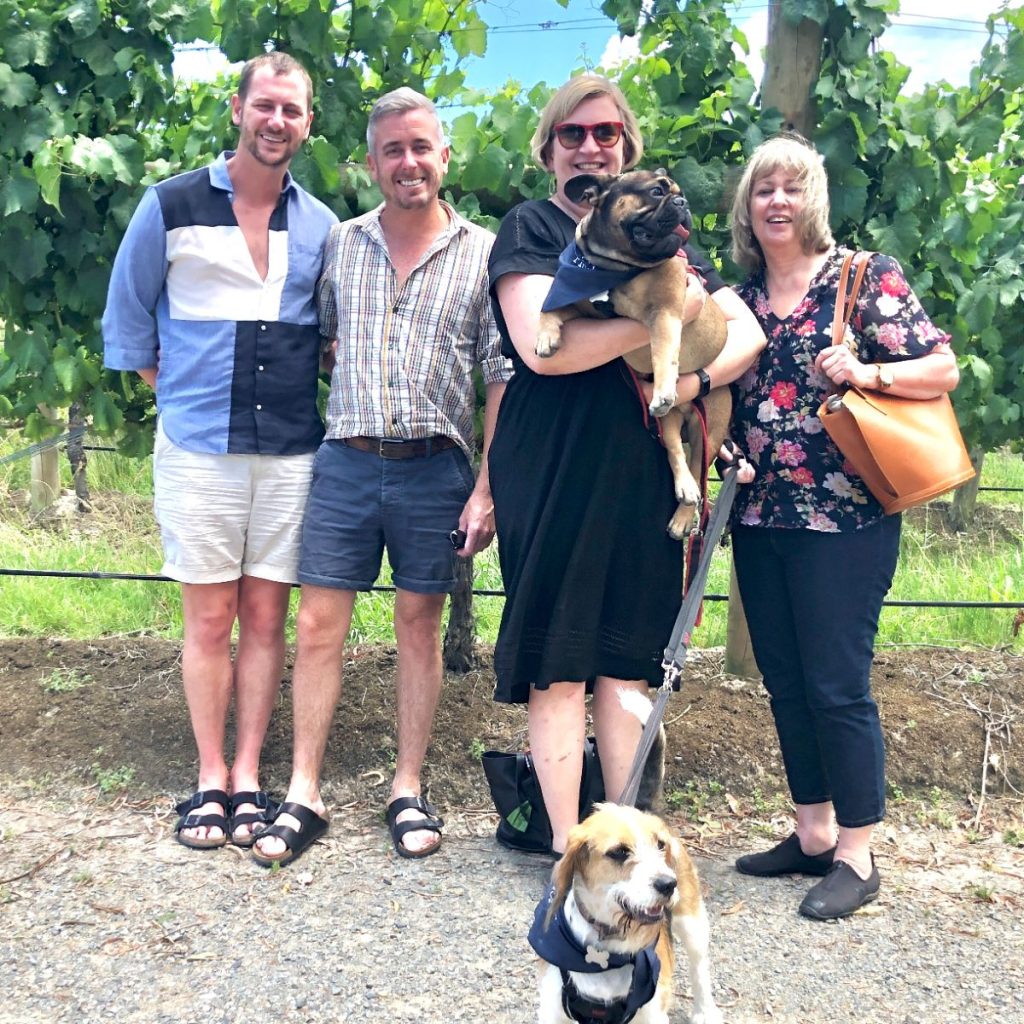 We somehow managed to choose the hottest day of the year (hotter than Hades in true Bacchanalian style) but were picked up from our digs in Brunswick by a Black Mercedes with air con and cool drinks in the fridge.  Jeff was our staffer for the day and he was very well-behaved, (aside to camera, he came with a pocket full of high-end dog treats, so got my vote very early on in the piece).
When it came time to decide where to sit in our Black Mercedes, I naturally chose the prime viewing position in with the humans and relegated Nina, my small wiry helper, into 3rd class.  Here we are with my uncle, before we put her in steerage.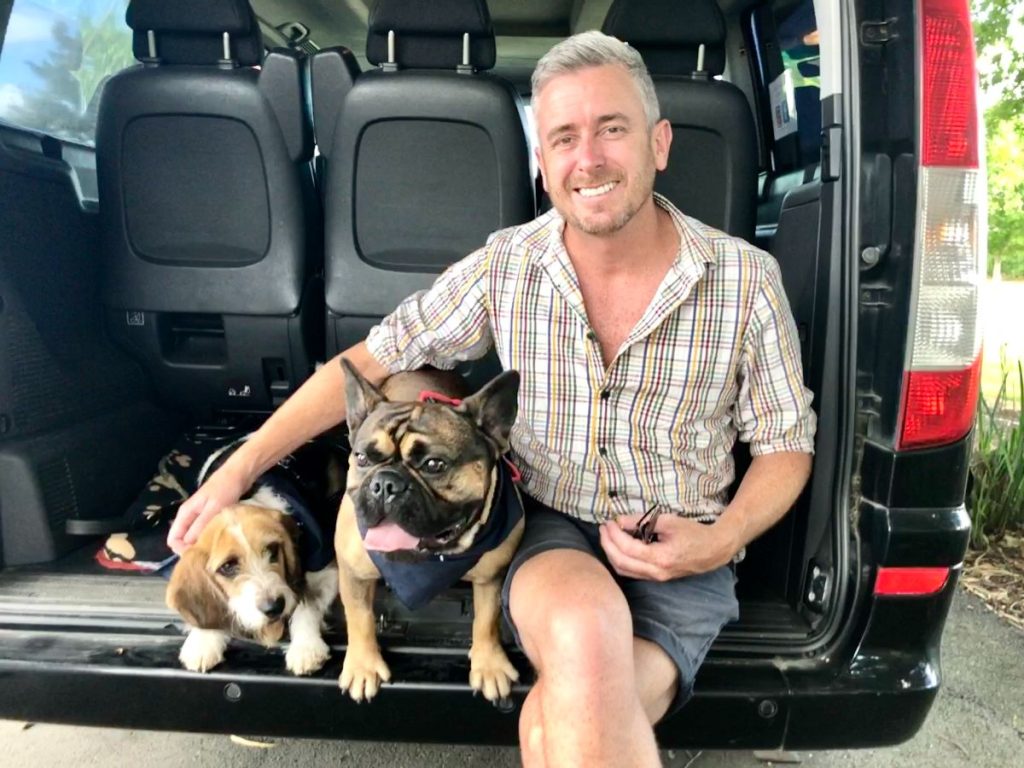 We set off towards our first winery, Rob Dolan on the outskirts of the Yarra Valley.  Now, I should explain, I'm what you might call a MASSIVE fan of wineries, cellar doors, wine bars, bottle shops, really any venue that sells booze – and I have been known to literally drag my Mum into one or two!  Sorry, I digress, back to our tour, before you could say 'Booze Hound' we found ourselves seated at a table on a beautiful shady verandah overlooking gardens and fountains being looked after like the VIPs that we are, by Mitch the cellar door manager.  Wines were poured into glasses for my humans, while exceptionally good Yarra Valley water was poured into a bowl for me.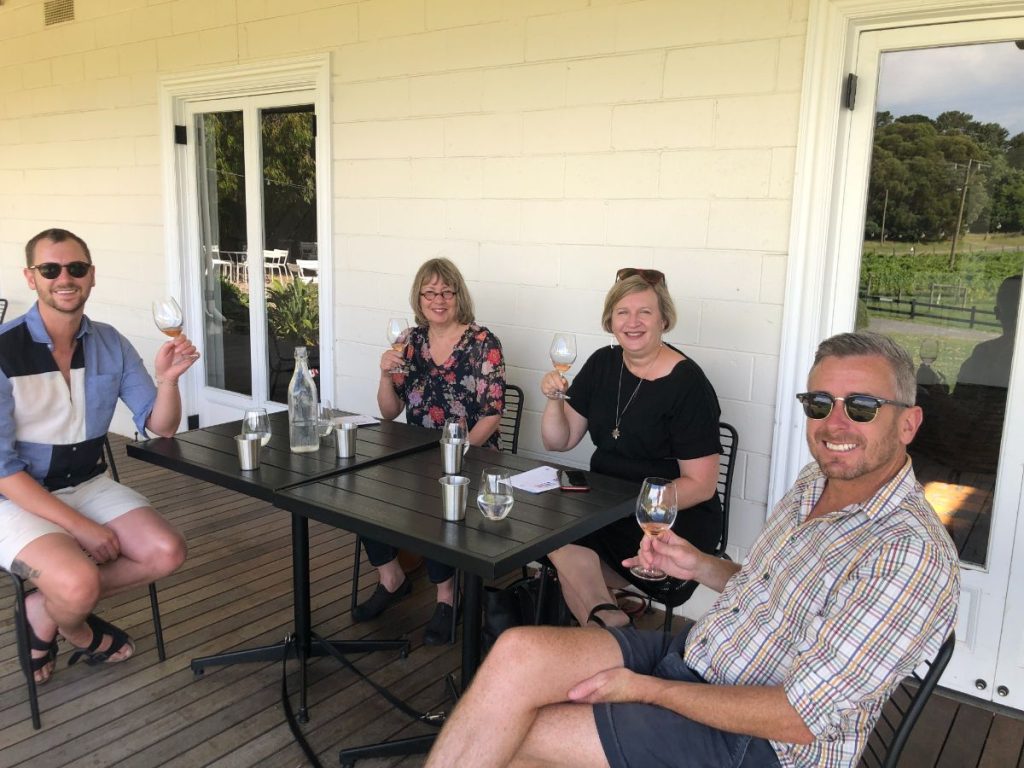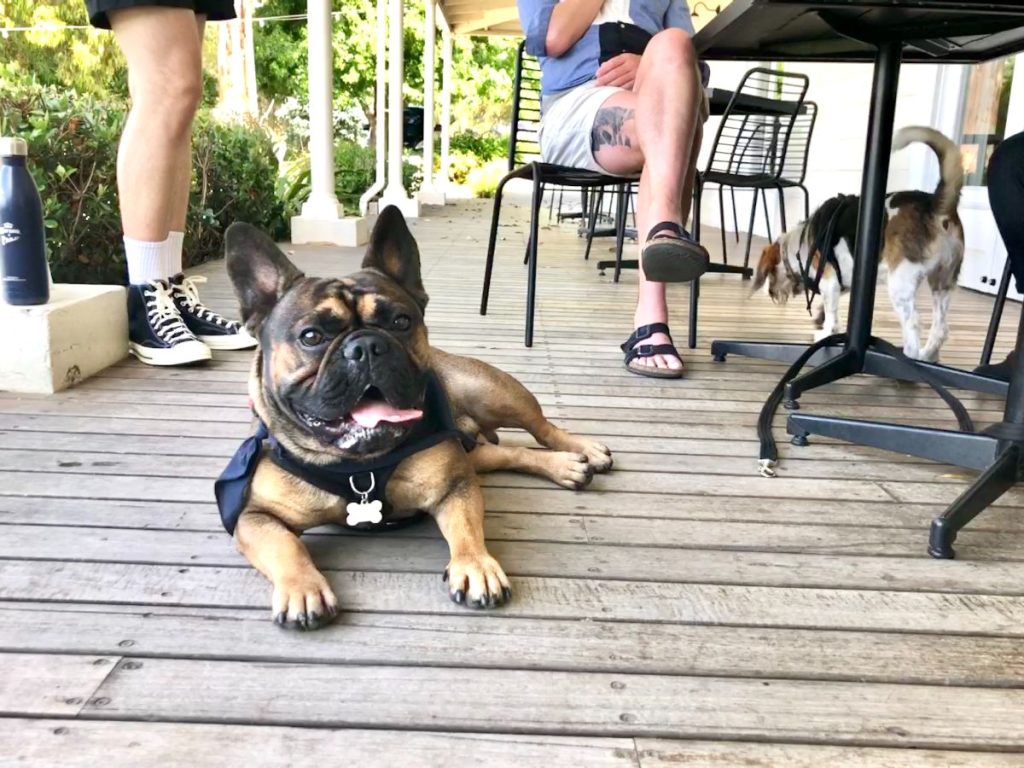 After a few minutes, I felt a sudden attack of the zoomies coming on, as did my underling Nina and off we went, tear-arsing around the grounds as Jeff looked on, impressed!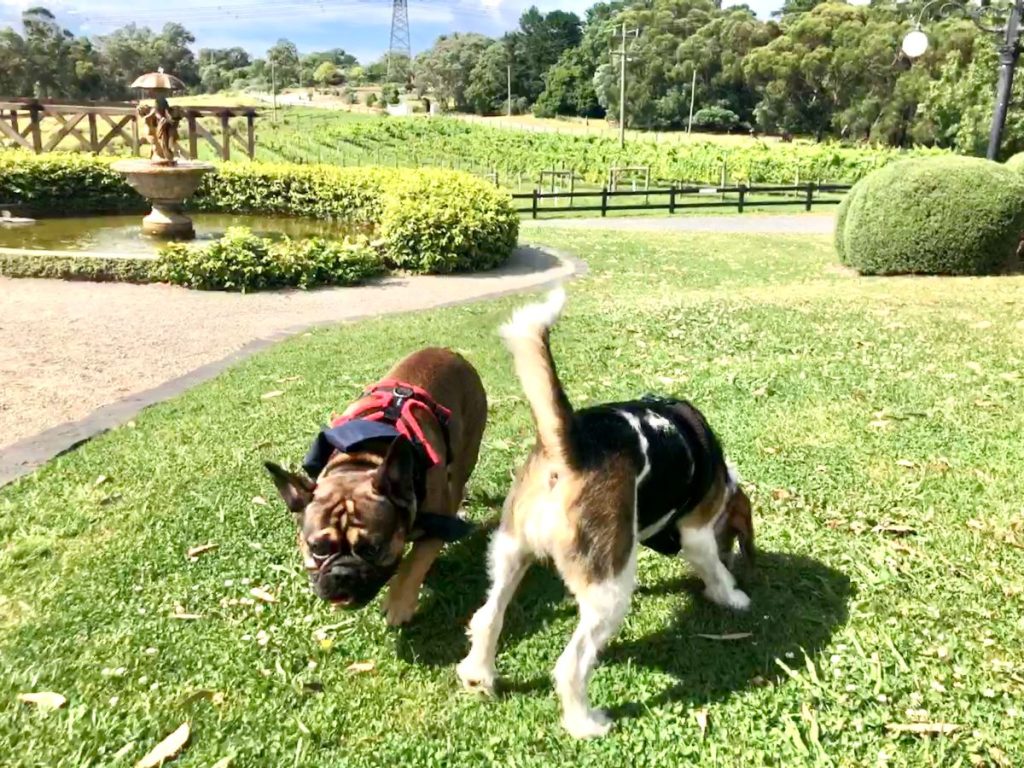 Having exhausted ourselves, we were by now ready for a rest in the van and I spotted that someone had very thoughtfully put a bed in the back for me, so I joined Nina and we snored our little faces off all the way to Punt Road.
Given my considerable wine knowledge, I'm very content sitting on my Mum's knee listening to my humans discussing wine with cellar door hands –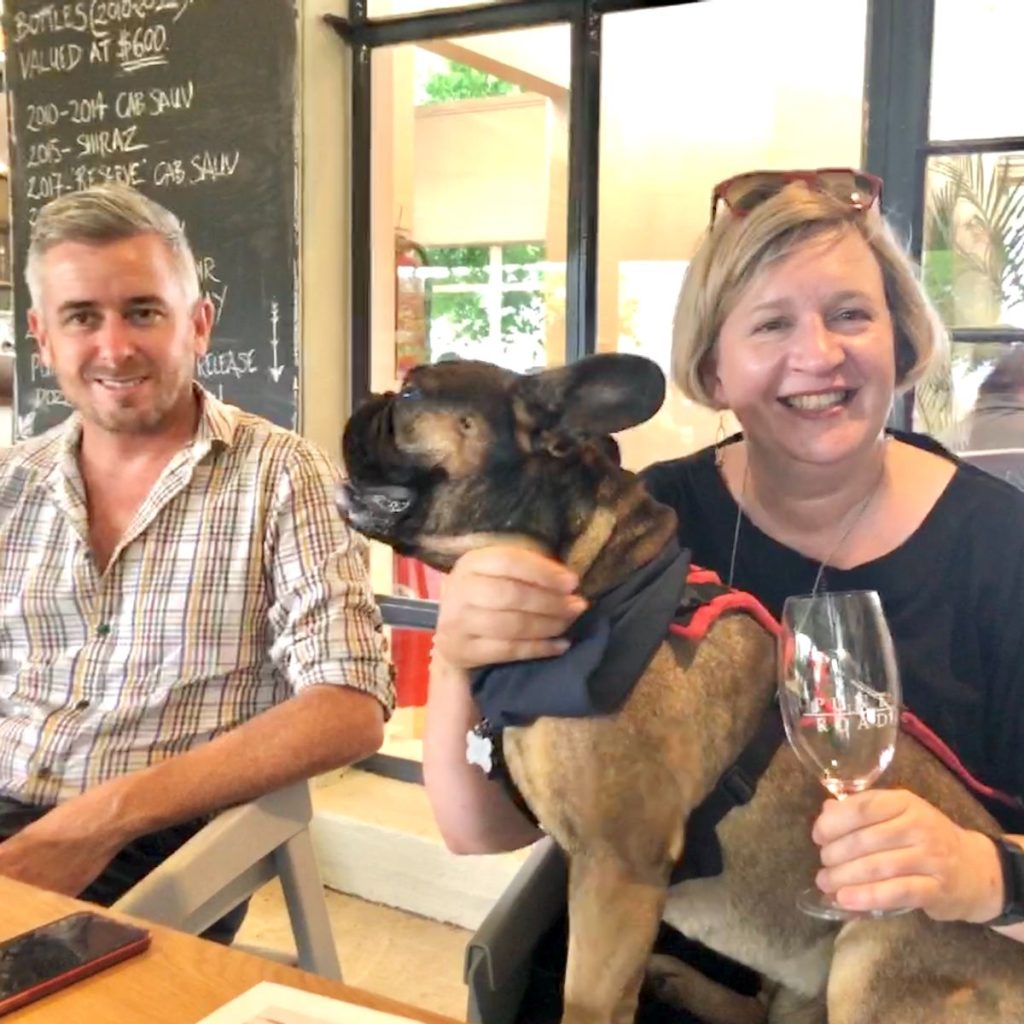 but Nina bless her has a lot to learn about decorum, and shortly after this photo was taken, got bored and started to shout to anyone who'd listen, so Jeff swiftly removed her from the cellar door and took her for a walk to look at apple trees which she loved because she's simple like that!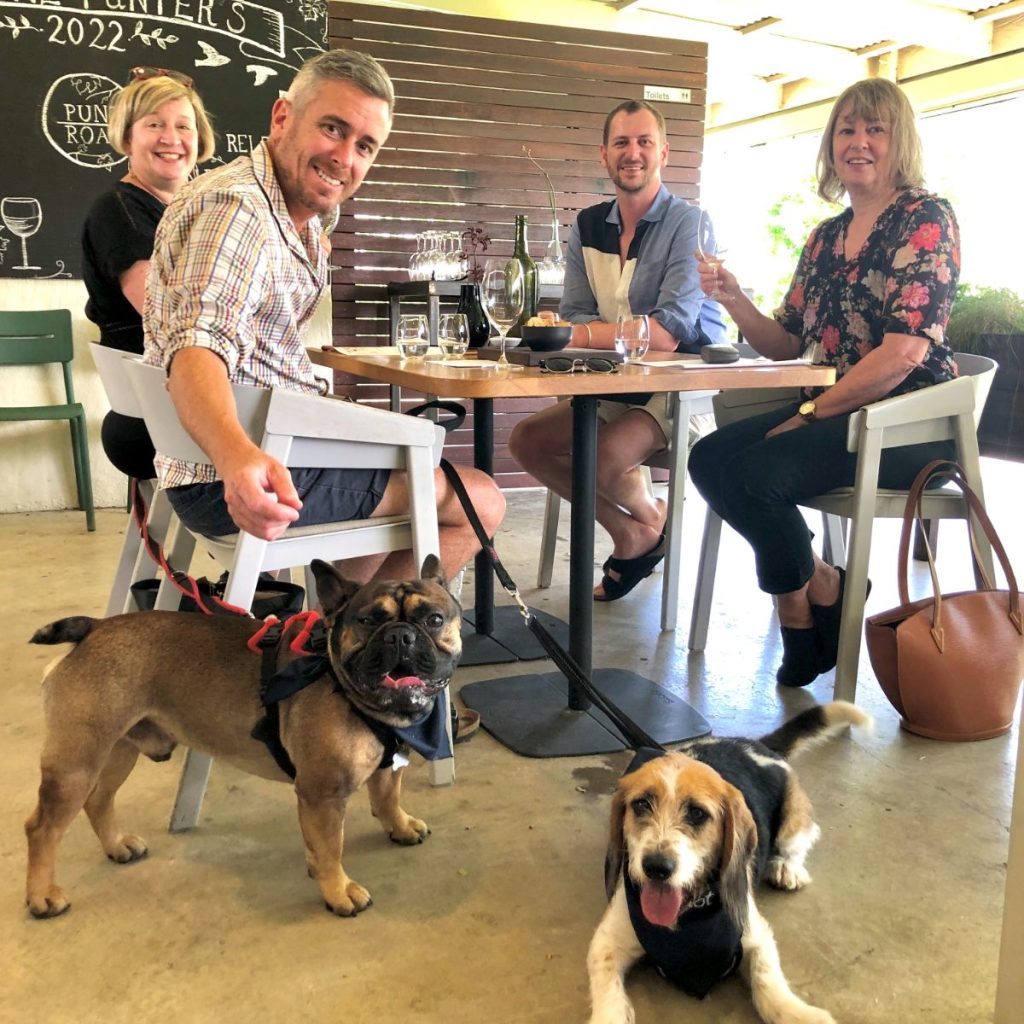 By now it was really time for the humans to eat something, so Jeff took them to Helen's Hill winery for lunch and another wine tasting.  They had a scrumptious platter followed by pizza which was delicious by all accounts, but I bet it wasn't a patch on the Laila & Me treats I was scoffing, which Jeff was handing out like lollies. I even let Nina have the odd one.  Altho' her behaviour was yet again less than seemly, so once again she was removed from the premises and taken off for a walk by one of my uncles.  Honestly, whose idea was it to even bring her?  Talk about trouble.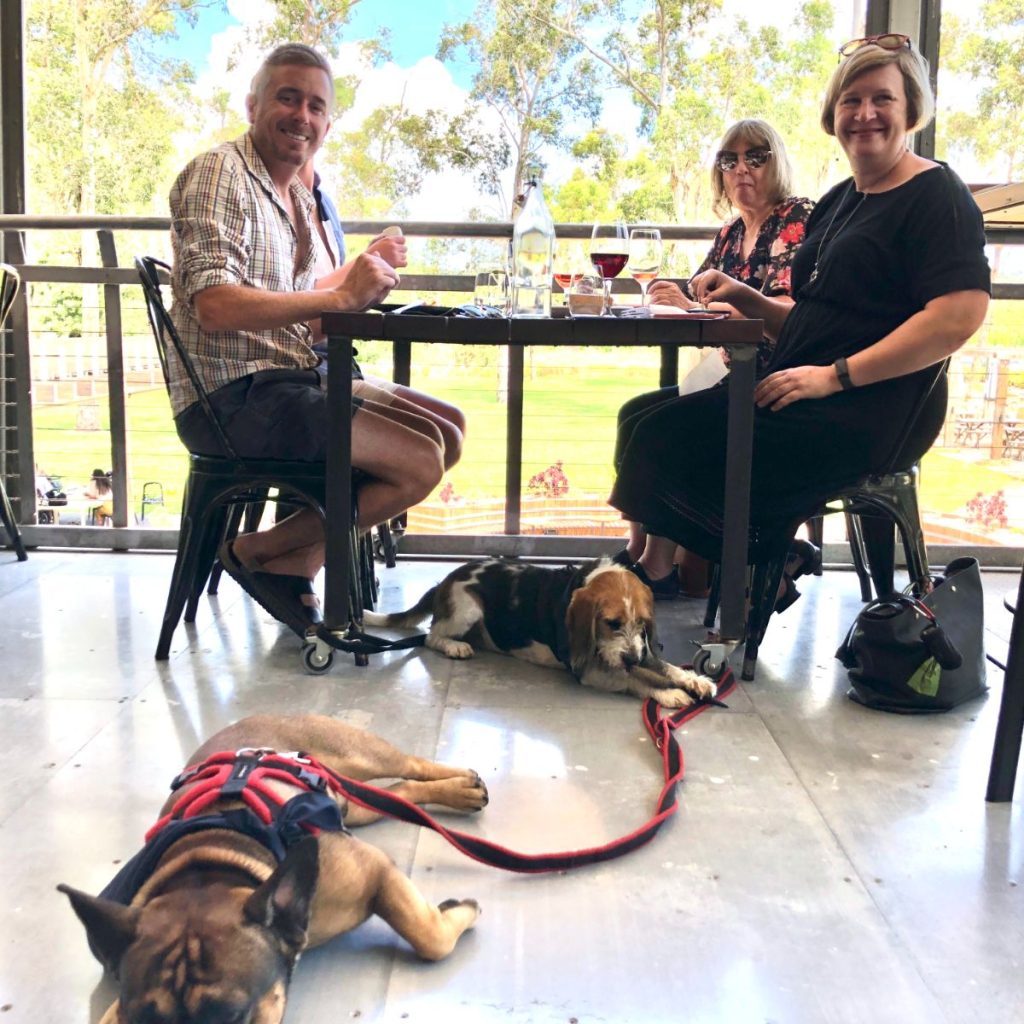 Jeff thought he'd trick things up for the humans after lunch and took them into Healesville to Four Pillars for a gin tasting paddle.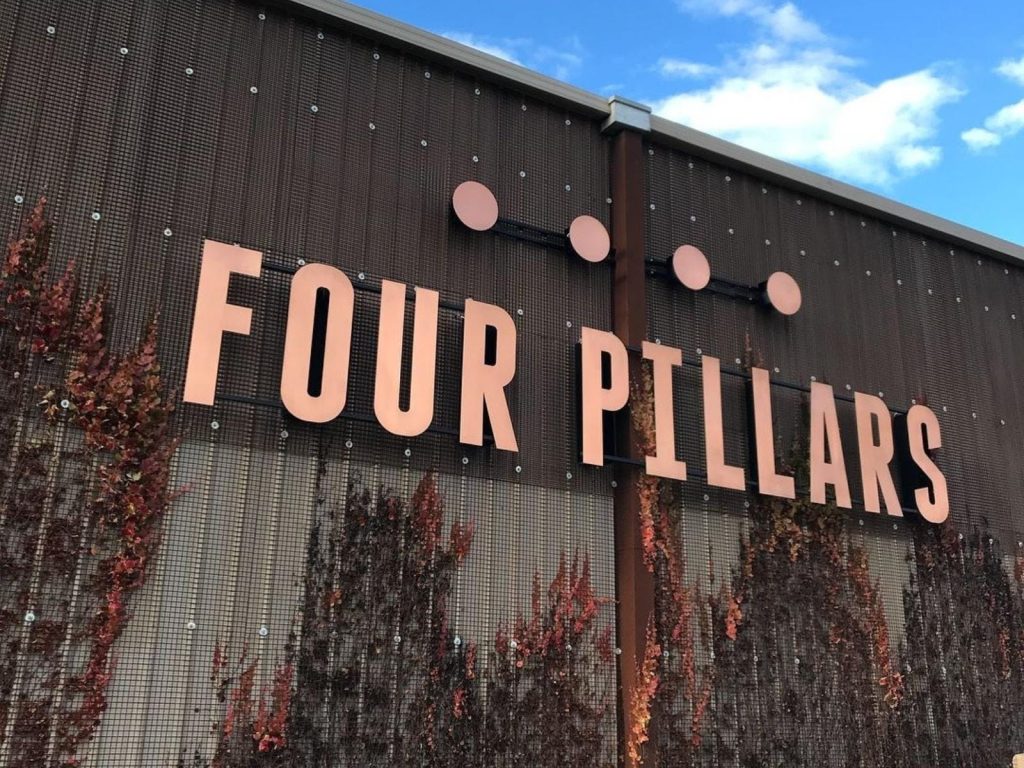 Now, as God of wine and all earthly delights, you might think gin would be right up my alley, but I'm not a fan, so I took Jeff off for a walk at a local park and Nina of course tagged along.  It was a lovely spot, walking along under the trees with the Watts River babbling away on one side of me, and sadly Nina inanely babbling away on the other (!)
When my Mum and uncles FINALLY came out of Four Pillars (I later learned Mum had moved onto cocktails – shakes head slowly – dangerous territory people!) they found Jeff, Nina, and me sitting there politely exhibiting god-like patience (Nina excluded of course).  And then hurrah – Jeff declared it was time for yet more wine, he was truly entering into the spirit of bacchanalia!
This time the revelry continued at Oakridge, in their cellar door.  Here I am about to take Mum inside.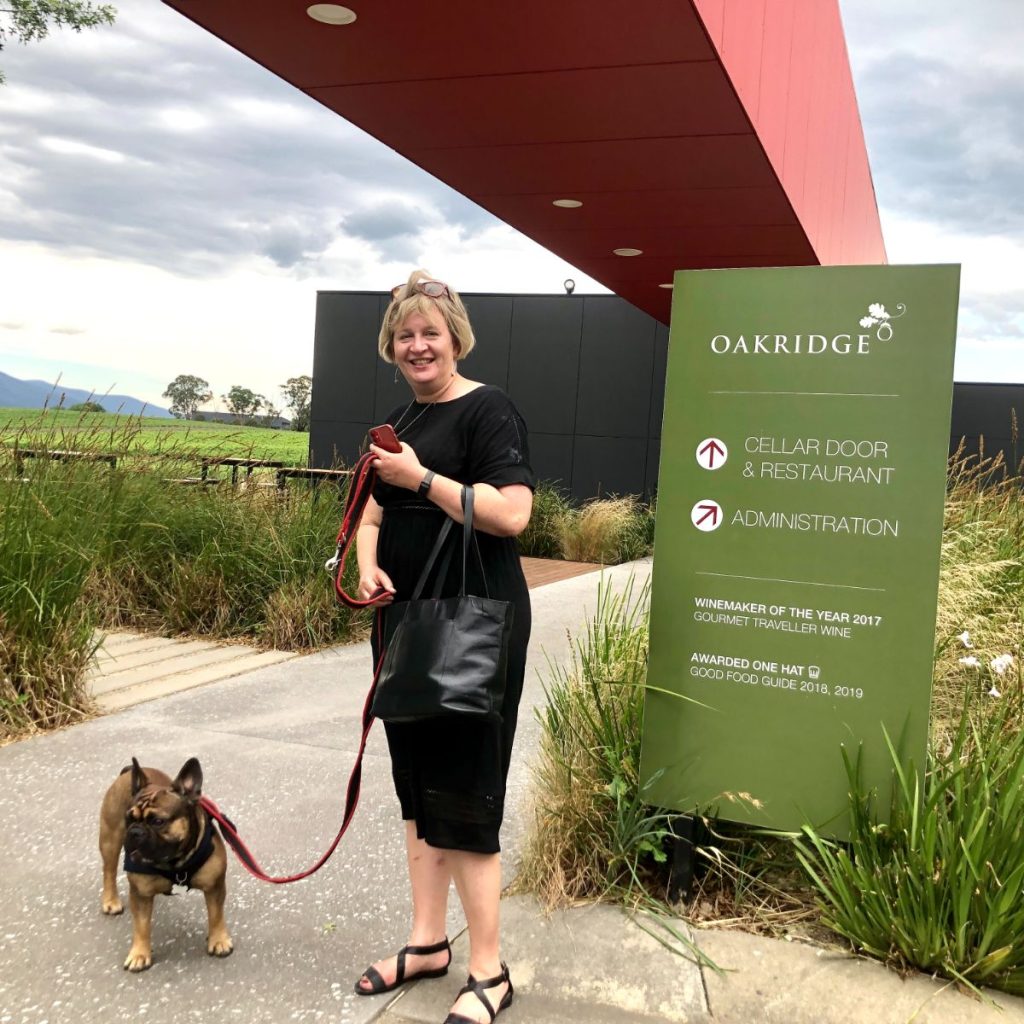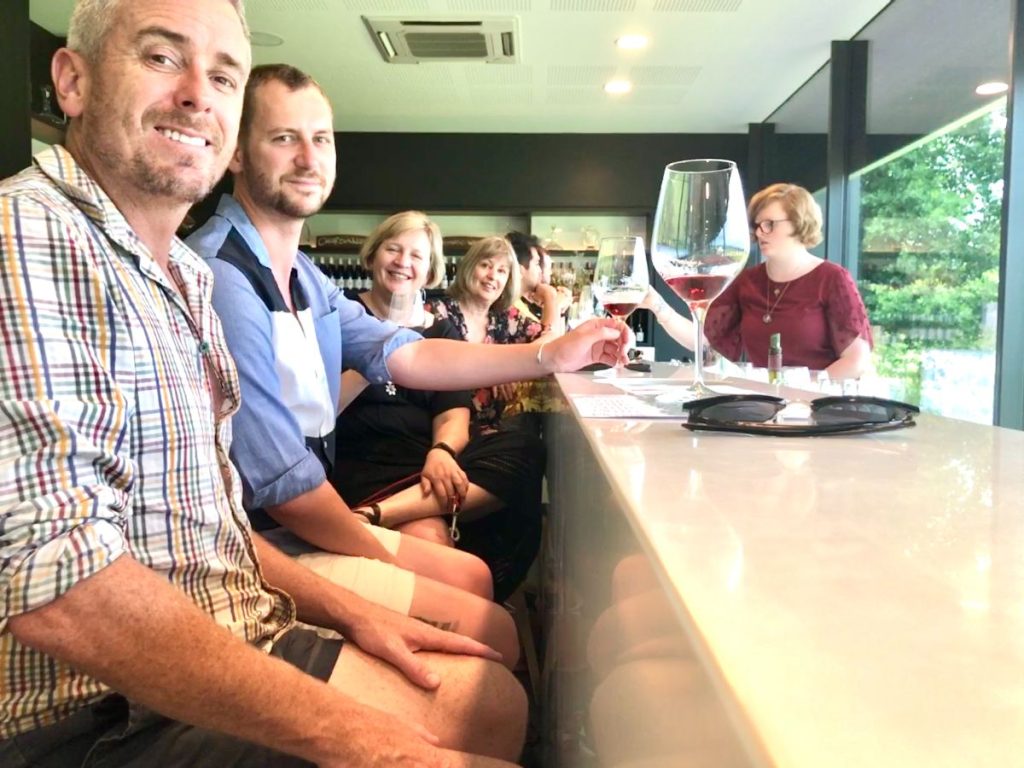 Everyone loved their wines, particularly their Willowlake chardonnay, and we all enjoyed hearing the stories of the history of the Yarra Valley, about when the vines were first planted and then how during the war it reverted back to grazing, and then in the 70s, the resurgence of grape planting courtesy of the four Doctors.  I may look like I was staring longingly at a wine barrel, hoping it might leak some wine my way, but really I was listening intently.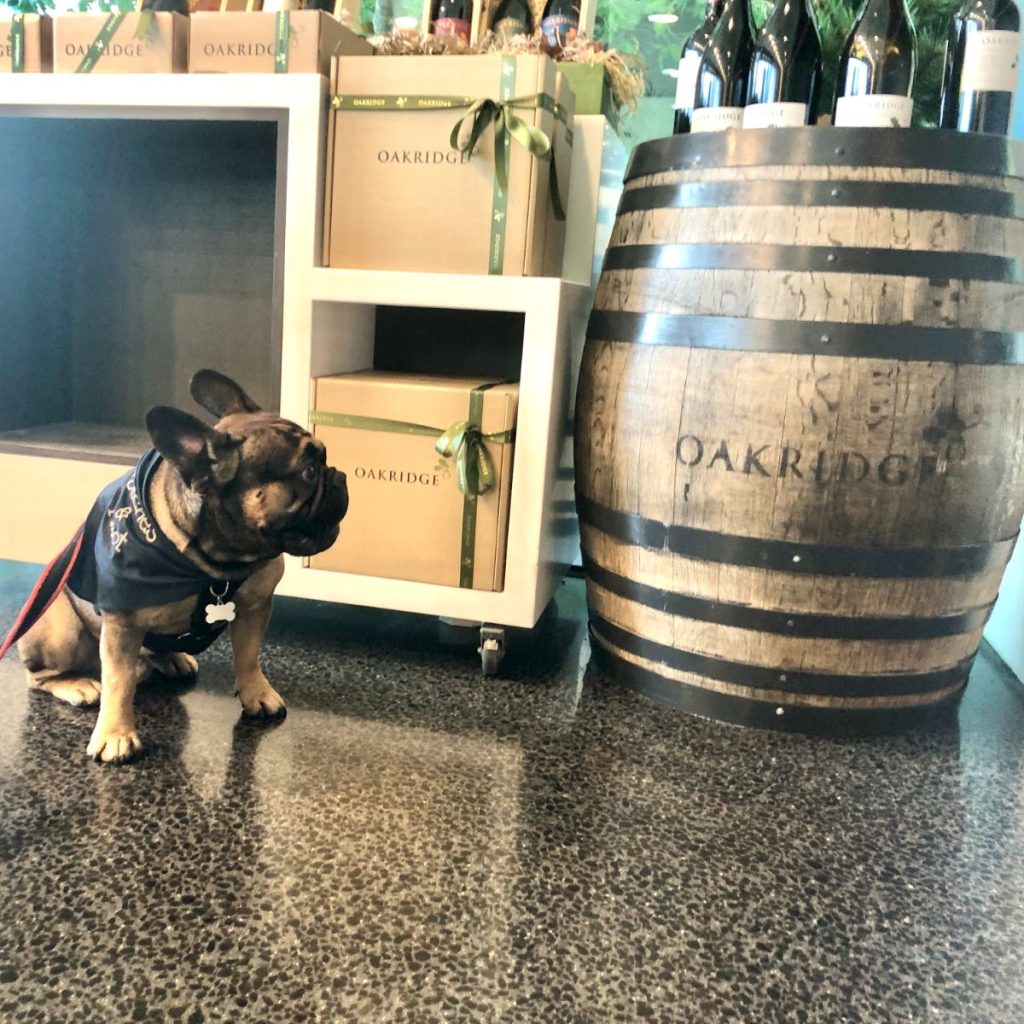 After my humans had had their fill of wine, we all piled back into the van for the drive back to Brunswick.  Look at my Mum bless her, trying to get into the back with me and Nina!  After some persuading, she agreed to travel with the other humans!!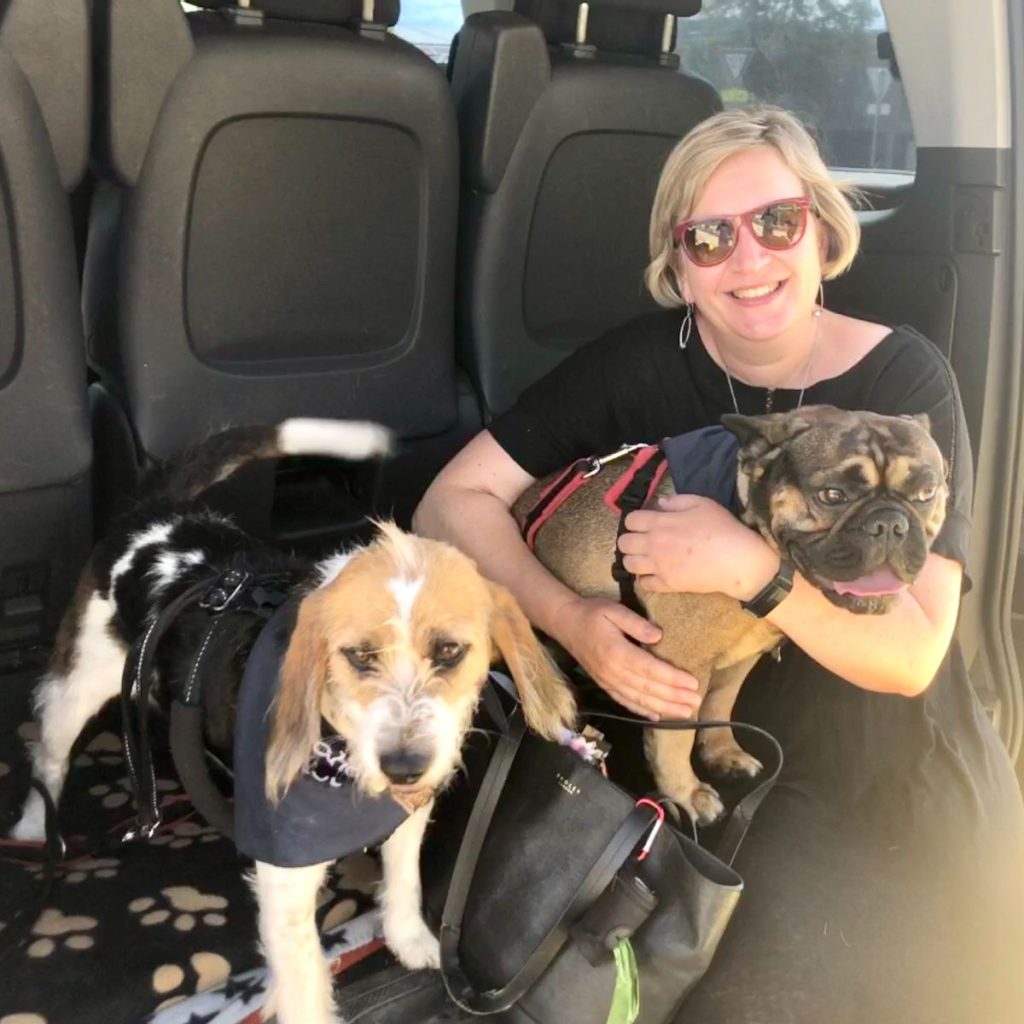 And as Jeff drove us home and the humans chatted and laughed and helped themselves to drinks and treats from their treat box, I dreamt of starting my own dog-friendly wine tour company when I get to my new home in New Zealand.  I figure all I need to do is learn to drive.
And seriously folks, if Jeff can get the hang of it, I'm sure I'll be just fine!