Hi peeps. I'm Alfie, I'm an English Springer Spaniel and I love birds, (OMG, maybe I WAS named after Michael Caine's unrepentent bird chasing character in that film, after all?!).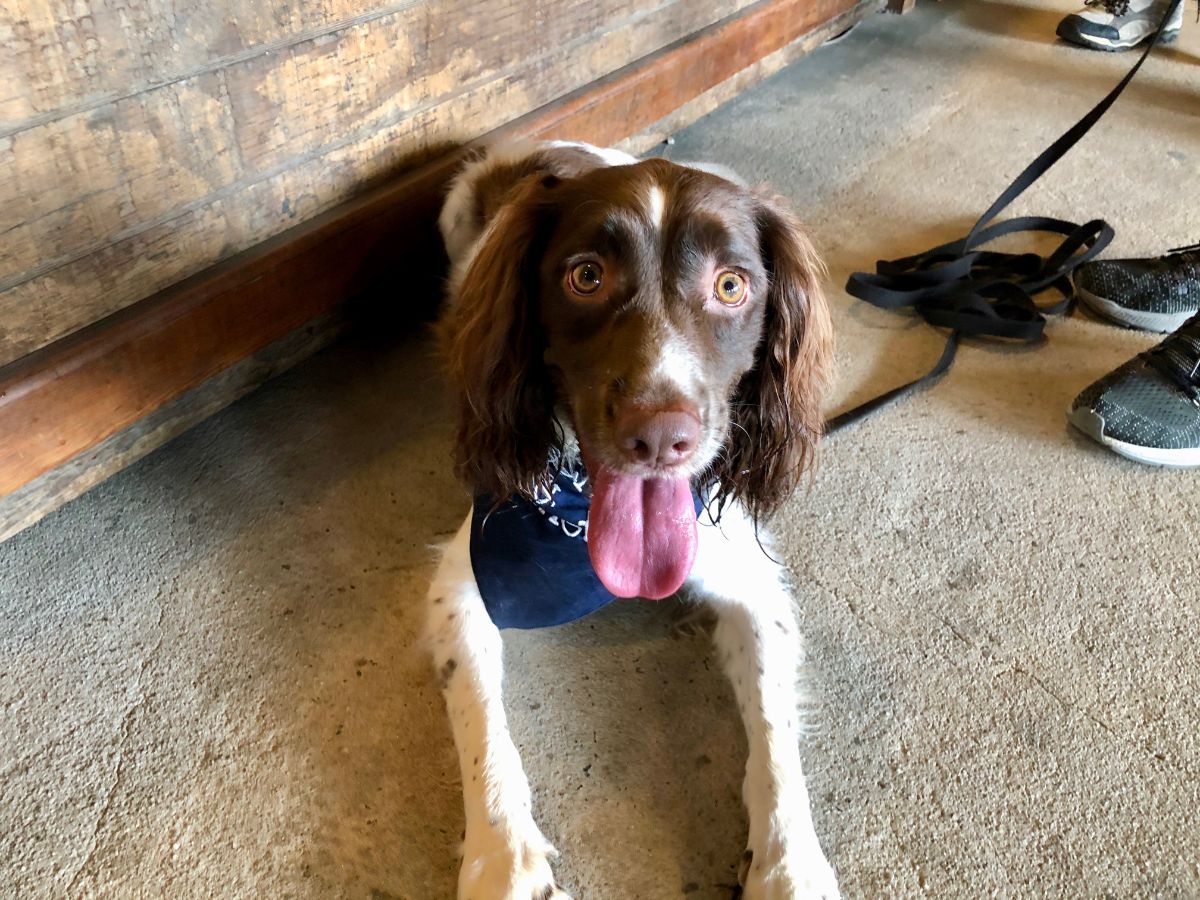 I'm not very old, and boy have I got some energy to burn. Especially after nine hours in the car to get here, so look out Yarra Valley!  No, we didn't get lost, we just drove from an awfully long way away.
I'll explain – my pawents Bernie and Rachel live with me in my house in the Illawarra region and our mates Trevor and Jill used to live nearby, but then one day they went and moved to Tasmania, (you're looking quizically at me, it's a backward little island off the coast somewhere apparently, that's all I can tell you).
And so they all decided to meet up in the Yarra Valley for a holiday together and naturally brought me along for the ride.
A dude called Jeff picked us up from our 'accom' (a very cool place called YAMA KI in the middle of a massive forest, the smells there were out of sight baby).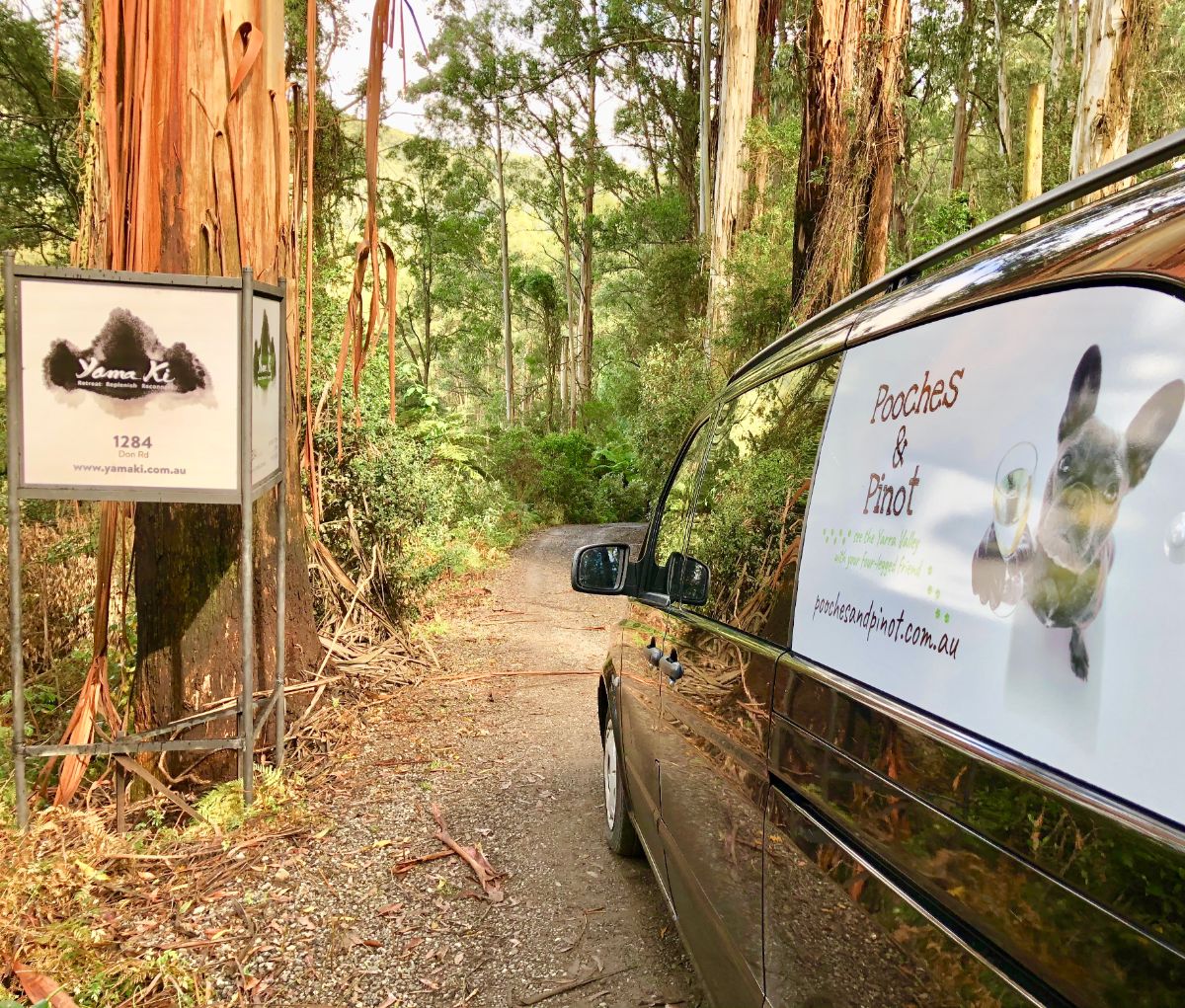 And don't get me started on the birds!!!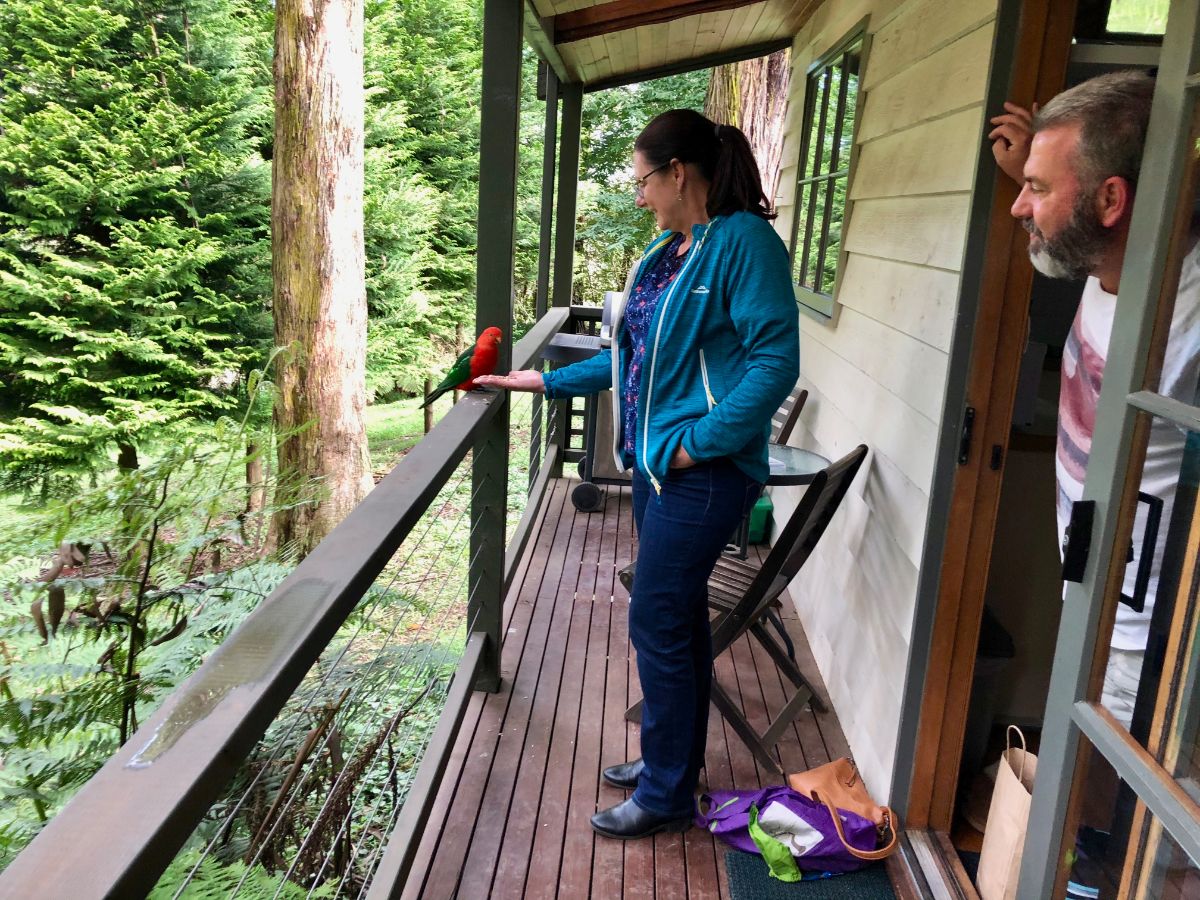 and he took us to our first winery for the day.  Now this whole visiting winery business is new to me, so bear with me, I'm just gonna fake it till I make it, OK?
Helen's Hill it was called and it is awesome, we walk into this great big room and a cool chickybabe named Greta looked after us and showed us her grapes (Pinot I'll have you know).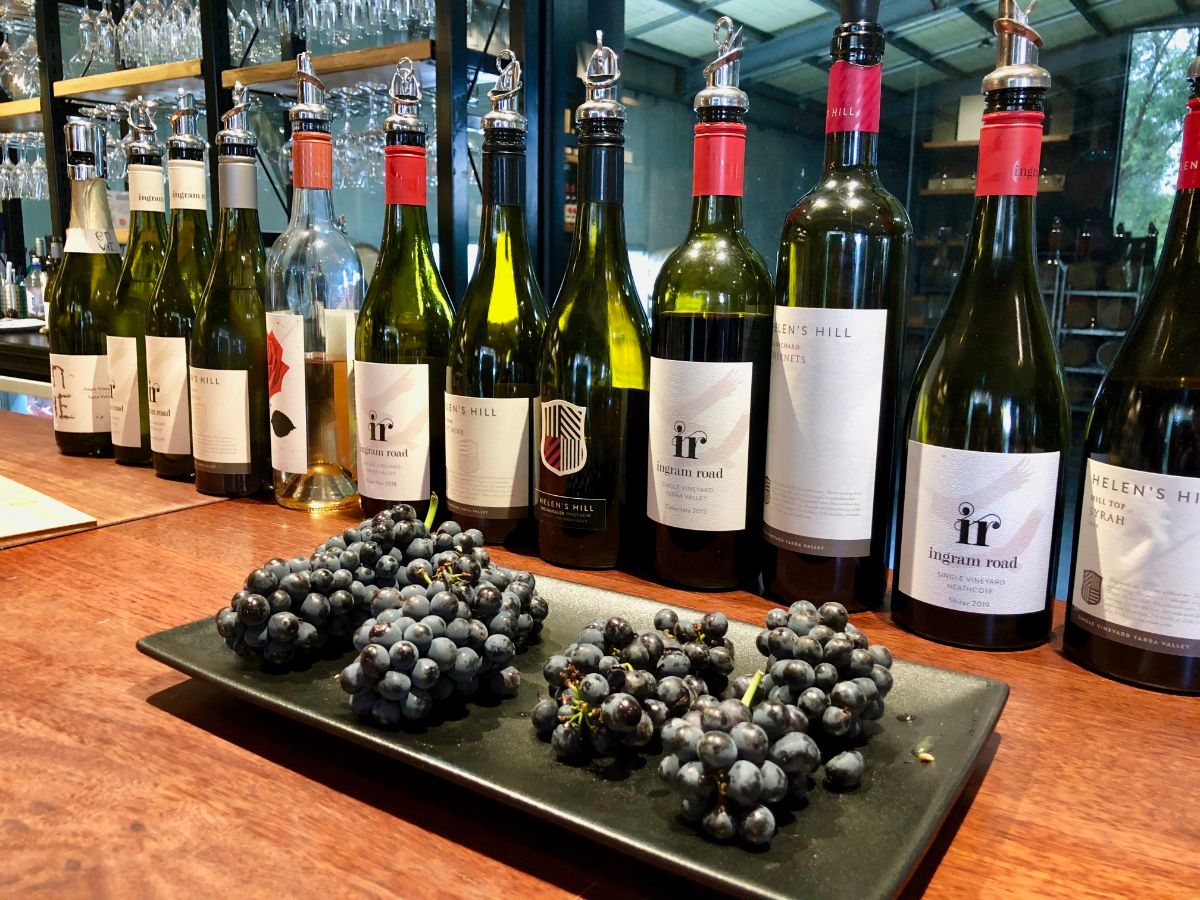 and then gave everybody a lot of wine.  They even got to try some that weren't on the list.  Yes, there's a list.. keep up!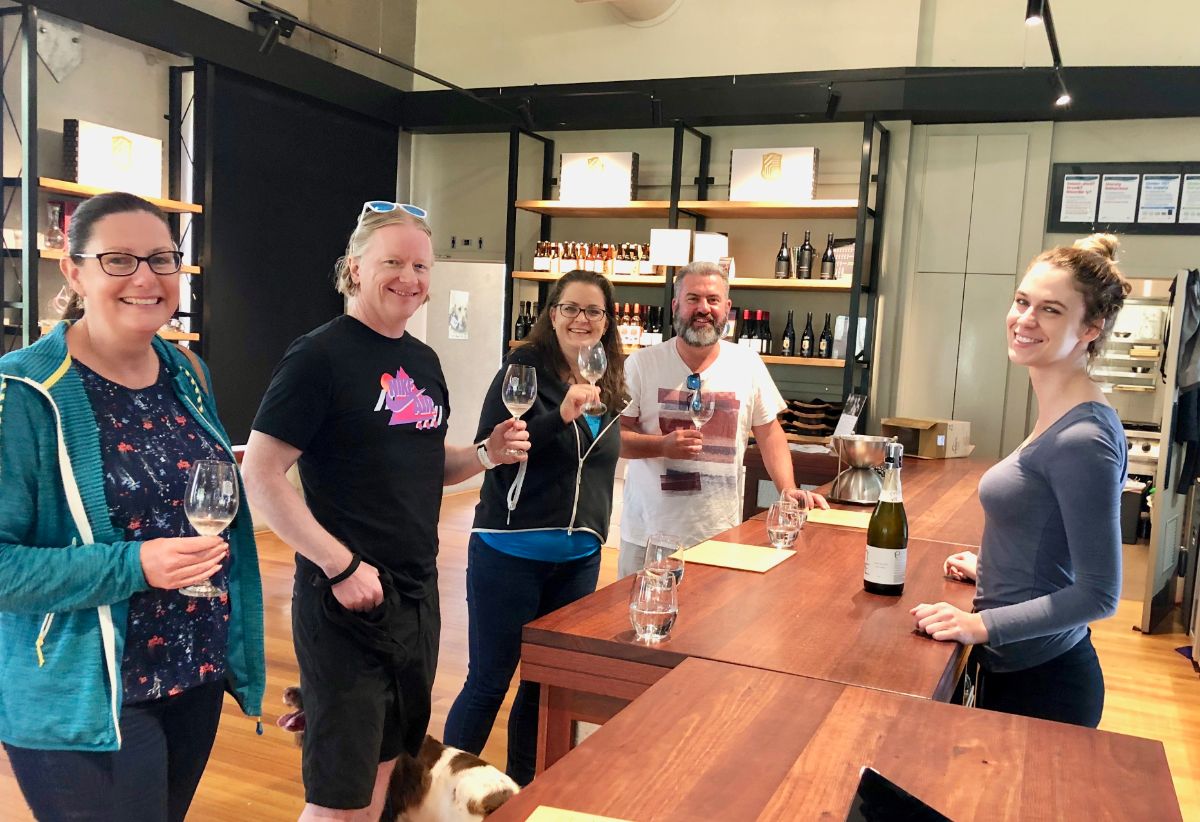 My folks bought some of the stuff as did Trev and Jill and then we had a look at some grapes outside before we got back in the van.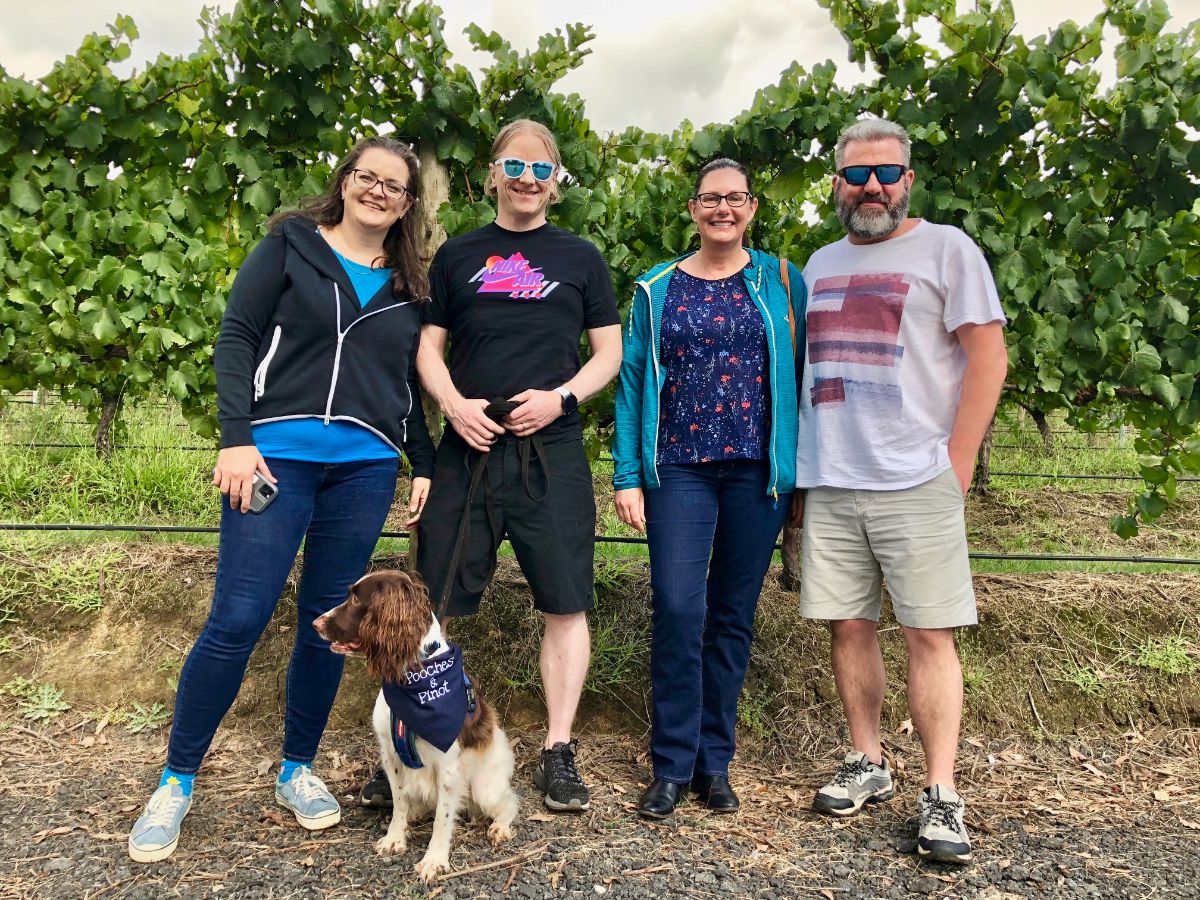 Now, did I mention the van yet?  Man, it's like a total mafia staff car, an all black shiny Mercedes with dark glass, no doubt bullet prooff.  We felt like de Niro.  Well, I did.  And I spoke with an Italian New Yorker accent all day and did quite a lot of posing by it, so people'd think it was mine.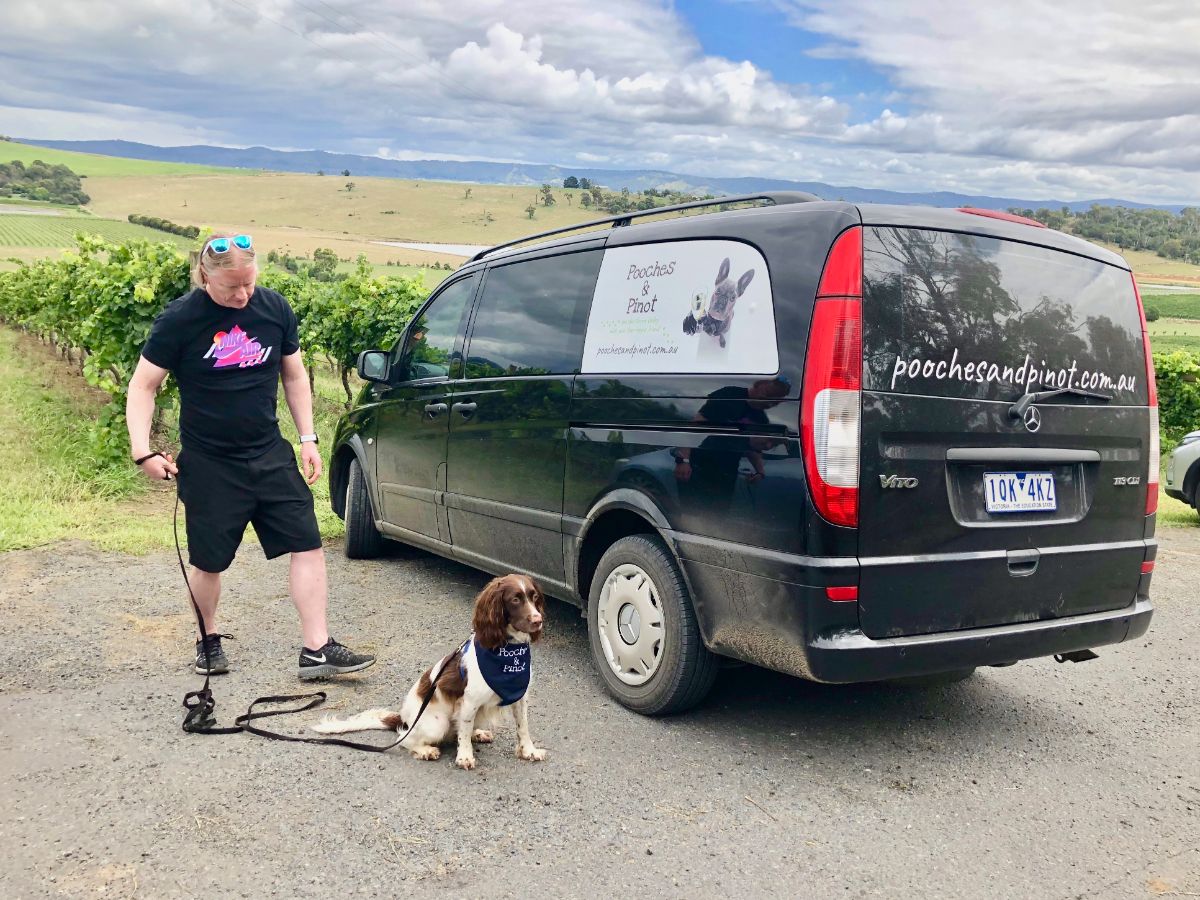 Next we went to a place high up on a hill (don't panic, there were no lonely goat herds) with fantastic views and more lovely wine, it was called Helen and Joey's.  Everyone was rather taken with a wine tehy tasted called Serendip which was a shiraz/pinot blend I think you'll find (look at me paying attention).  Not just a Silly Springer.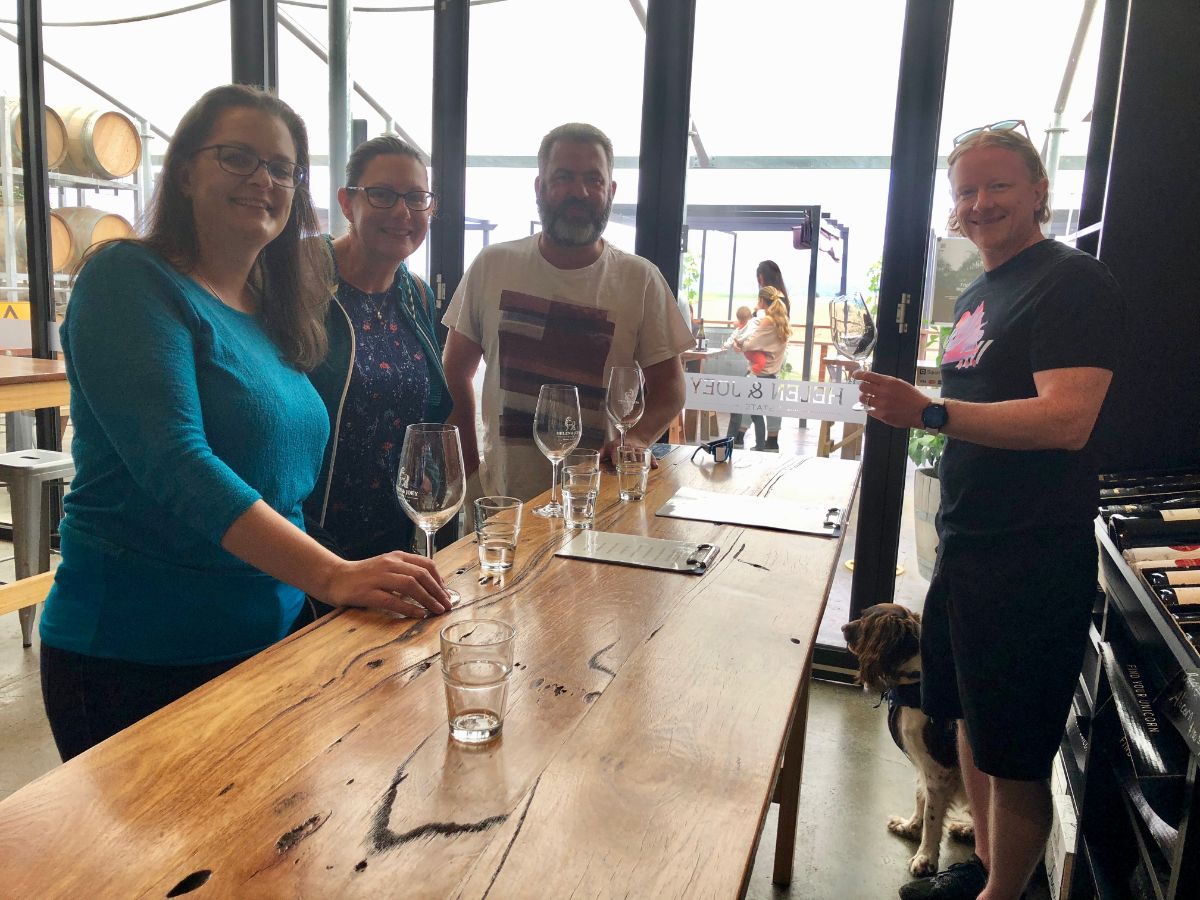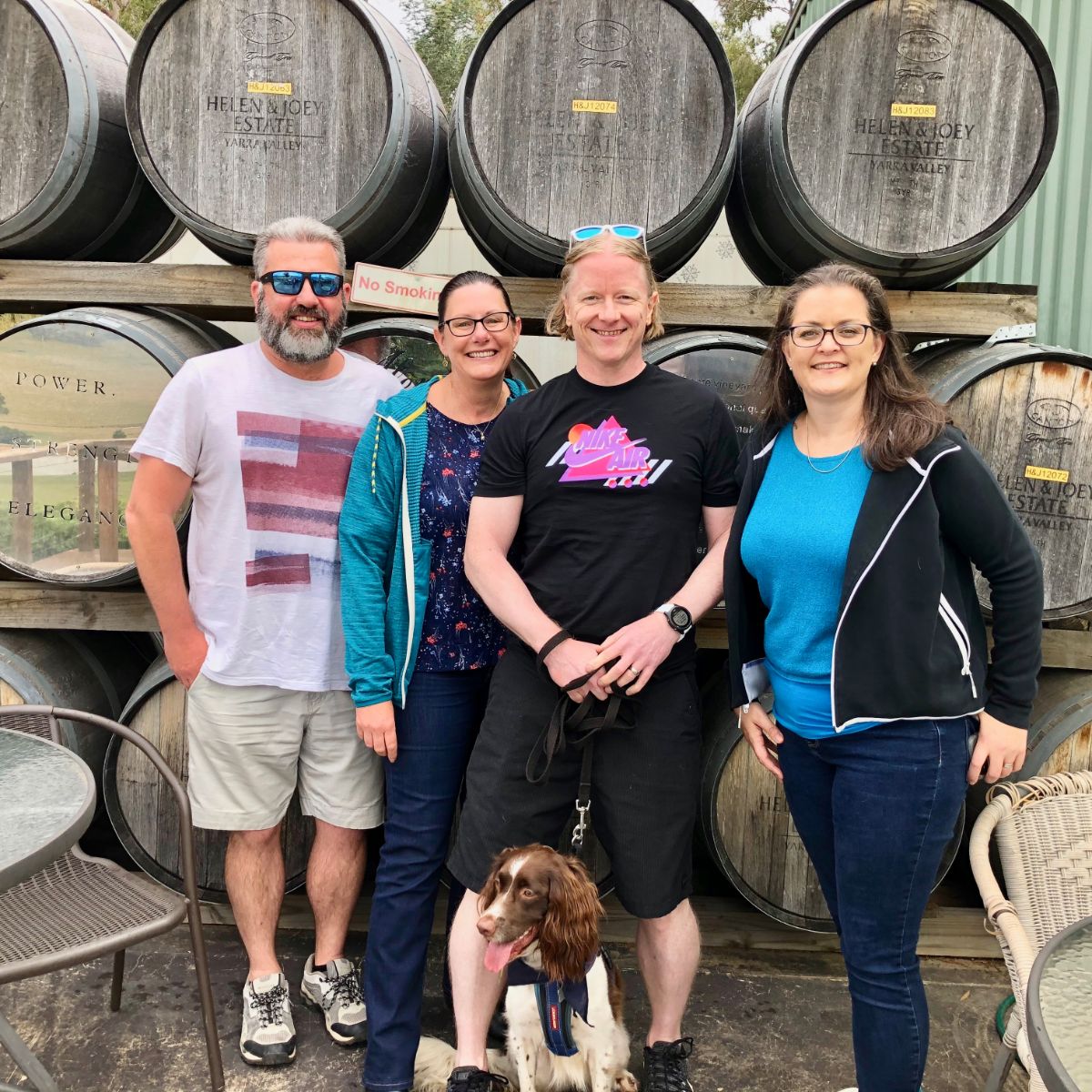 They had unicorns too – I read it on a box that I had to find them – guess they must have escaped!  Worrying!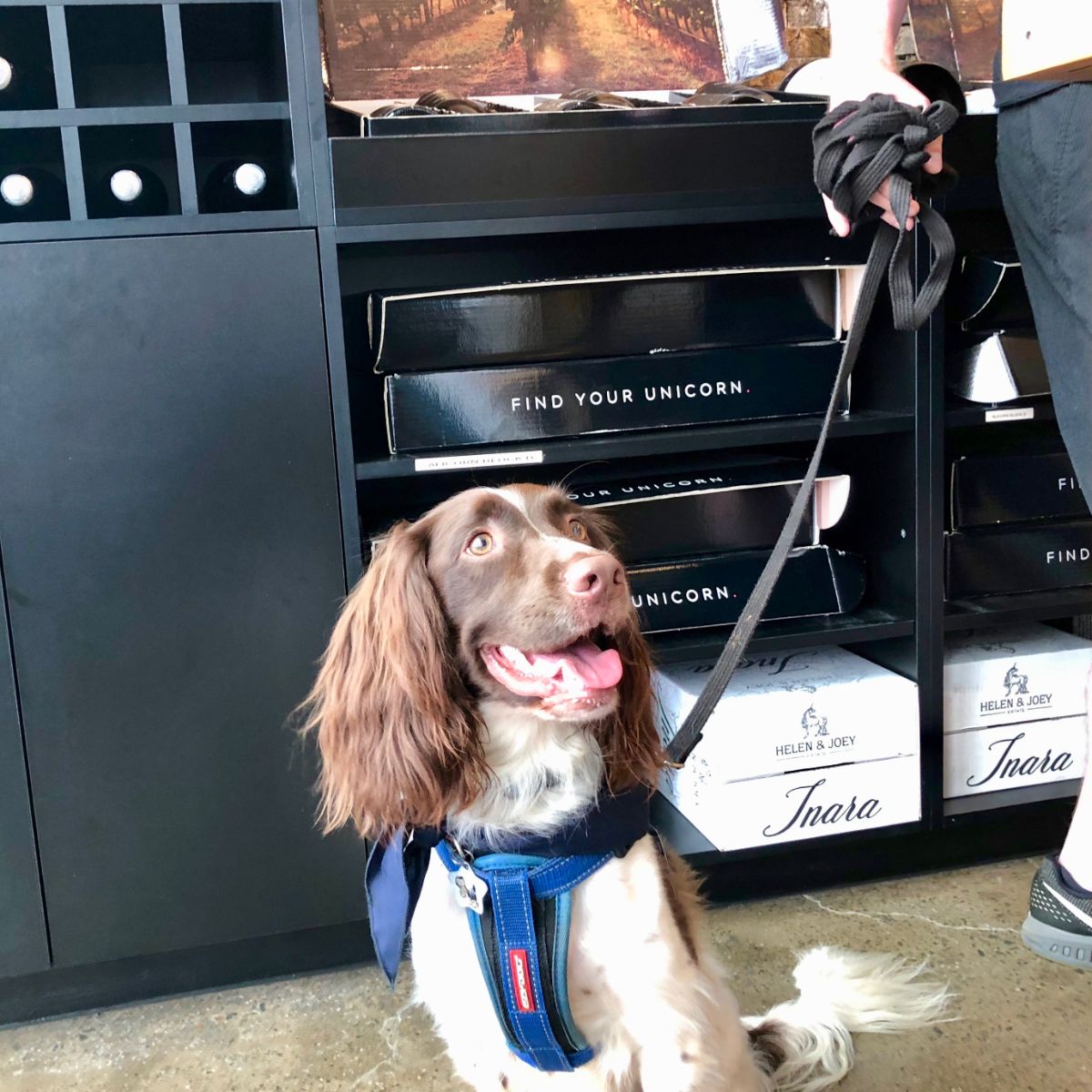 'Lunch time' I heard Jeff say, music to my ears, so we all climbed back into the VCV (very cool van) and headed to a joint called Helen's Farm Winery.  Nah just kidding, it was called Yering Farm Wines.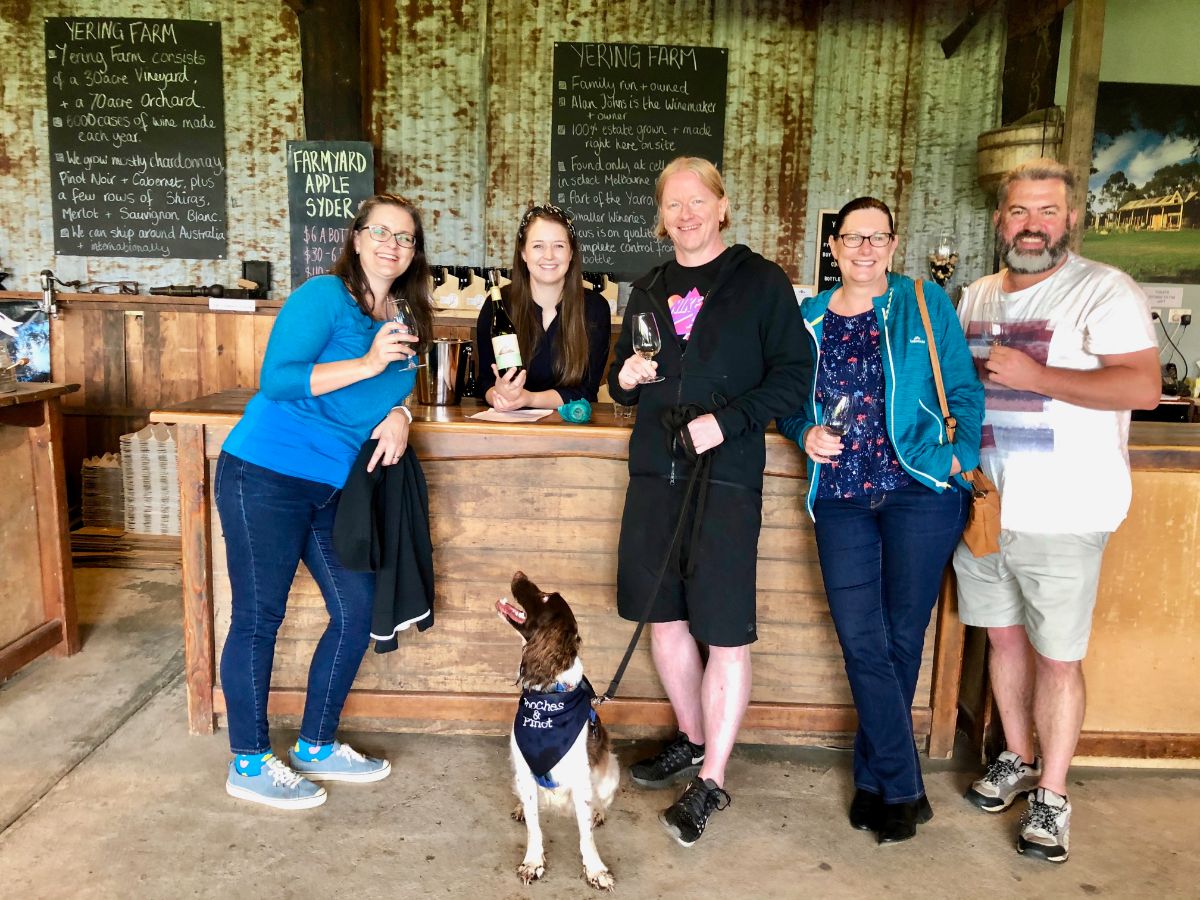 Now, this place had it all; it's in an old hay shed for starters which gets my vote (the smells man, the smells), and there were all these sheeps outside, wine at the bar for my humans and best of all – a huge field for me to run around in. (Heaven is not in the back seat of your Cadillac, it's right here at Yering Farm).  I ran so fast I was just a blur.  Look!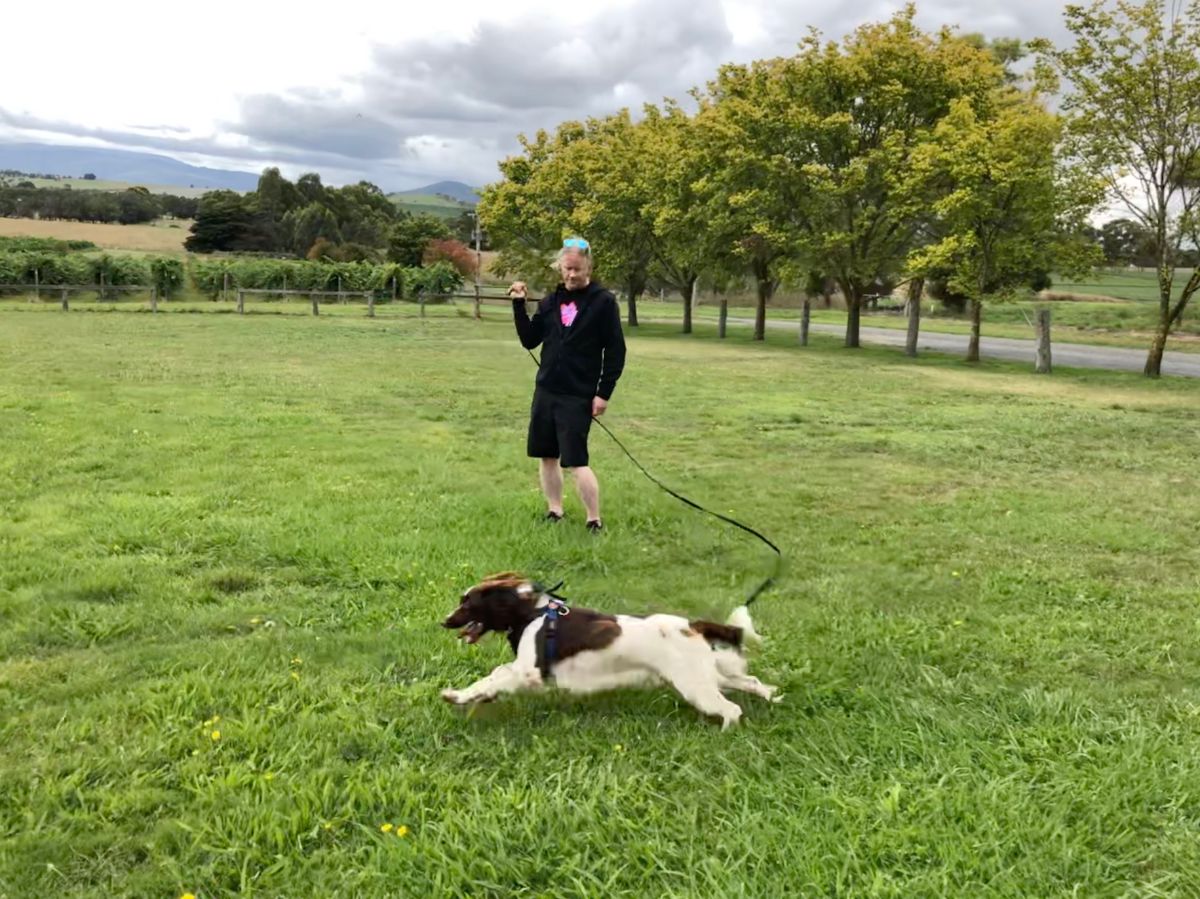 The humans tasted some more winey stuff and Jeff and I went for a walk, but he's old and tired out pretty quickly, so once the sampling of wines was complete, Jeff brought out a homemade quiche with salad and then Megan, who runs the joint, arrived carrying cheese and bikkies, whereupon Jeff produced some Laila & Me treats which were right on the money honey!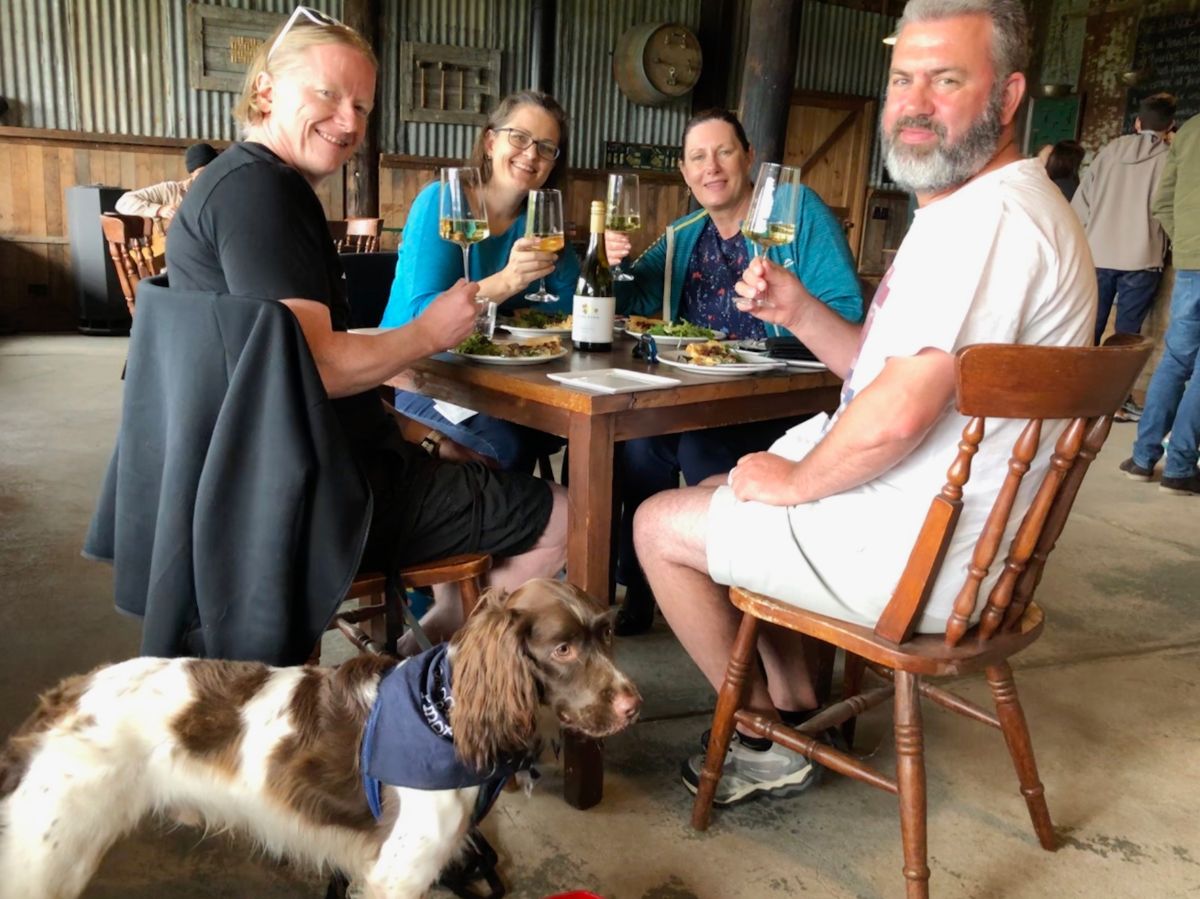 I'm seeing a pattern emerging, as more wine was then bought and then we are piling back in the VCV.  On repeat.  OK, so this is how it works…cool.
Next stop… Helen's Rise, ha haa, I gotcha again… I'm good aren't I?  It's called Maddens Rise and it too had a big field for me to run around in.  Man I love wineries and my Dad and being on the embarassing horse taming 25m rope!!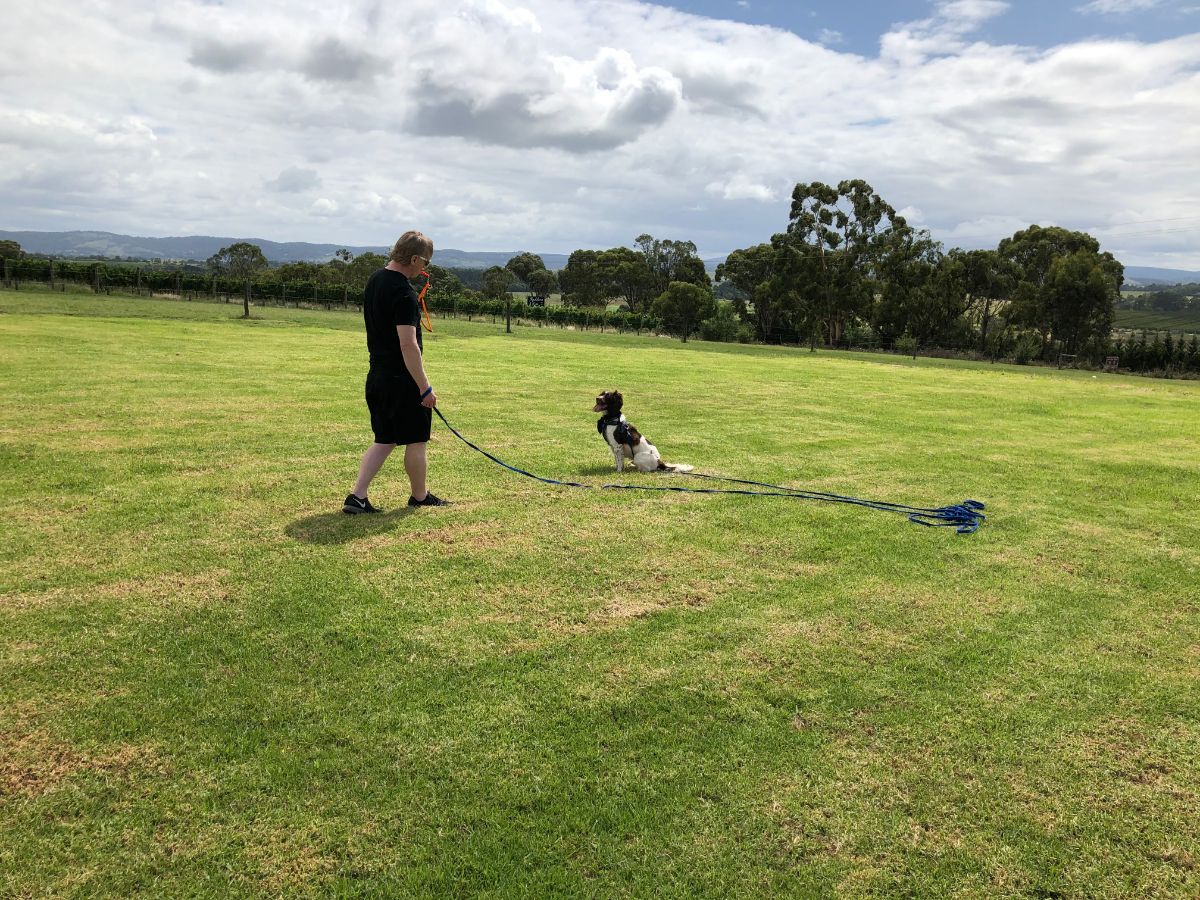 Sneaky Jeff disappeared for a minute then came out with a cake with candles on fire and everything and they all sang a song called Happy Birthday for my mum Rachel, cause it was her birthday a few days ago.  She did a very good job of looking surprised, given that she had organised the whole thing with Jeff!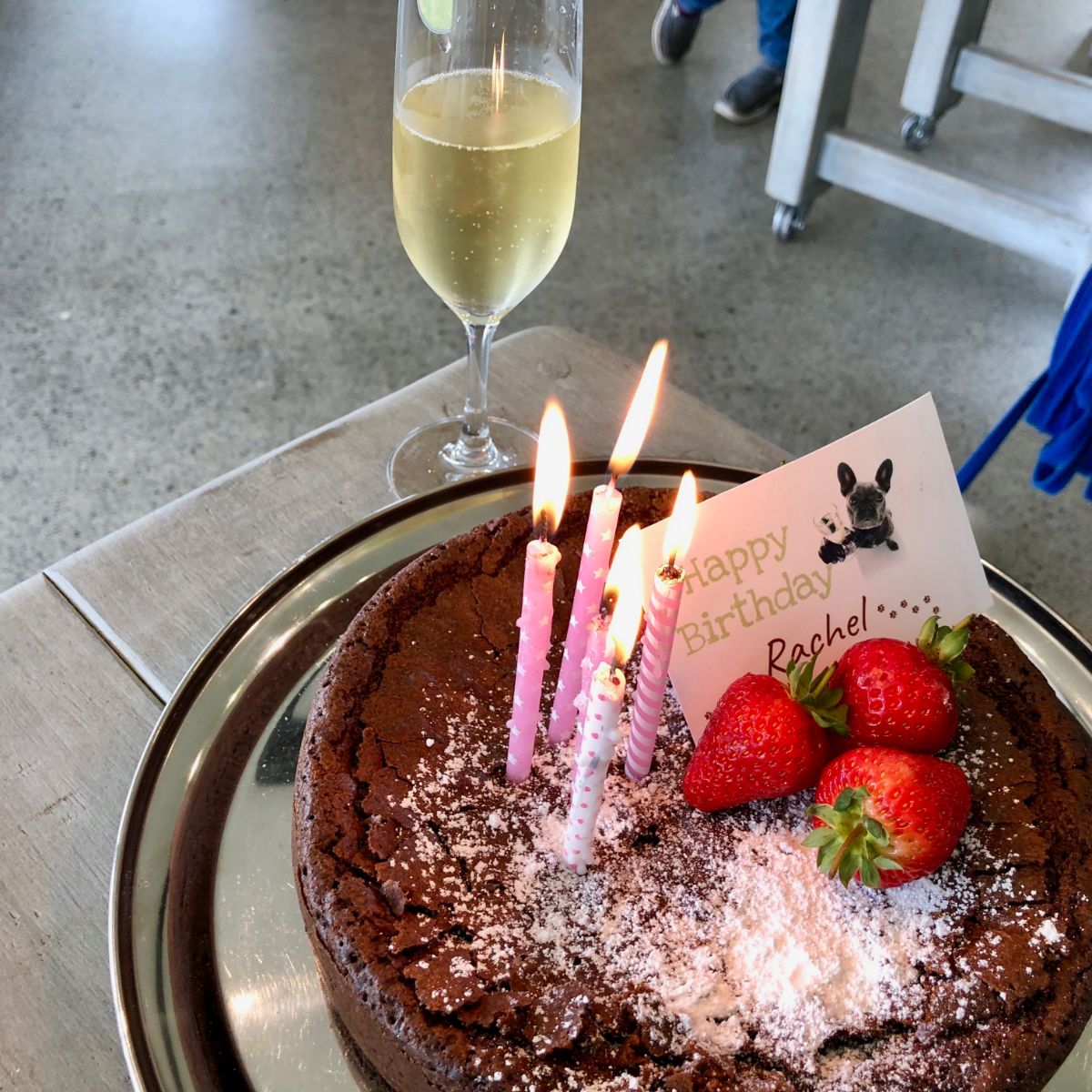 Everyone loved the cake which they had with bubbling wine,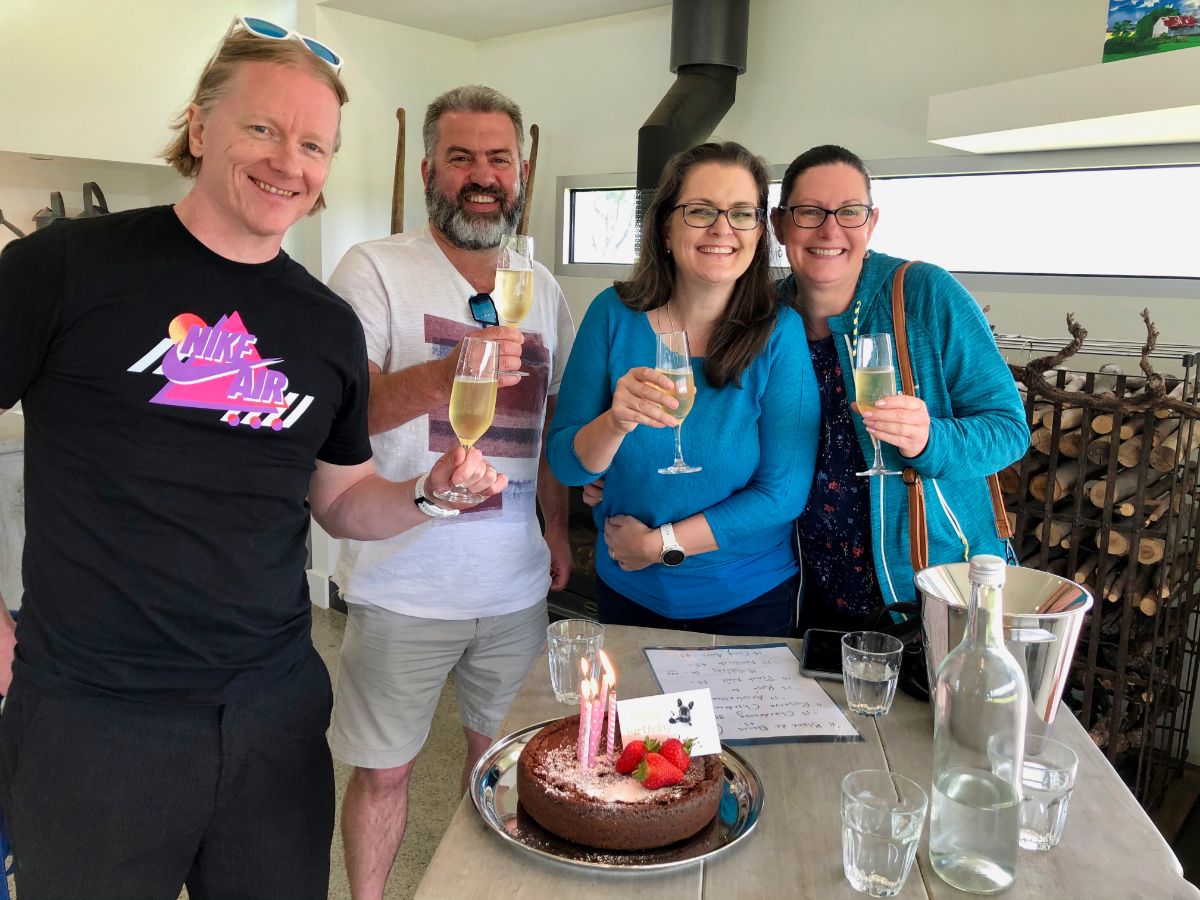 and I waited patiently by their side til I could drag Jeff off outside to run around with me, while they had another one of these tasting thingymajiggys.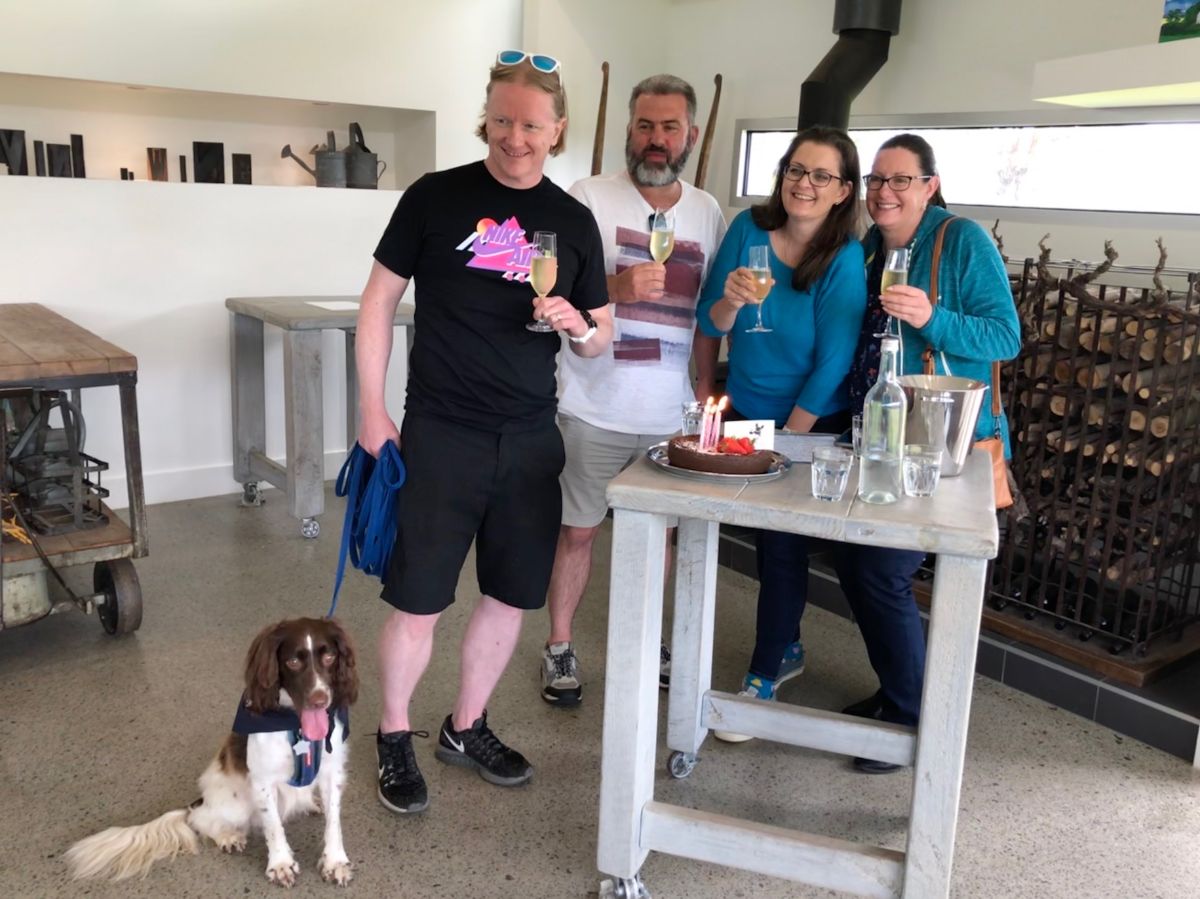 Jeff and I ran around the place with me on the long lead..excellent stuff, I think he's getting the hang of it, I've done a pretty good job training him in such a short space of time.
Usual pattern now, buy more wine, get into VCV, I've got this nailed, so I'm first in the back – ya snooze, ya lose kids!
Jeff suggested a change of pace, and took us to Four Pillars gin distillery, which was a bit of a let down to be honest, as there was no big field!  No field at all to be frank!  But hang on, here comes Lizzie, the crazy dog chick and she loves me on first sight and I love her back, so who cares about running about when love is in the air.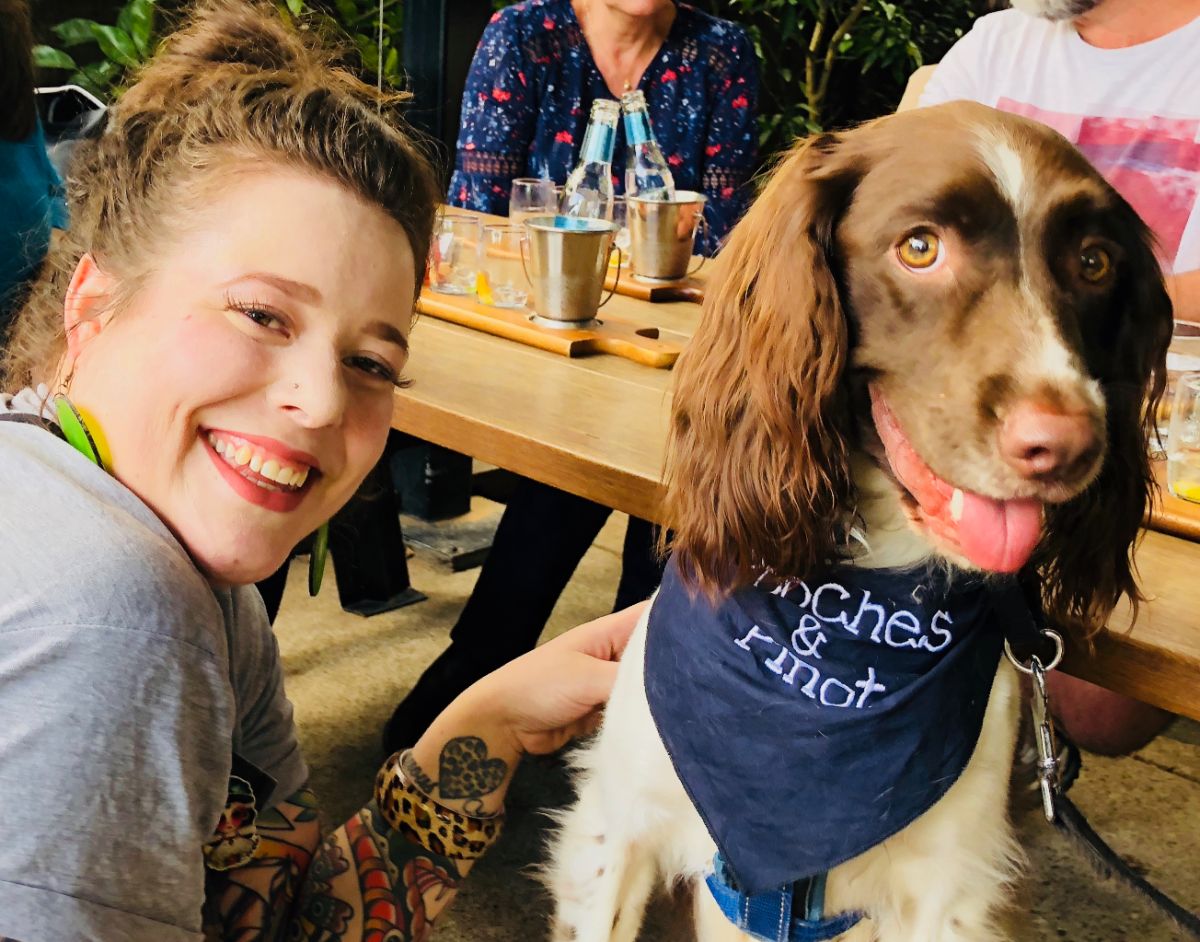 Then Heather comes over and she immediately falls heavily in love with me too.  Poor things, well, they're only human.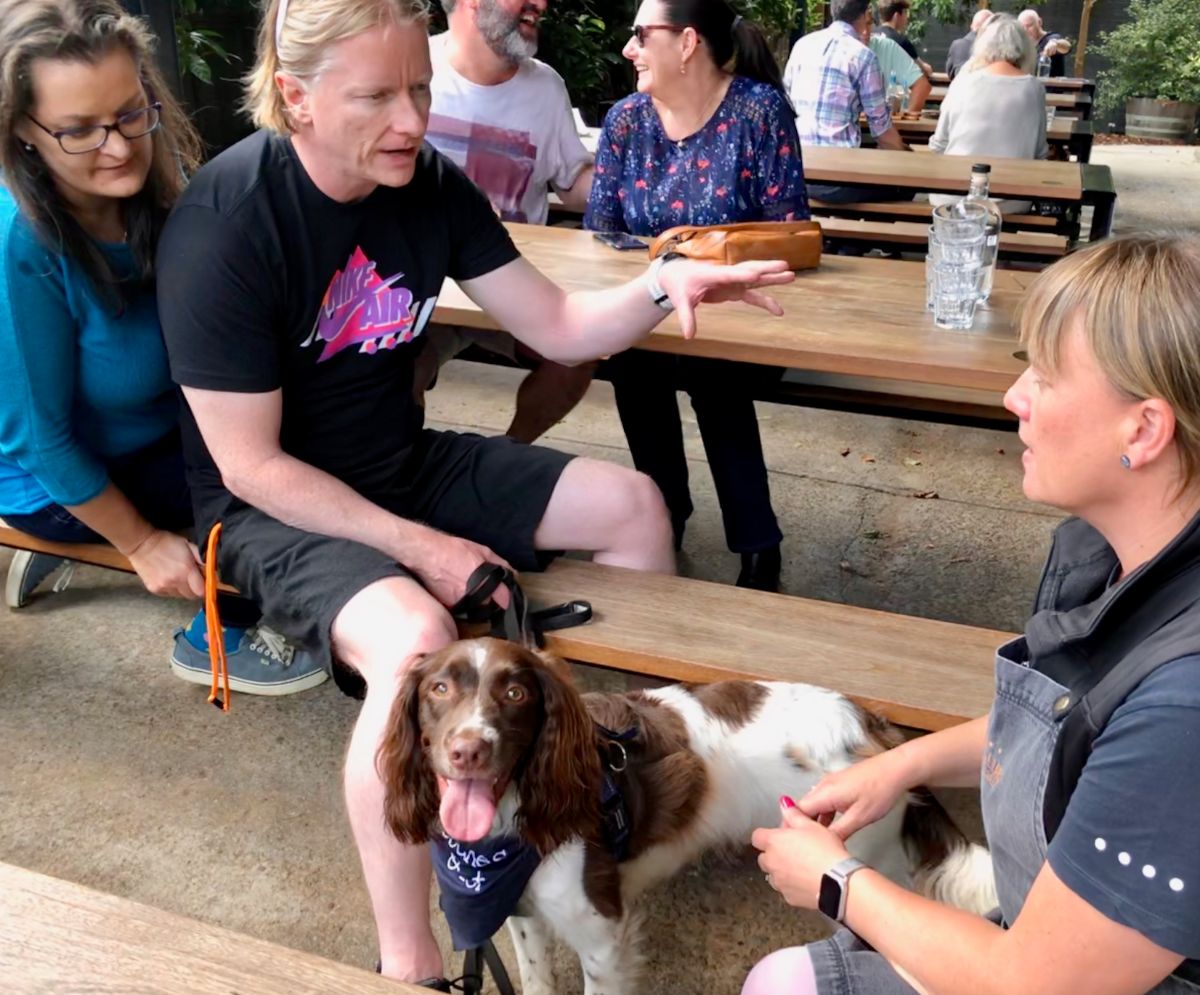 Some paddles arrive with small glasses of clear liquid in them and the humans are looking excited, so easily pleased. But wait, we're suddenly informed that this stuff is award-winning all oer the world – no wonder everyone here is loving life!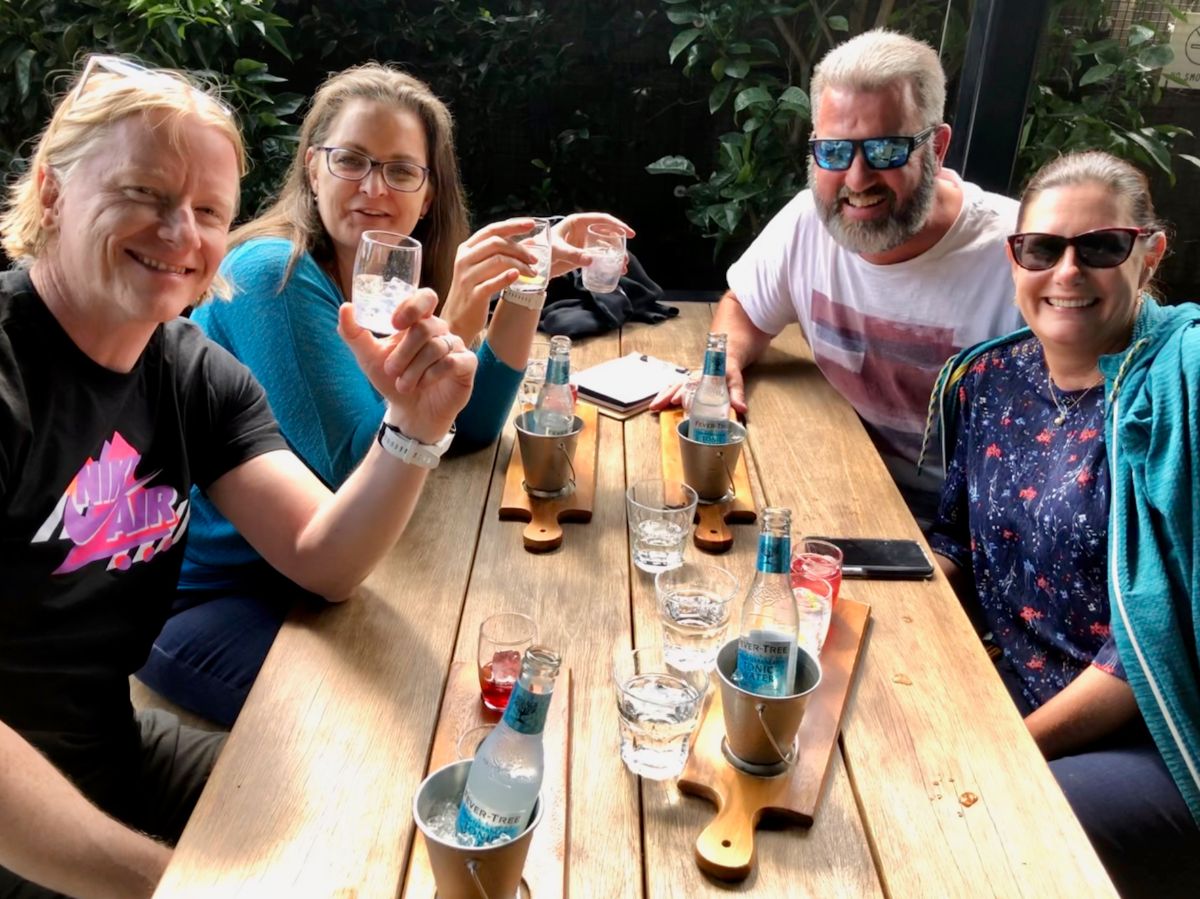 With a final, longing, lingering glance at Lizzie's tats, we walk across the road to visit our final cellar door for the day, Payton and Jones.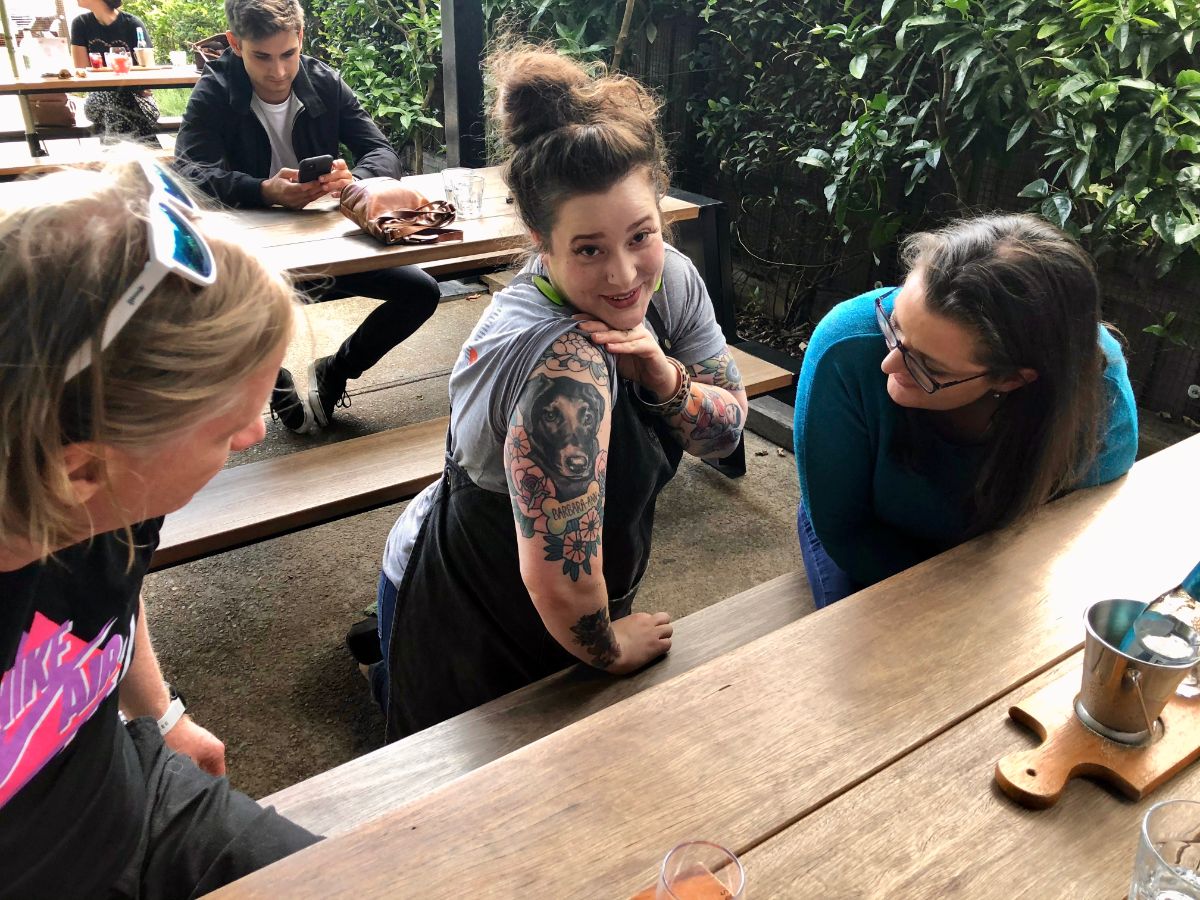 P&J (as those in the know call it) is cool and funky like a cool funky kinda place, and the lovely Kayla looks after us and the wine is luuuuurved by my humans, especially something called Sangiovese.  You know I reckon I could seriously be a cellar door dog, I've learnt so much today.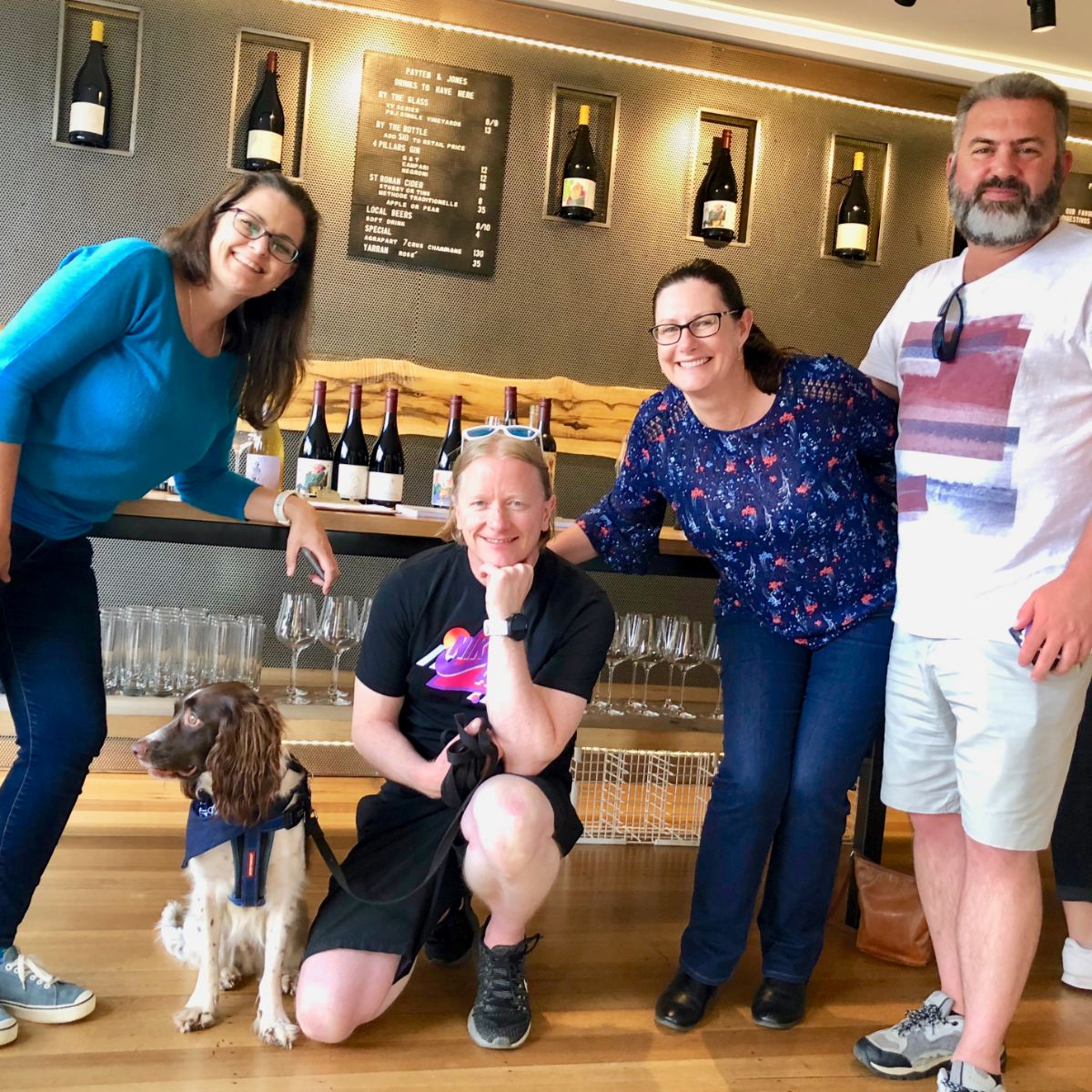 We go home via a shop called Kitchen and Butcher, a very trendy little deli in Healesville, to get supplies for the evening ahead and finally, we are rumbling down the drive, back amongst the giant trees at Yama Ki Farm, humming, give me a home amongst the gum trees.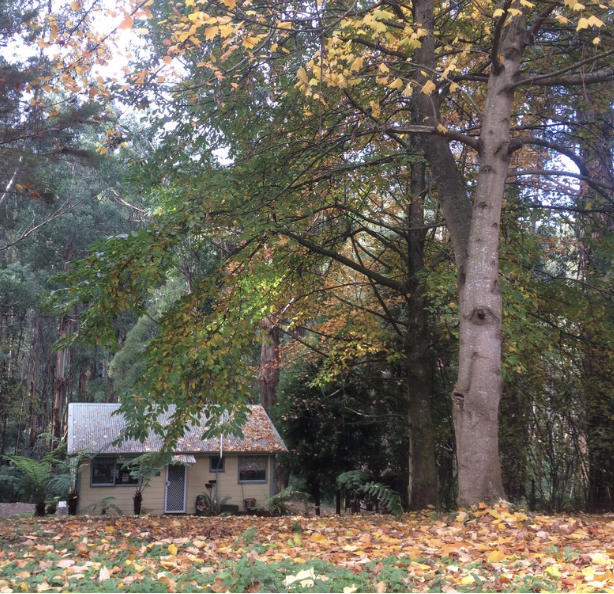 What's it all about you ask?  It's about the best day ever, that's what.