Guten tag, ich bin Addie short for Adeline, und I'm a one year old Great Dane und ich whone in Sunbury mit meinem pawrents Thor and Daniella.  Sorry, we speak Deutsch at home so I'm bilingual and sometimes slip in and out of German without realising!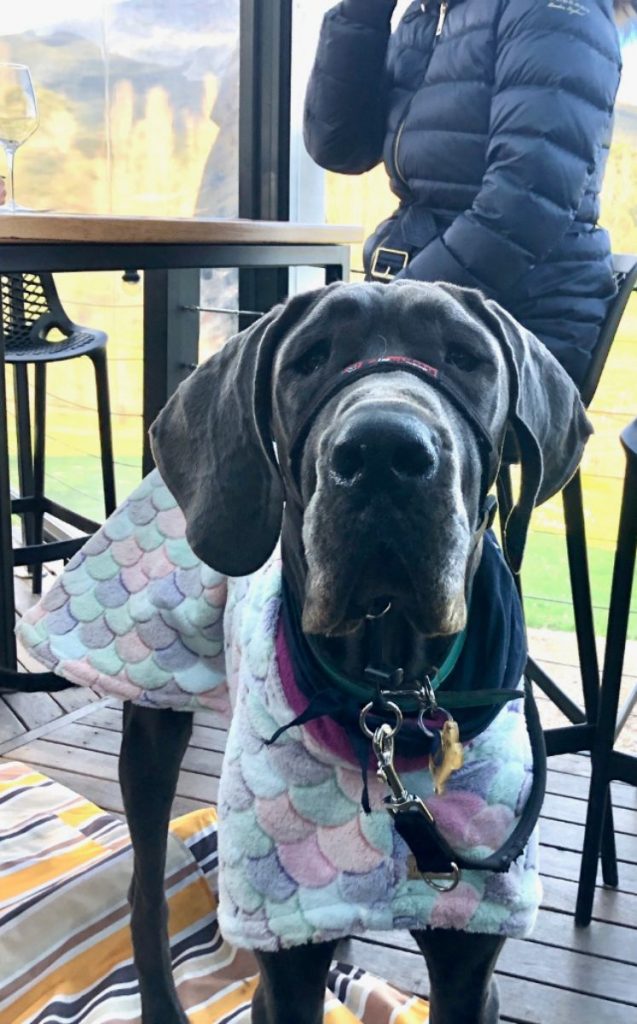 I'm a total Mummy's girl and I had my first birthday party last week where Mutti dressed me up as a unicorn… hilarious, or animal cruelty – it's a fine line people, a fine line!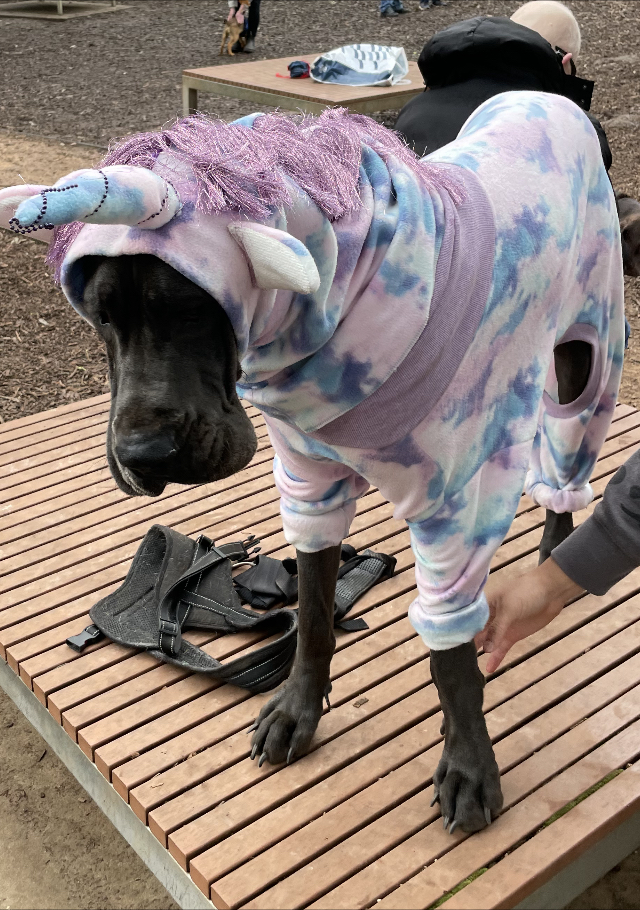 On Sunday though, it was not all about me (just kidding, everything is ALWAYS all about me) because my pawrents booked us something called a Degustation Wine Tour in the Yarra Valley with a company called Pooches and Pinot.
We got picked up by a cool white Mercedes van and I had the whole of the back part to myself, tons of room even for a big dog like me.  I brought my bed with me – apparently Mutti had arranged this with the company before hand.  And Jeff, who was our guide for the day, gave me a bandana which just tied round my neck and I felt very attraktiv.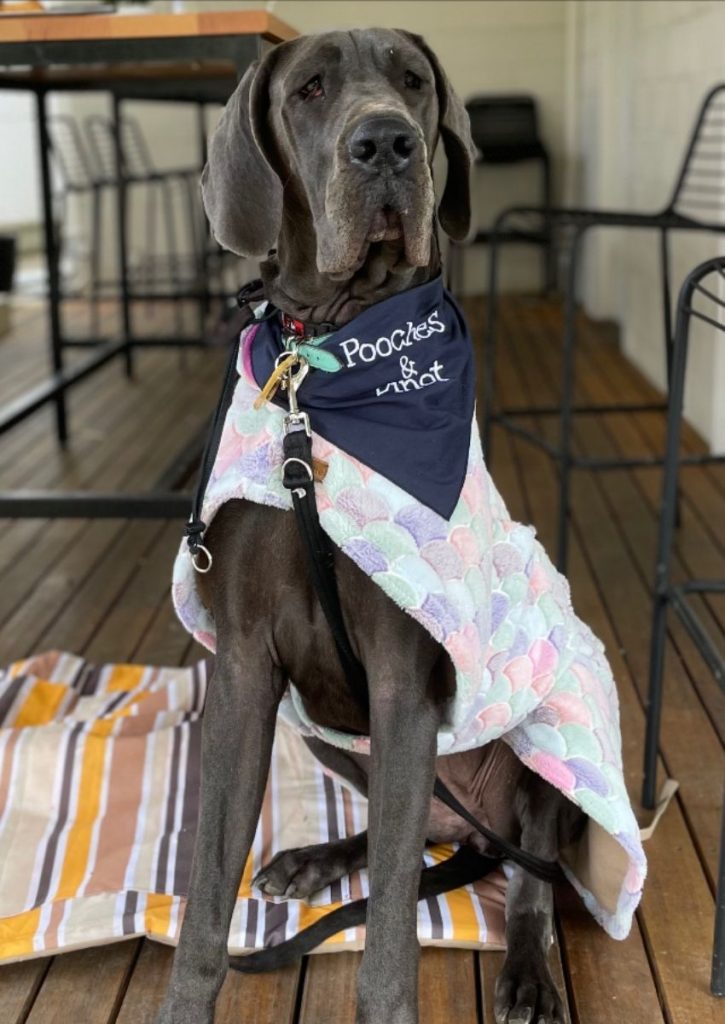 Did I mention I already weigh 50kg… I know right, I'm a big girl.  Such a legend!
Now, Mutti doesn't do things by halves – she'd gone the whole hog and ordered a hamper full of cool Yarra Valley goodies for us to munch on later, which Jeff presented to us, when he arrived!   Look at me, checking out which bits I'll be having!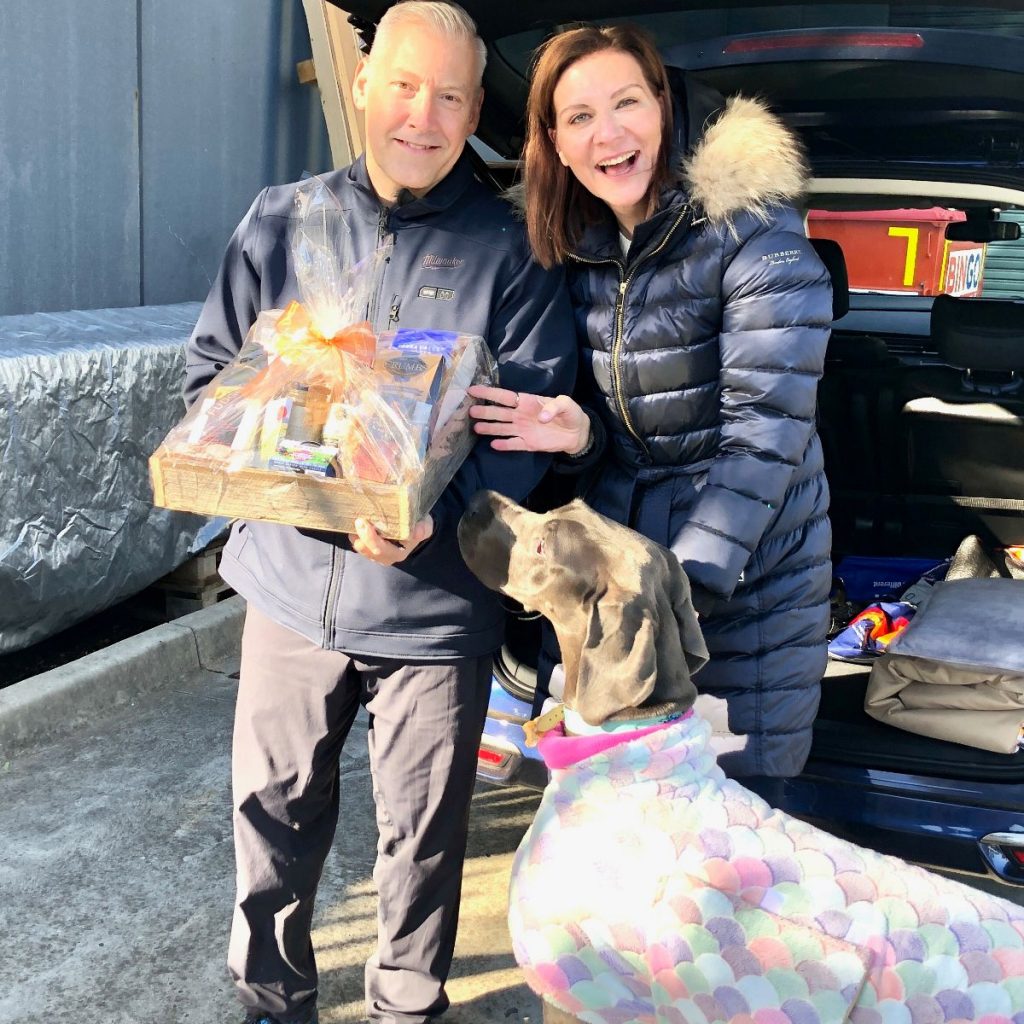 And now here we were, tootling along the autobahn and before you know it, we're pulling in at Rob Dolan winery, our first cellar door for the day.
We are on a degustation tour which means (for those of you who are not savvy and food-oriented) we get to try gourmet food matched with the different weine (that's 'wines' to you Aussies) at EVERY stop.. genius, I think to myself, I love das essen (oops, sorry, 'food') and I'm bound to love this wine stuff!
At Rob Dolan our wine was matched with freshly baked pastries – now THAT'S what I call a breakfast of champions, Mutti loved the sparkling with croissant und both Mutti und Papa were both big fans of the wine they called skin contact Pinot Grigio – you learn so much on these tours, I think I could be a sommelier!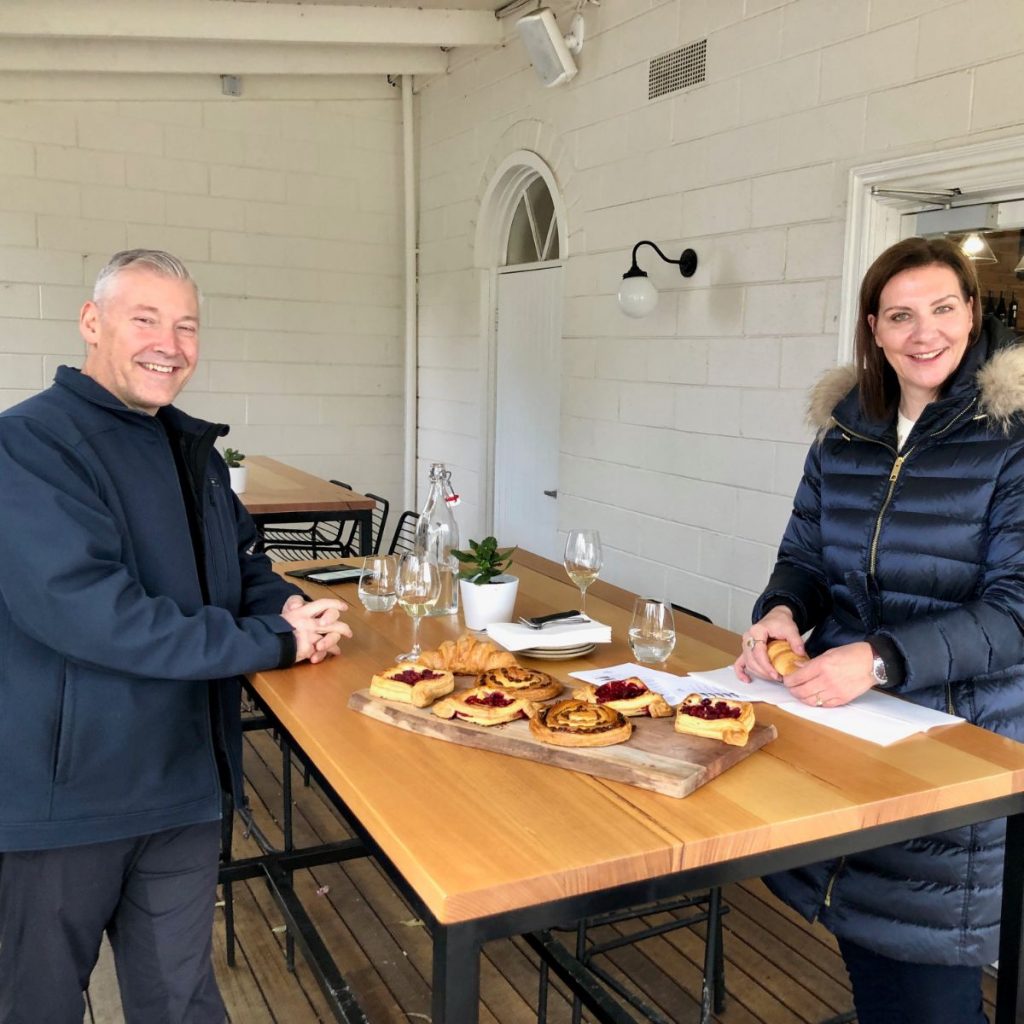 I obviously looked suitably crest fallen that I didn't get offered wine OR pastries so the cellar door staff were sehr nett (that's 'very kind' for you non Deutsch speaking Aussies) and gave me a Rob Dolan bandana to wear over my Pooches & Pinot one!  I'll add that to my extensive wardrobe when I get home – I have so many clothes it's a trip!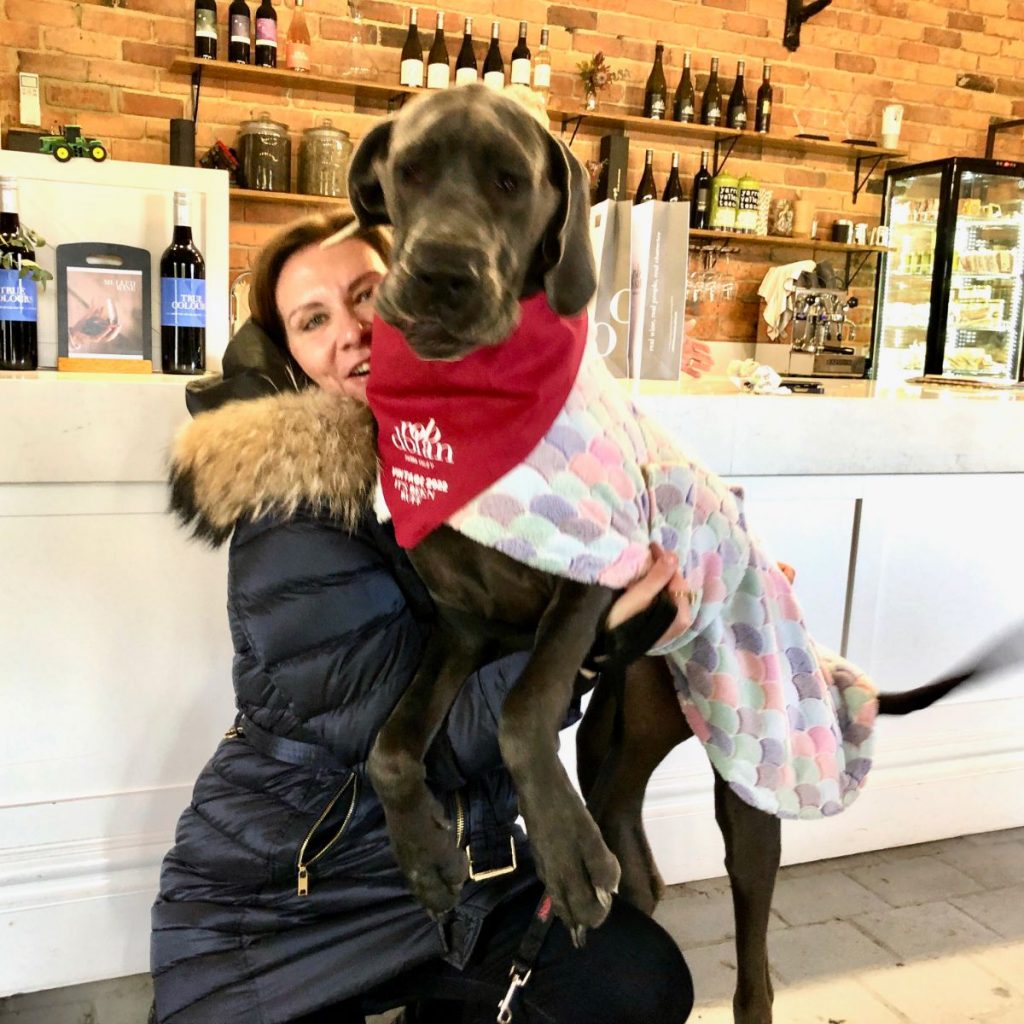 After Rob Dolan we jumped back in the van for a bit and before we knew it we were bumping along a country lane to a place called Helen and Joeys, where I spotted a unicorn out the window – seriously, I did – more than one in fact!   How did Jeff know I dress up as a unicorn in my spare time?  Spooky!
Mutti und Papa got to try their Wayward Child range of wines matched with charcuterie, and a chocolate truffle with the Bastion, which is a field blend fortified, yes I was paying attention!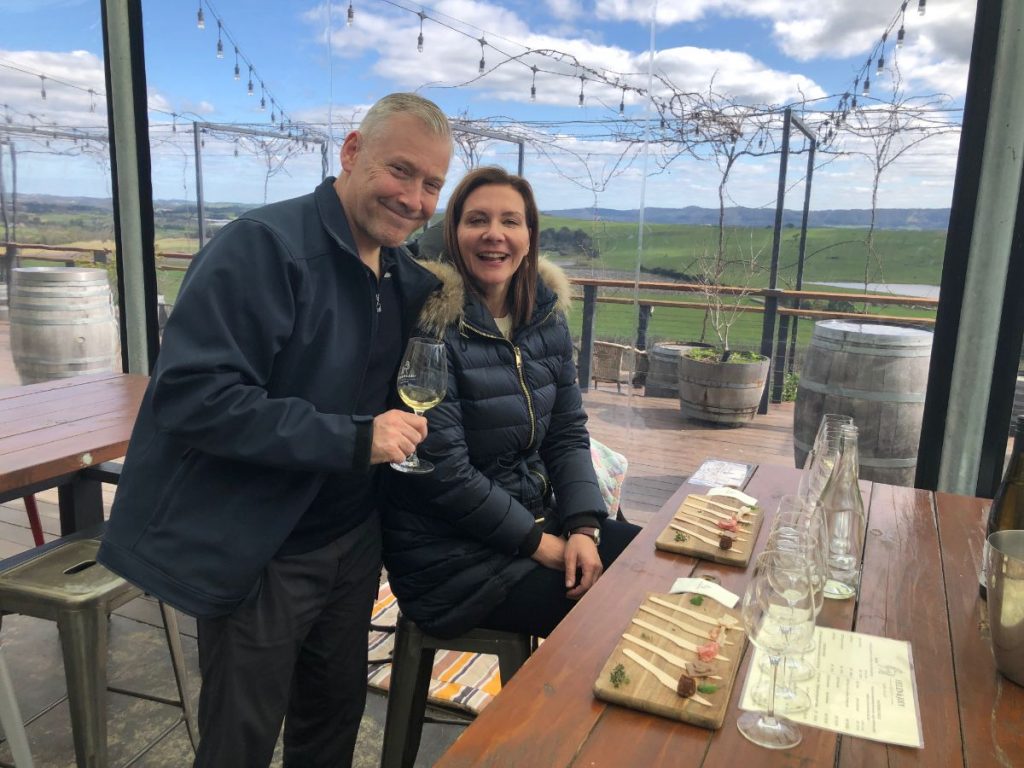 Here I am, wondering which charcuterie fork to try first and wondering if I'd even notice, they're so small!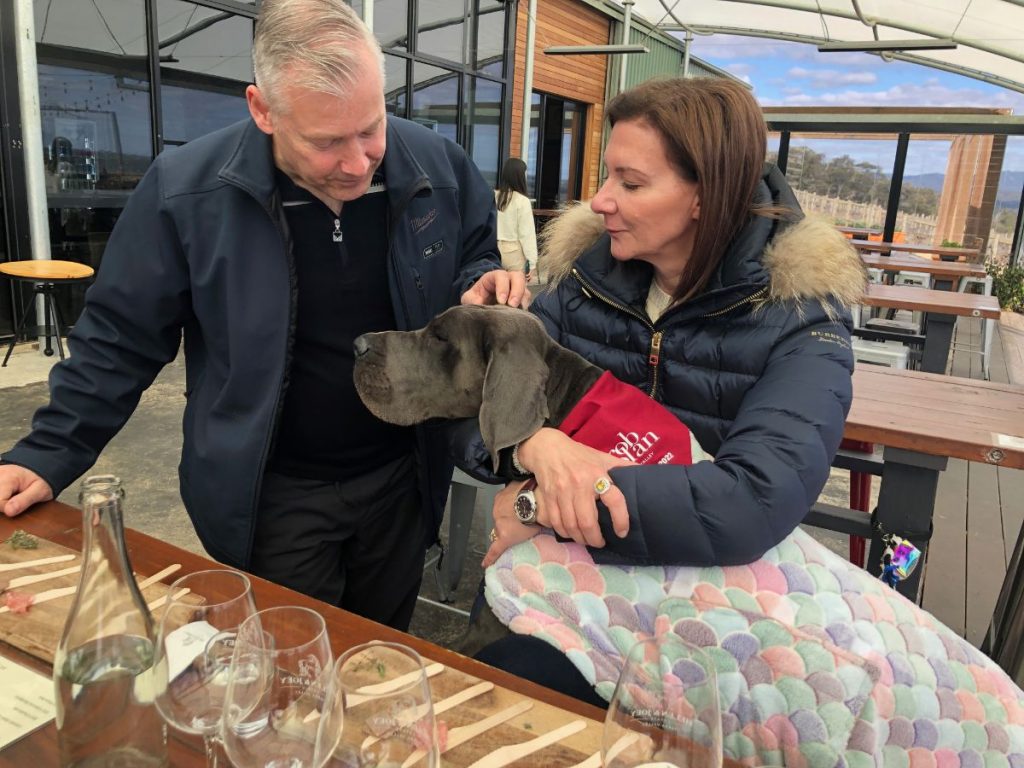 All in all, it's a fantastic place with HUGE views across to the west.  I was getting a bit hungry myself by this stage and after all their wines, Jeff (our tour guide and my new best freund, because he has a pocketful of treats and I LOVE treats, you don't get to be 50 kilos by saying 'No' to treats people) suggested it was lunch time and we set off cross country to a place called Steels Gate Winery in Dixons Creek.  It's REALLY pretty and has great ansichten (sorry, sorry, 'views').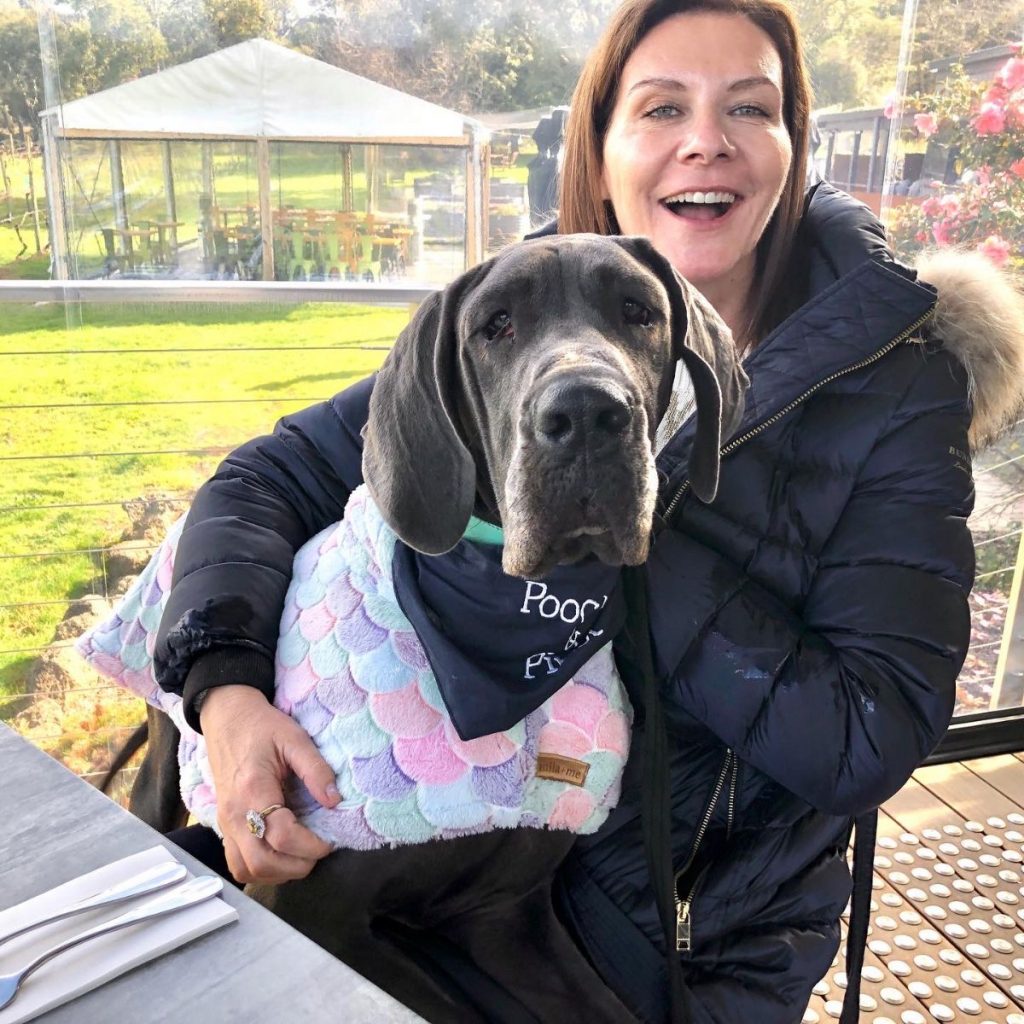 Wow! what a place, we had the best table in the house, right at the front of the deck overlooking the vines, the mittagessen ('lunch' people, 'lunch' – try and keep up) was fabulous and the wine perfect, but when it came time to order a glass of wine, Mutti und Papa decided on a cool refreshing soft drink, which was vernünftig ('sensible') given they had a long day ahead of them and cleverly decided to pace themselves.
After their 3-course meal, Jeff then drove us into Healesville which is the centre of the Valley; it's a cute country town with excellent parks for dogs, und Jeff chose Coronation Park which is an off lead park, my idea of himmel ('heaven').
Ich lief und ich lief und ich lief (I ran and I ran and I ran)!  So fast he couldn't take any photos of me – ha haaaa!
Next up was winery called Boat O Craigo, I know it's a weird name, they have Scottish ancestry.. enough said!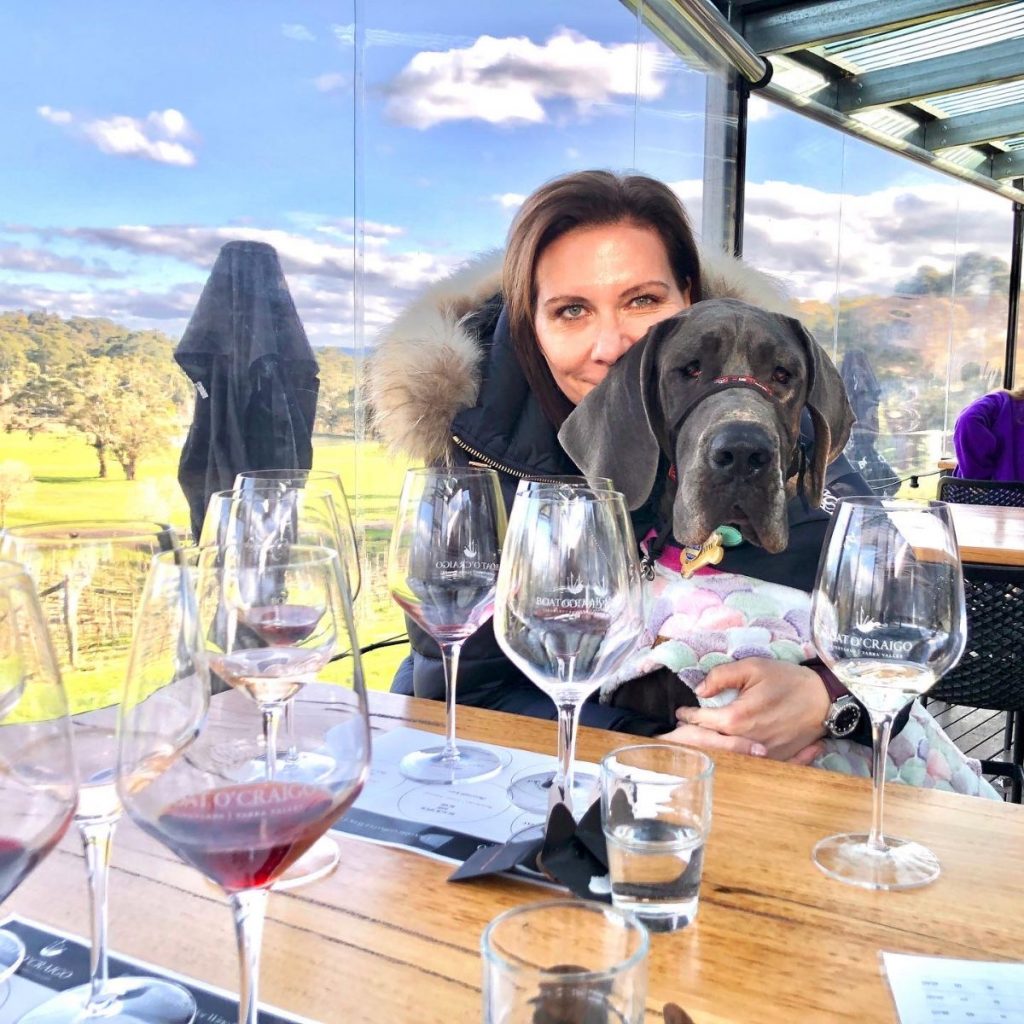 Here they poured wines matched with cuvee chocolate, which was interesting; Mutti said some worked, some not so much, und she particularly like the gewurtztraminer – it reminded them of the reislings from back home in Deutschland (I'm not going to translate that!)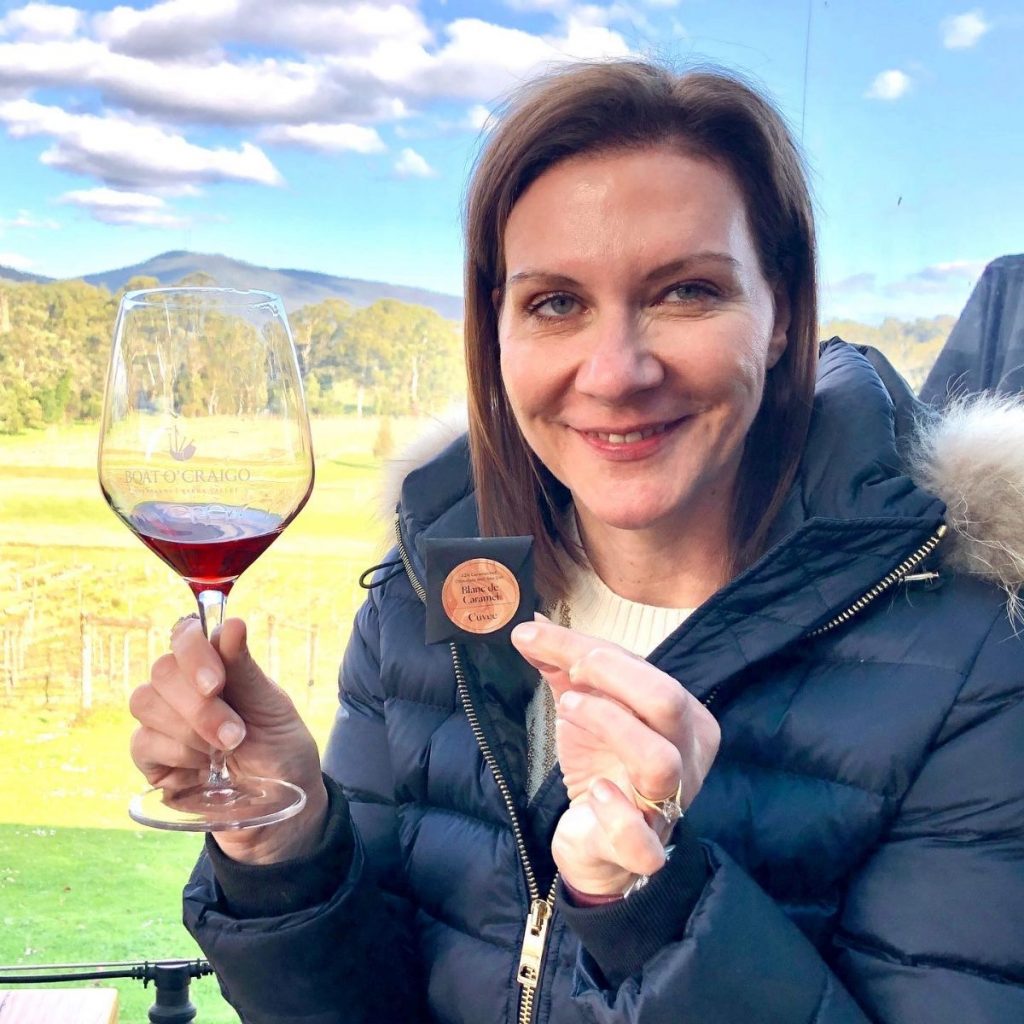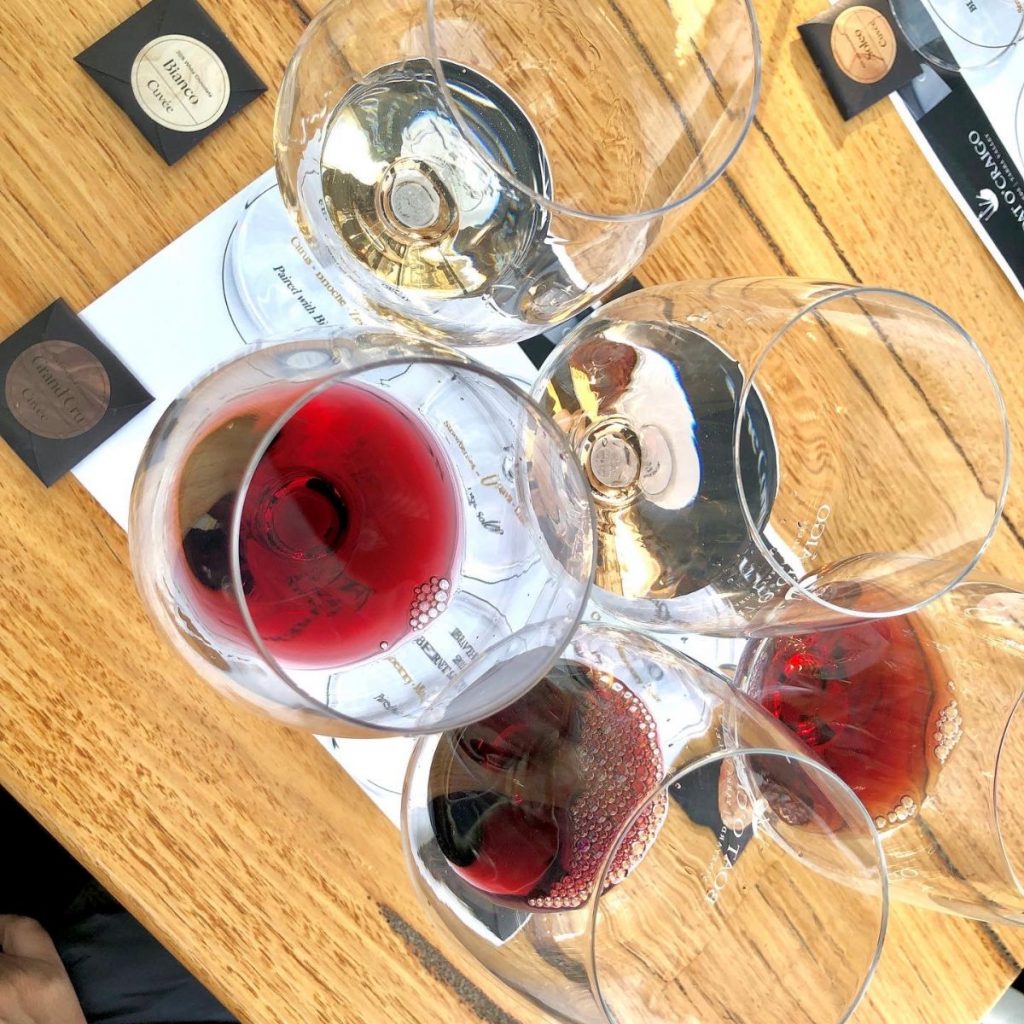 As we clambered back into the lieferwagon('van' people, 'van') I couldn't believe it when Jeff said we still had eines ('one', as in the number, PLEASE try and keep up!) more winery to go, I wasn't sure if Mutti und Papa could manage it, but I shouldn't have doubted them, they are made of strong stuff my pawrents, so in we went to Payton and Jones winery, and I was like – OK, so this is different; reggae playing on the sound system, a whole lot of cool dudes enjoying the vibe, someone's painted crazy pictures all over the walls, and Jenna who did our tasting only started mit uns auf deutsch sprechen ('speaking to us in German') – how we talked and laughed in our native tongue, until Jeff reminded us that we were here to taste wine matched with yummy Käse (that's 'cheese' to you heathens).  Now, a lot of things go well with wine, but none as good as cheese, and that's from a dog who has never even tasted wine!!!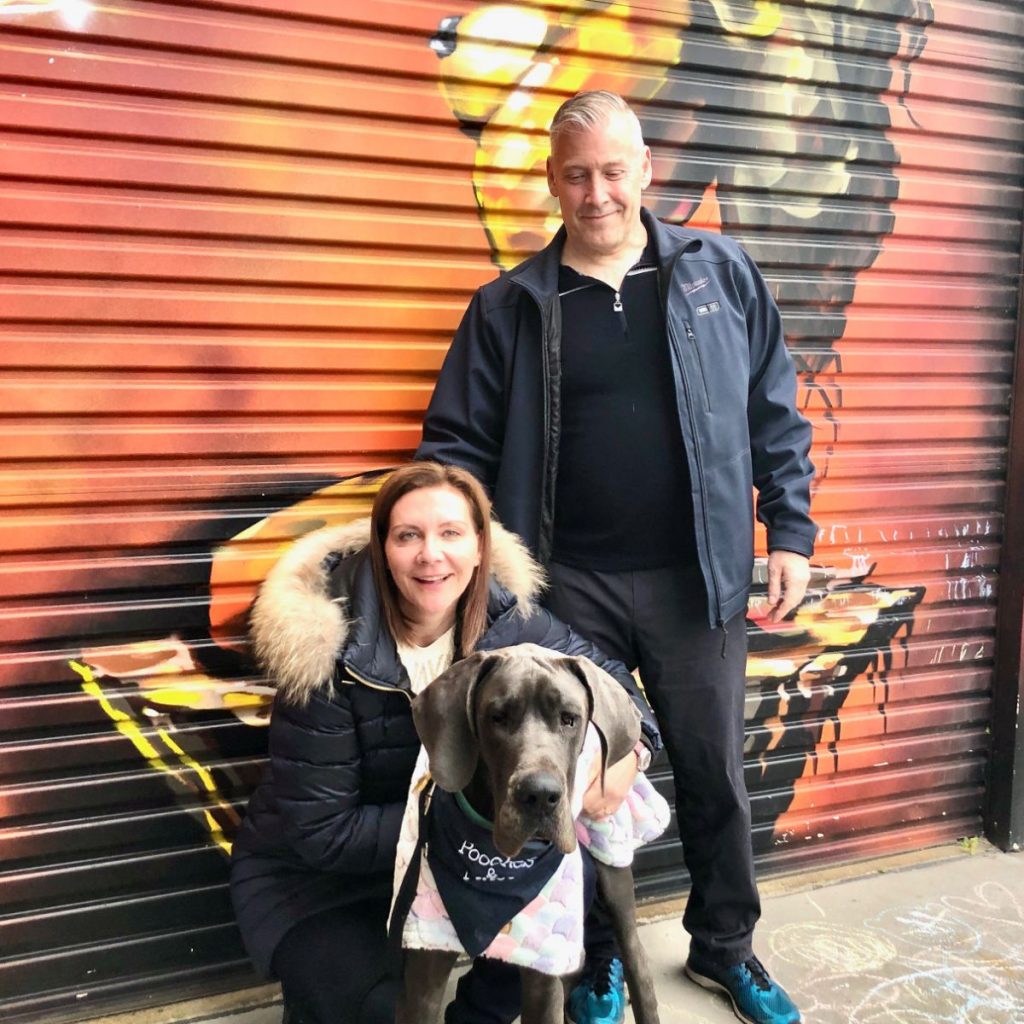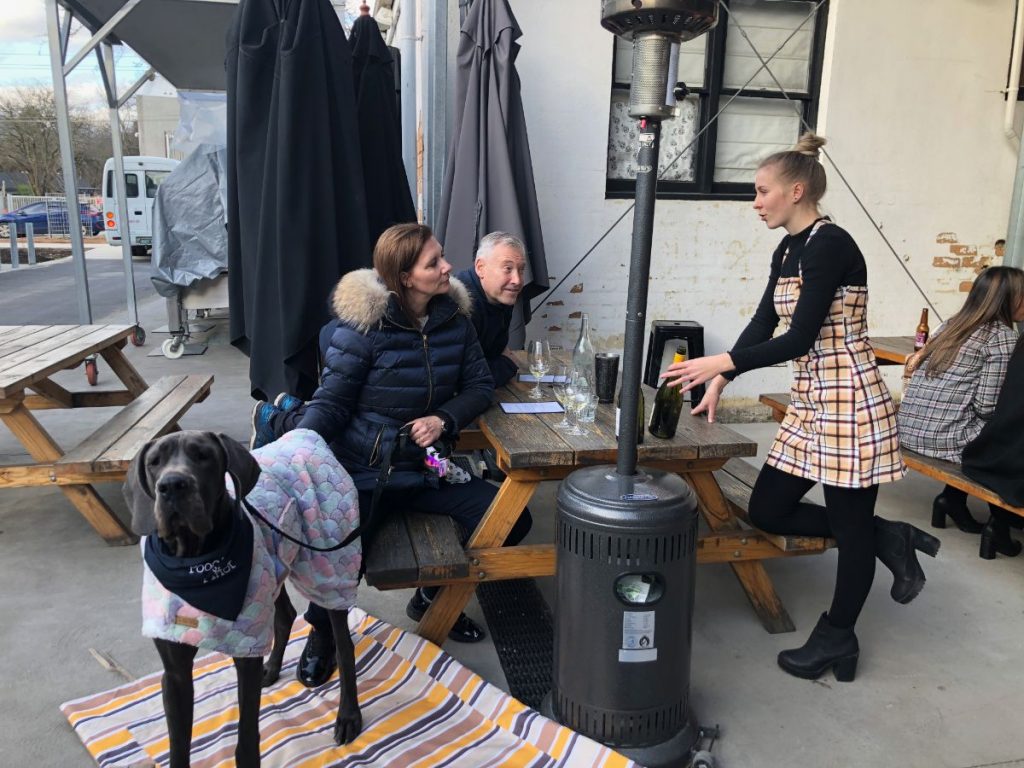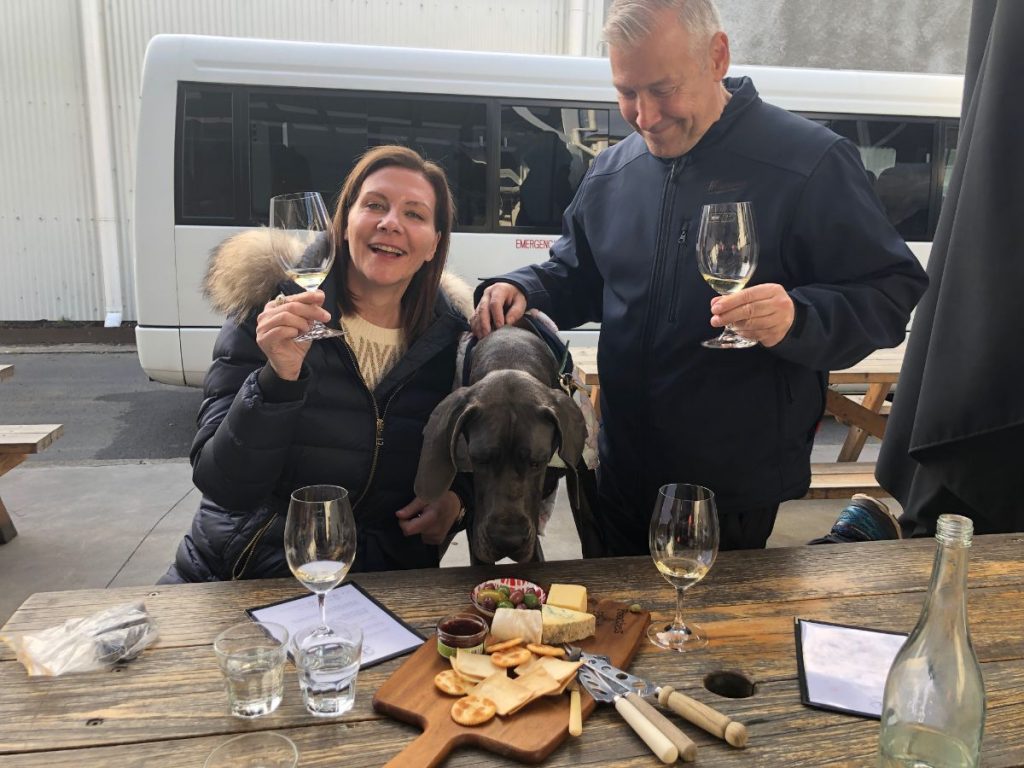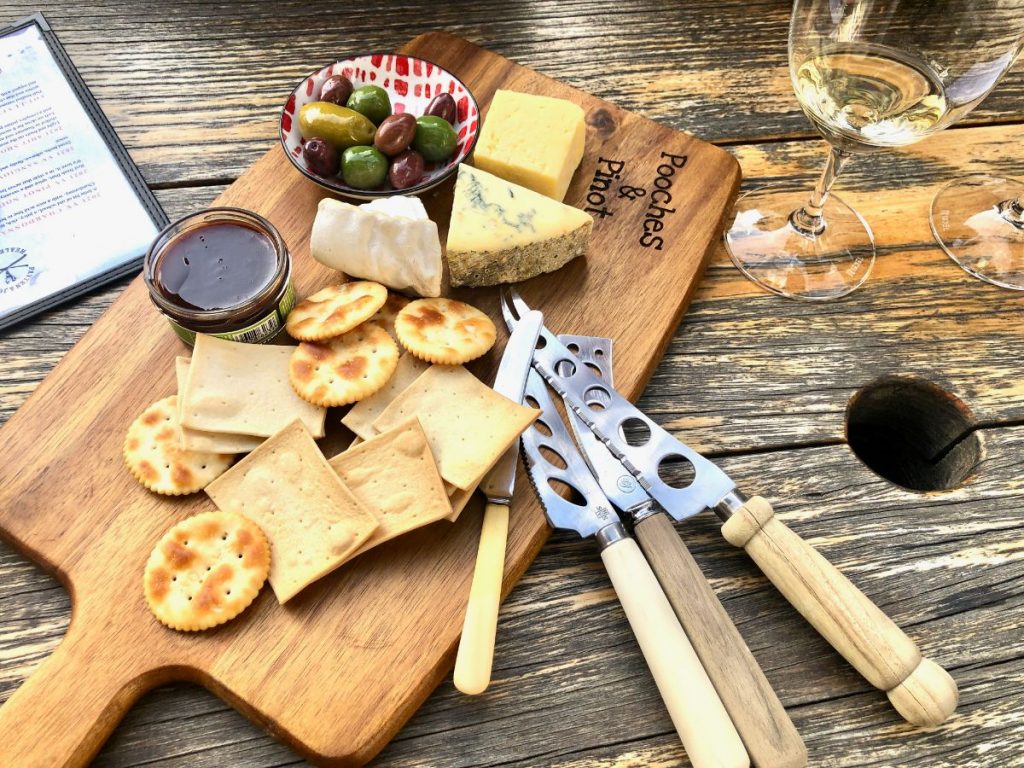 The wines were divine and Mutti fell in love with their Sangiovese, (that's an Italian variety you know). And then they blew our minds with a cola-like Vermouth. This place was insane!!  It was all I could do to eat treats, to try to keep me calm.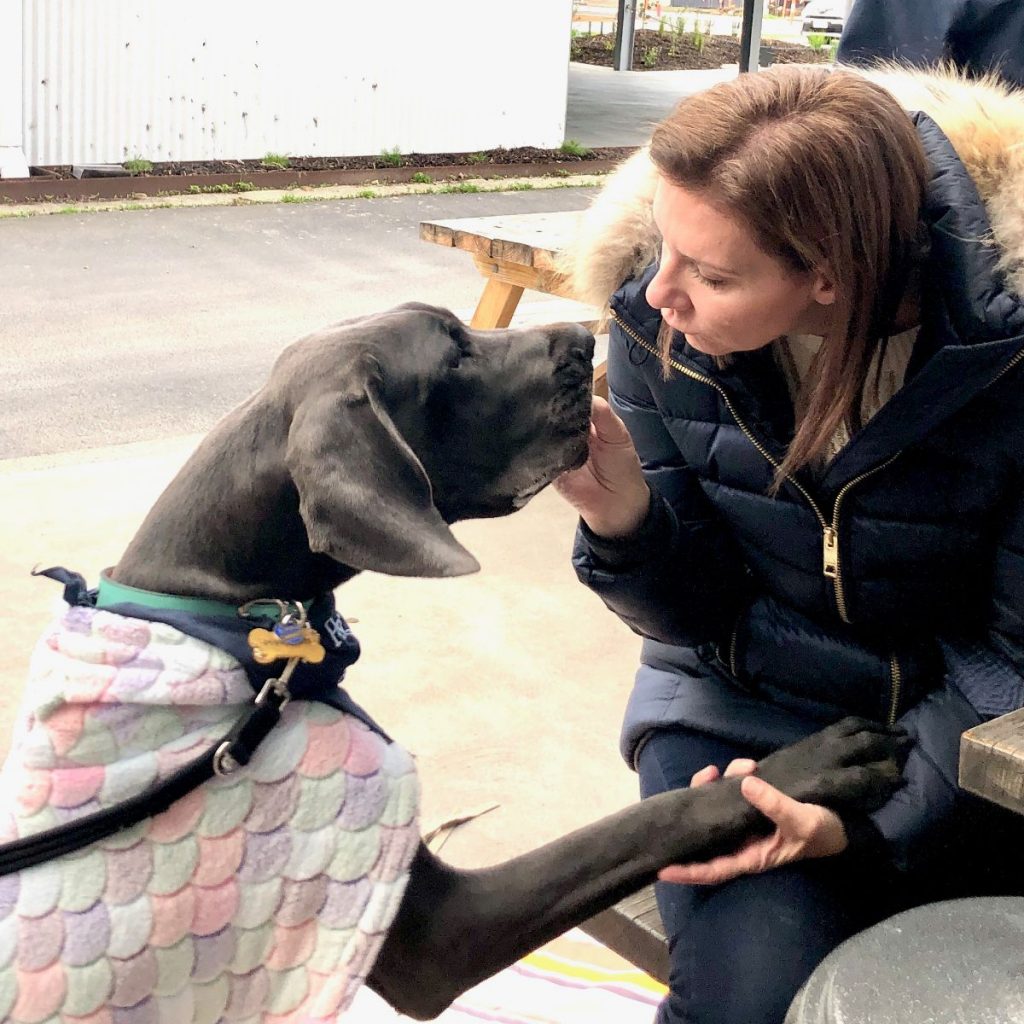 By this point, our day was coming to an end, and I was a müde (tired) girl so we waved good bye to Jenna, and all shouted  'Auf Wiedersehen' because we were ALL bilingual by this point (!) and Jeff drove us home where we were all ready for a big schlafen ('sleep' you muppets, 'sleep'!  Mutti took a picture of me passed out in my crate with my toys – and this is the me who hadn't drunk any wines!!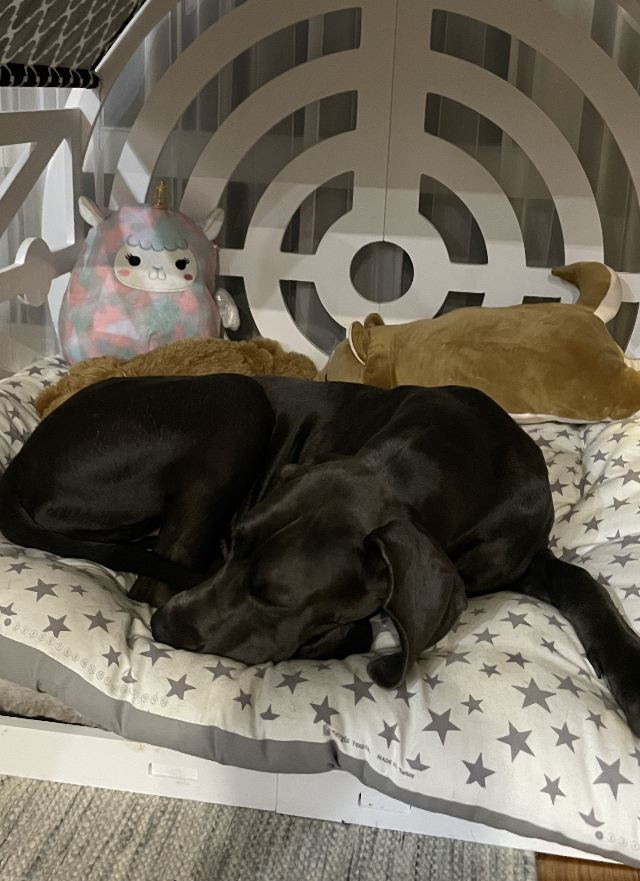 Big day people, HUGE in fact, but we all loved it and are still all schlafend (OK, one last time, 'fast asleep'!!  :-)