TWO PUPPY DOGS OF FAWKNER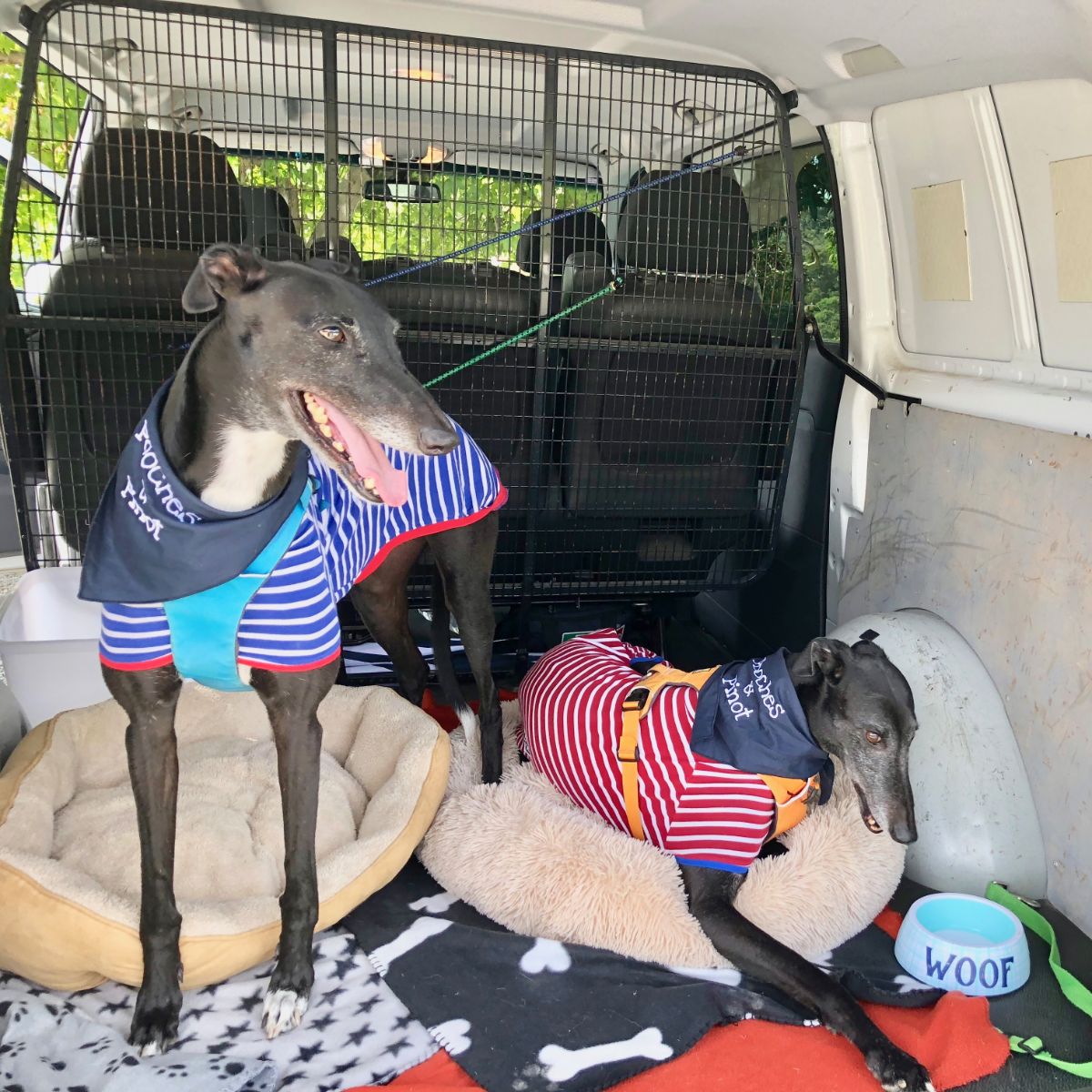 All rights reserved by NOB HEAD copywriter. Director G Flood
Our cast of players
ELLIE……….. instigator of the big day out ( a present for her parents)
CHRISTIAN . her co-conspirator
GREGORY … father of Ellie and a player of the pianoforte
JEAN…………. his wife and mother of Ellie, also a player of the pianoforte
ROCKET……. a rescue greyhound who shares lodgings with Ellie and Christian
HUGO……….. Rocket's brother, from another mother, also a lodger
OSCAR… …… brother of Ellie, son of Greg and Jean, not present but mentioned in dispatches, often, he's been to Yale you know
JEFF…………  a driver
Our play takes place in a Mercedes van as it travels through the Yarra Valley on a wine tour.
CHRISTIAN
Hail fellow well met,
The others haven't got here yet,
They won't be long I wager a bet
And we'll be on our way.
JEFF
It's all good, a small delay
Won't affect this cracking day
Pleased to meet you, I'm Jeff by the way
I'll wait for you by the van.
ELLIE
Mum and Dad will be here soon
They live on the dark side of the moon
JEFF                  The south side of the Yarra I presume
ELLIE                Correct you've got it one!
The dogs come out as the parents arrive.
People for no known reason start speaking French, mon Dieu!
Introductions are made and our players set off.  En route, a discovery is made by the astute Jean, that they have worked together before…
JEAN
Your voice is one I've heard before
Were you a dancer in days of yore?
JEFF                   Why yes, in CATS and among many more
I was in HMS Pinafore.
GREG
Zoinks, aghast, 'Of course that's it
Jean and I played in the pit.
We were younger then, for sure
When we toured in Pinafore.'
Our happy players reminisced as they travelled to the Yarra Valley, talking of old friends they mutually knew and no sooner could you say Paul Eddington, they were arriving Rob Dolan wines!  The sun was shining beautifully so Scotty the Cellar Door manager seated them in the garden where they slip slop slapped and soon the wine was flowing like an opening night party and much was purchased to take back home.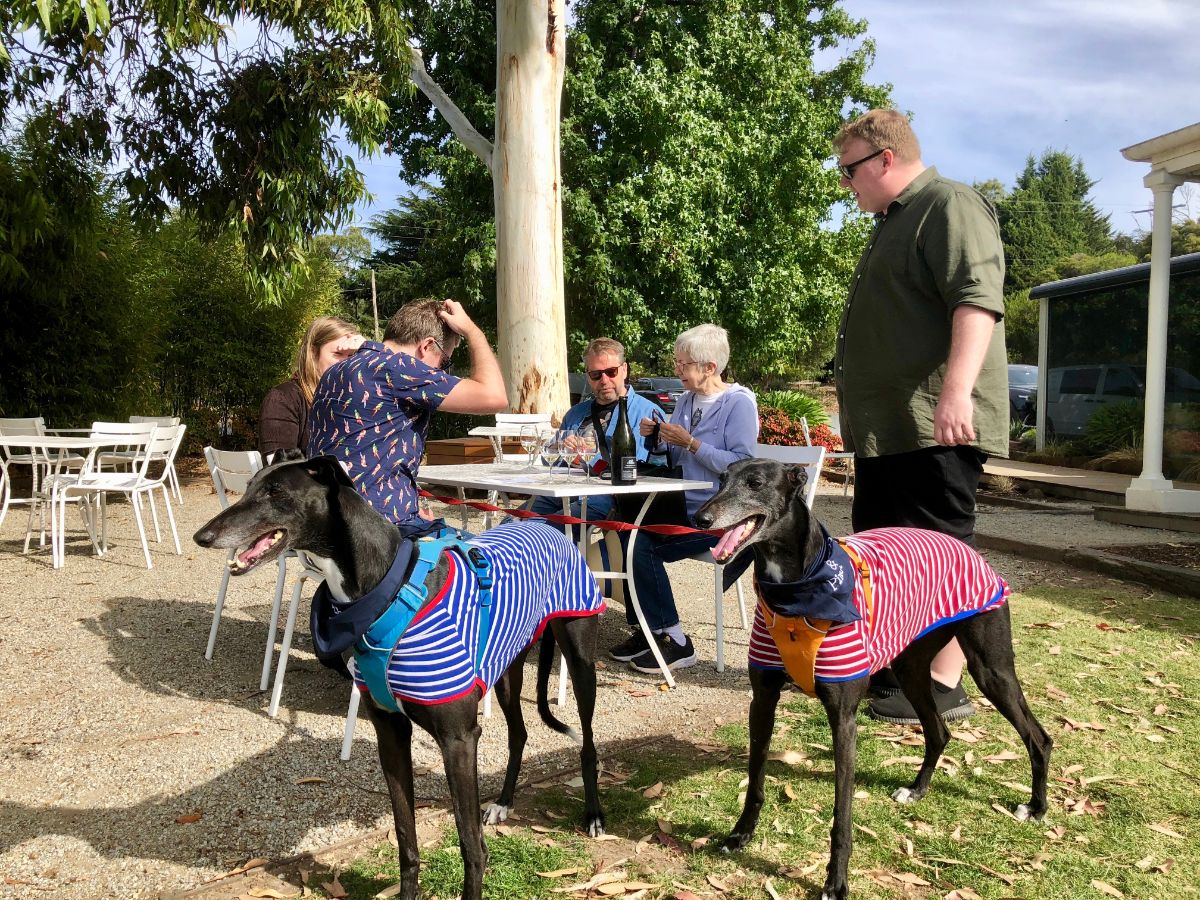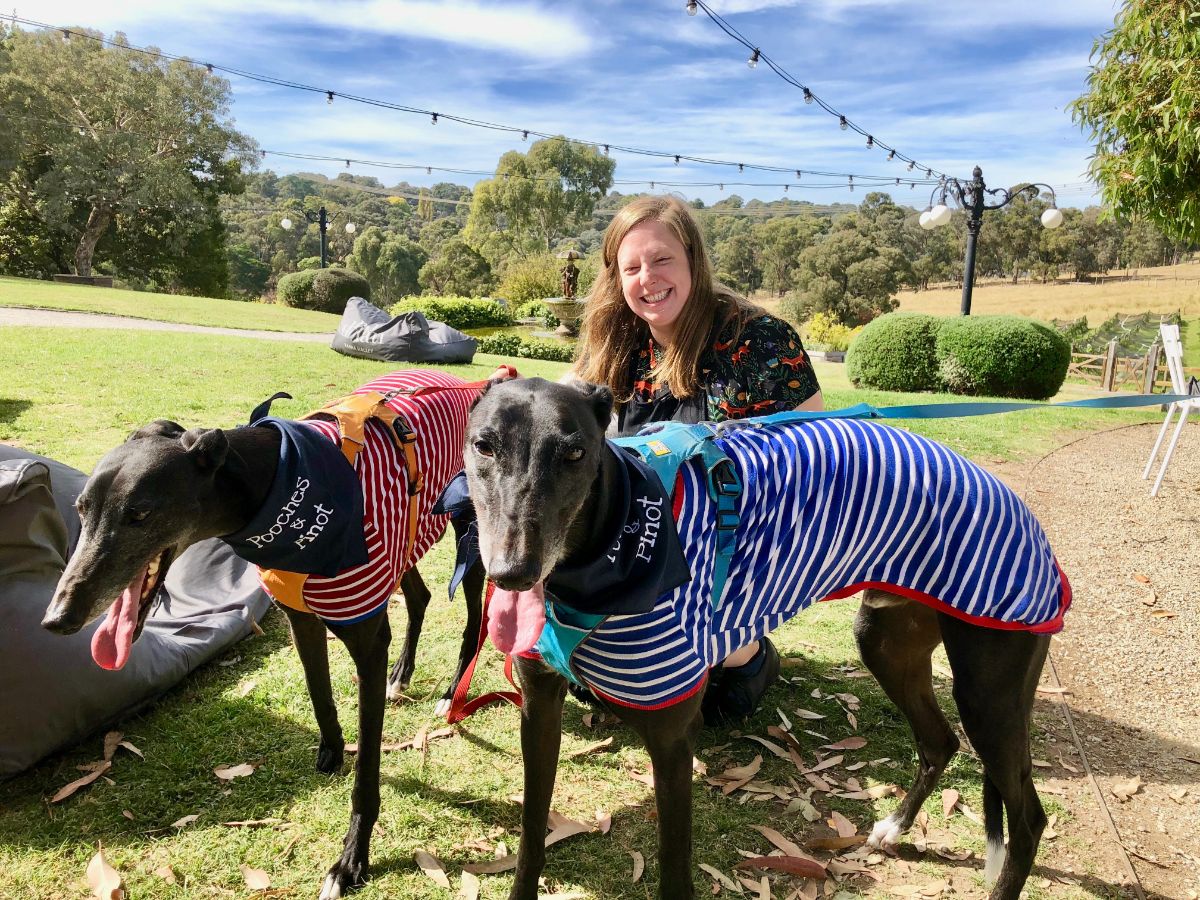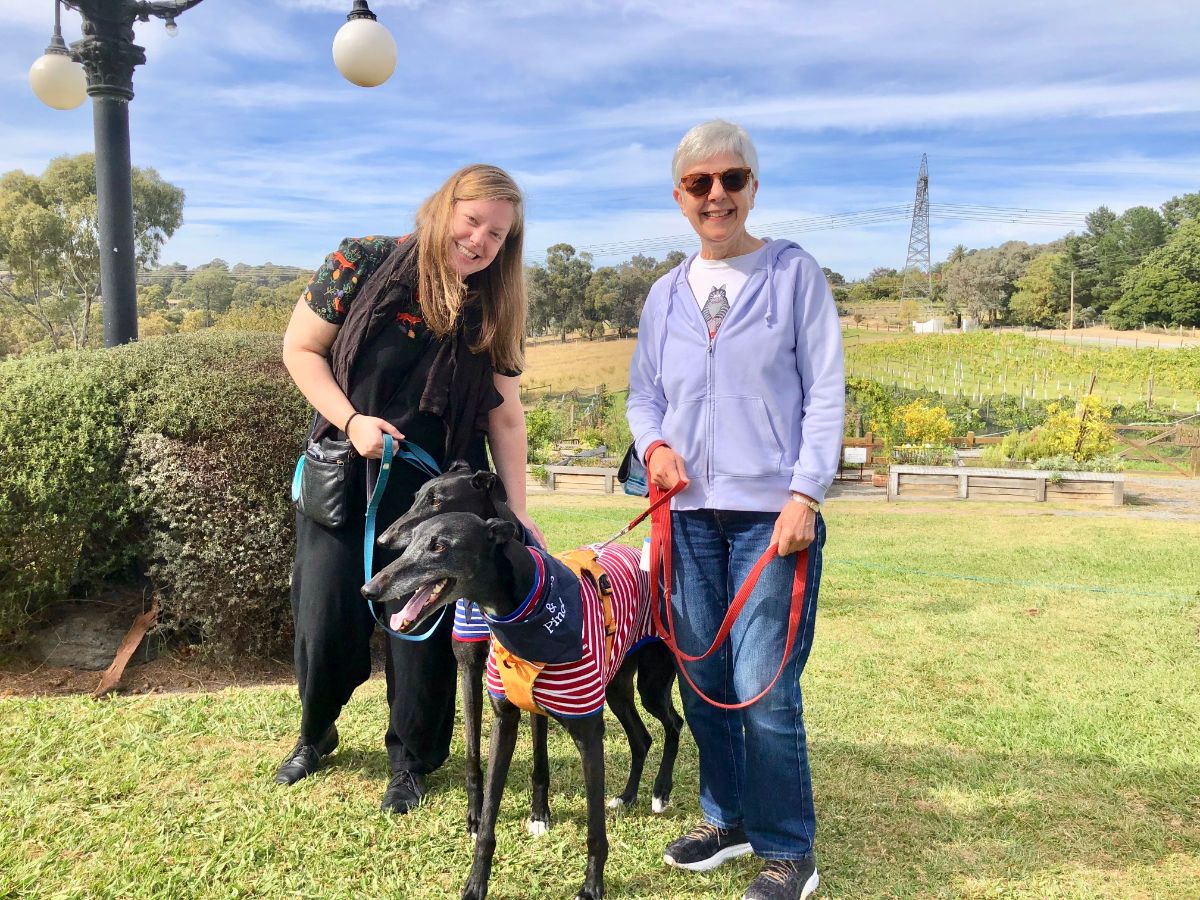 And then they were off again, zooming through the back roads of Warrandyte towards Yering Farm, a winery cellar door in a converted hay shed. The new rosé was much loved by Greg in particular as was the syder (yes, I'm afraid that's how they spell it) – another favourite. Hugo had by this time decided that lying on the bricks would simply not do and demanded that a bed be brought from the van for his repose (he's the kind of a prima donna that makes Geraldine Turner look positively shy and retiring)!  Both dogs had some walkies and then they set off again in the van.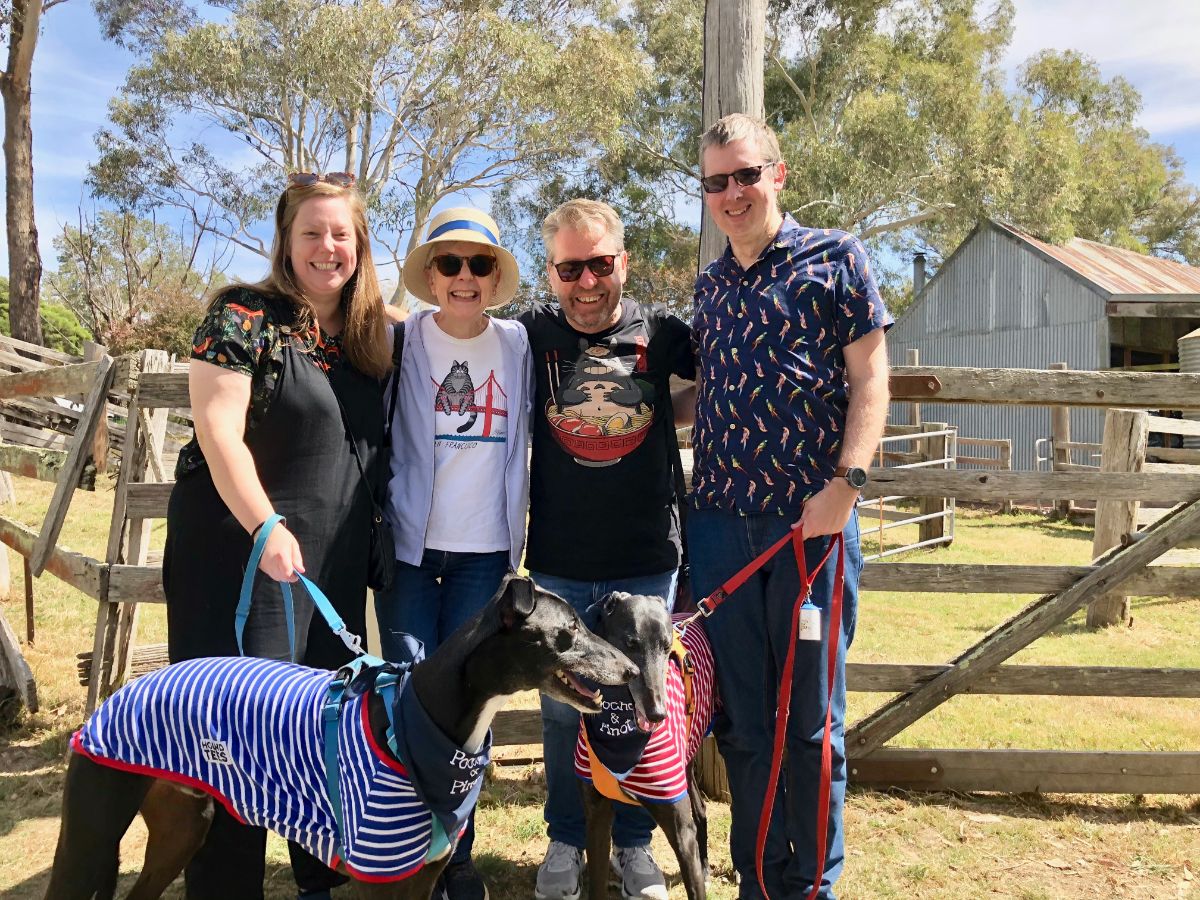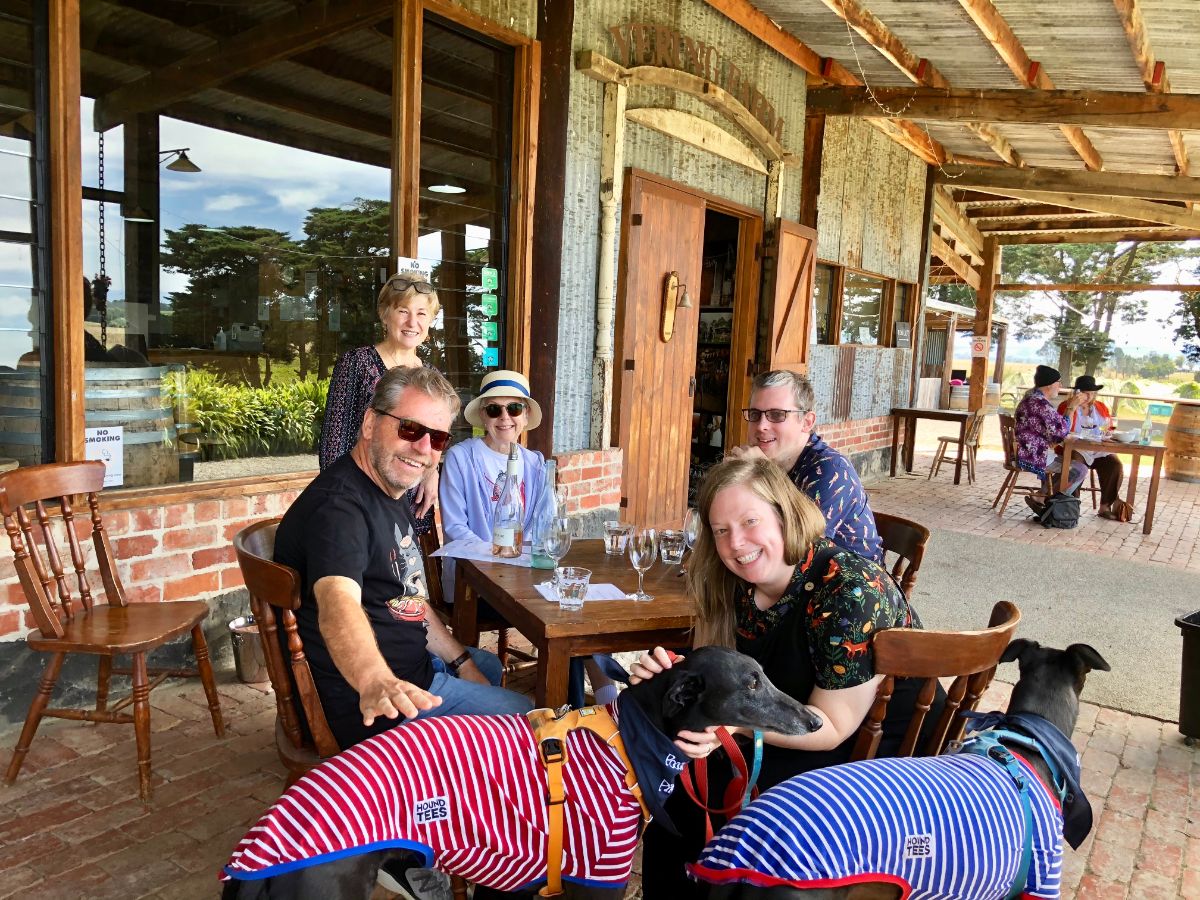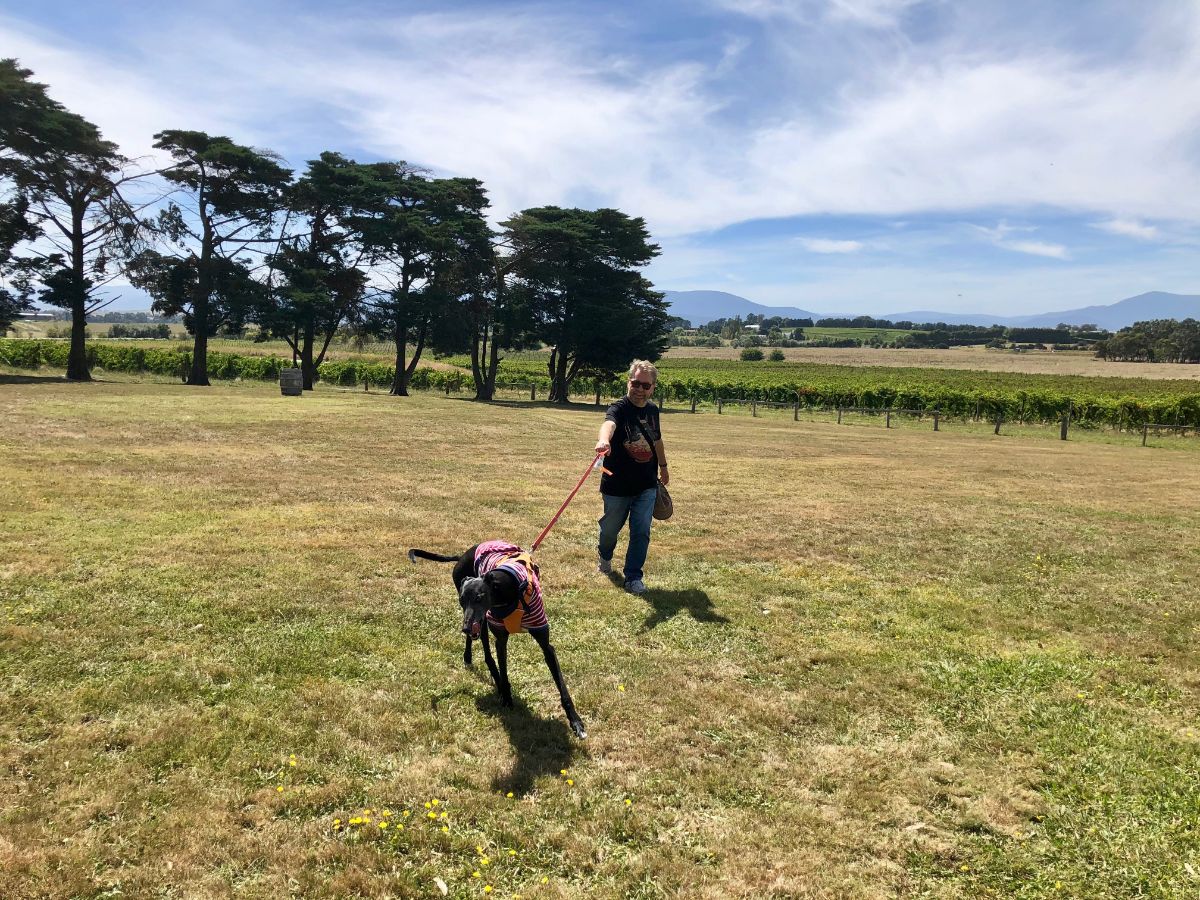 Next stop was Helen's Hill winery and the humans did their tasting up at the counter inside the cellar door, while the dogs were mobbed by a bevy of beauties.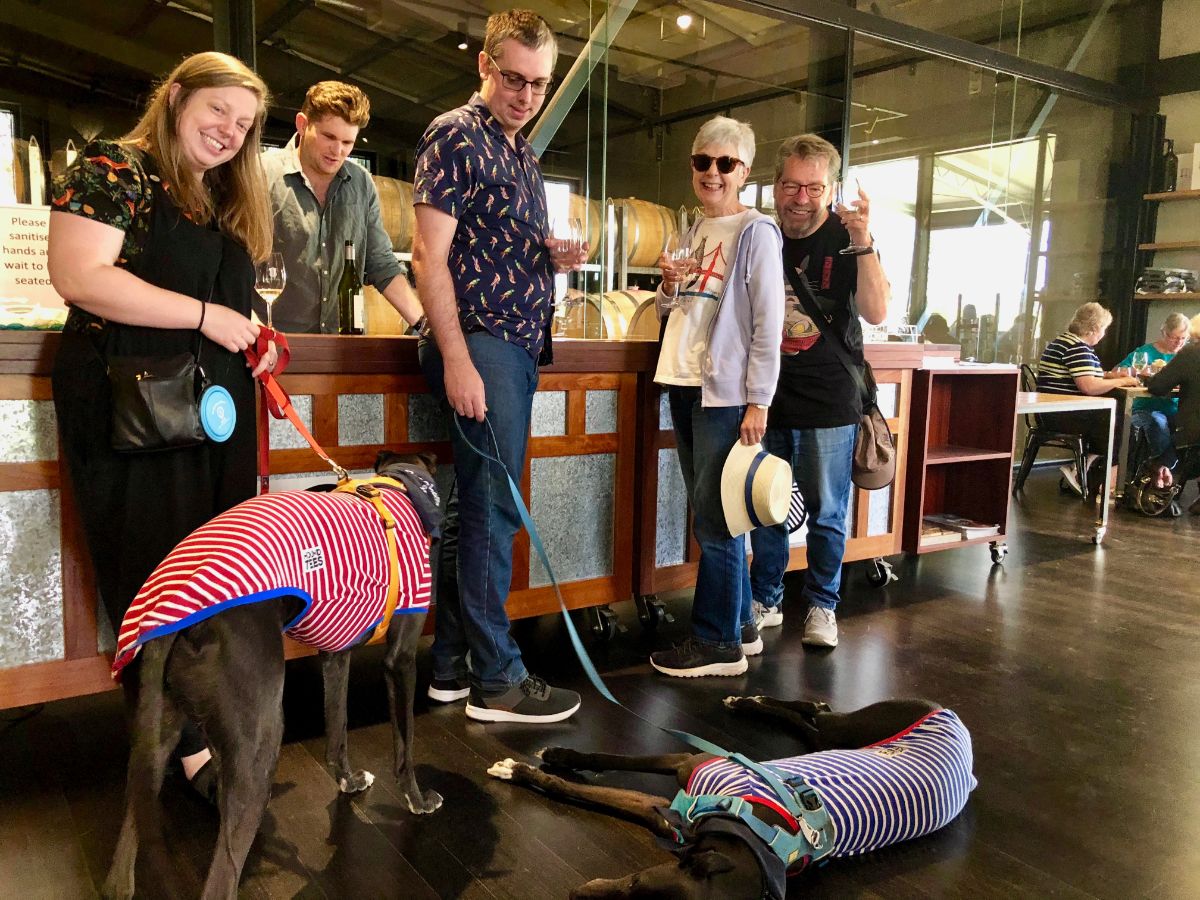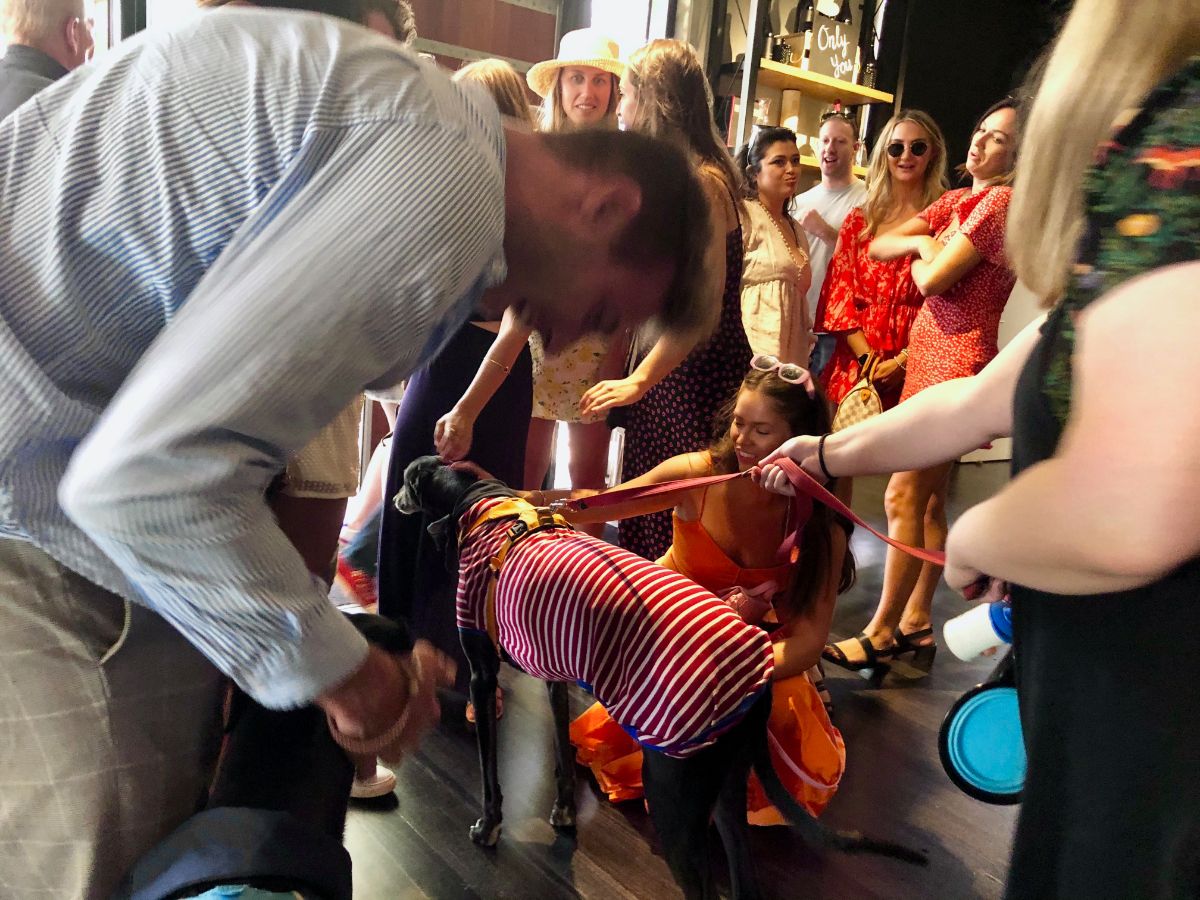 The sextet then sat (some lay) down to lunch on the covered deck and glasses of wine washed down a huge share platter and some pizzas. Hugo, of course once again had his bed delivered to the table.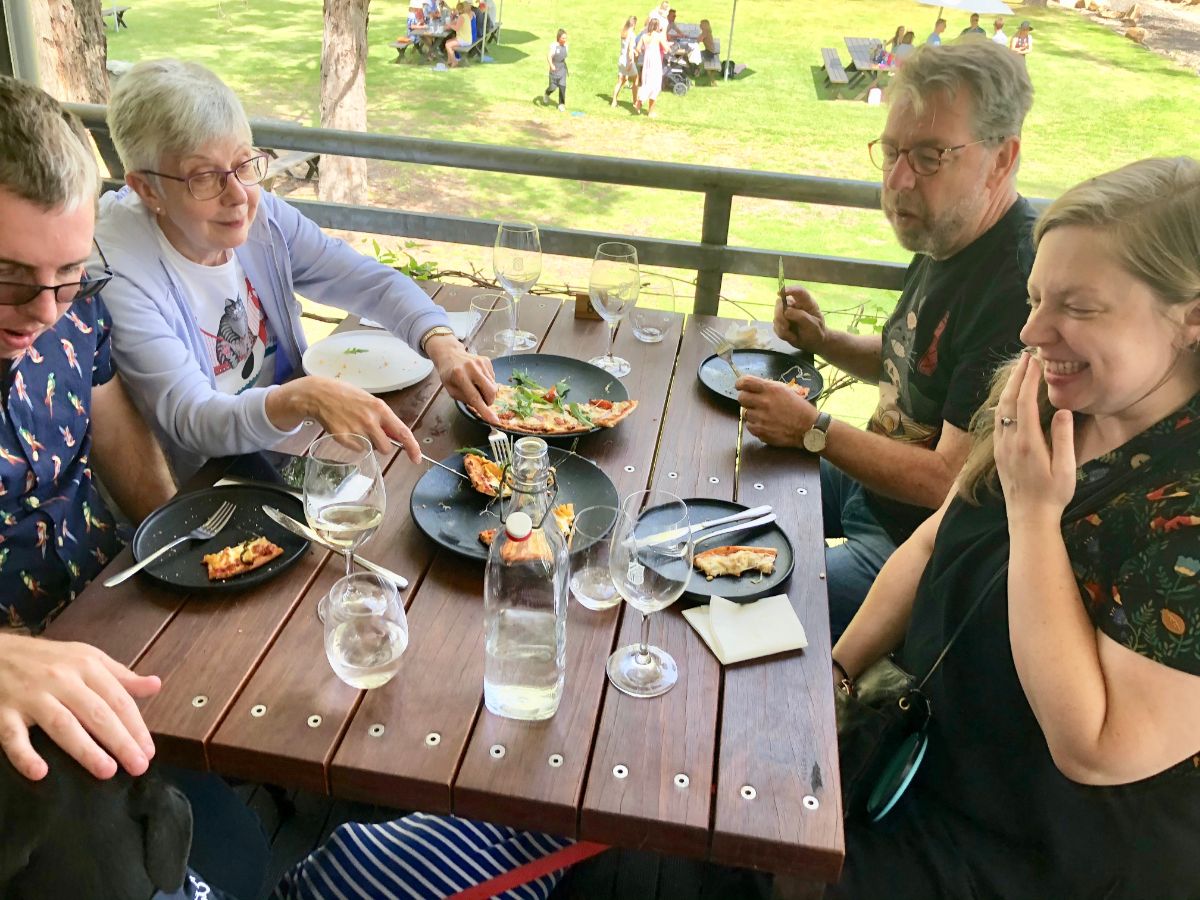 Next stop was Squitchy Lane, a much smaller cellar door and the Pooches guests had the deck all to themselves, (which is fortunate because they need all the room they can get, given they come with Hugo's bed and Rocket's long legs!).  This time their wine was poured for them by farmer Steve, Squitchy's viticulturist – he's basically in charge of making the grapes grow, so it was amazing to be served by him given it's harvest now up here in the valley.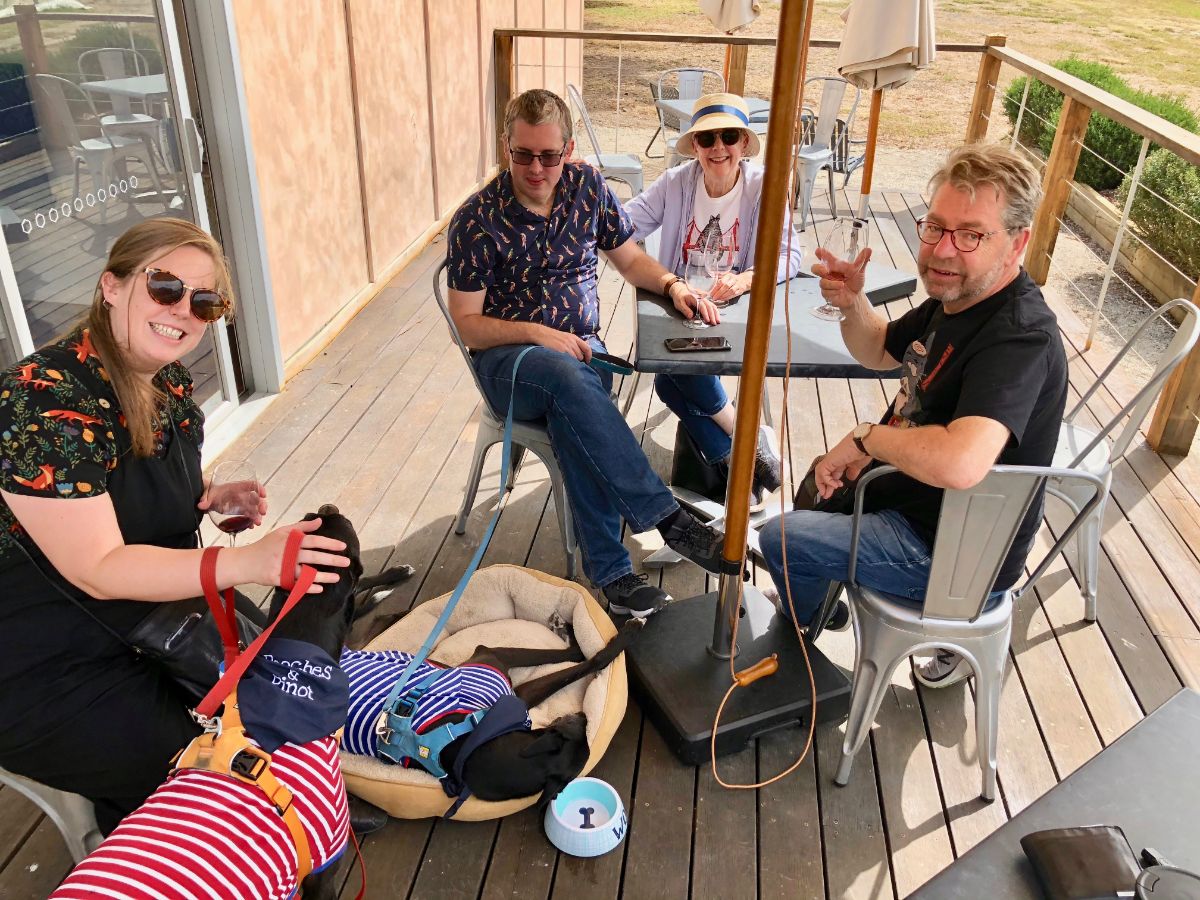 Last stop of the day for our merry band of troubadours was Helen & Joey's winery and it was rocking up there on their hill.  In between strokes and pats by admiring onlookers, Mel poured a great selection of wines for the humans to try, including an orange wine from their experimental Wayward Child series.  By this time the hounds were conked out horizontally – it's pretty exhausting stuff being fabulous – albeit under a table.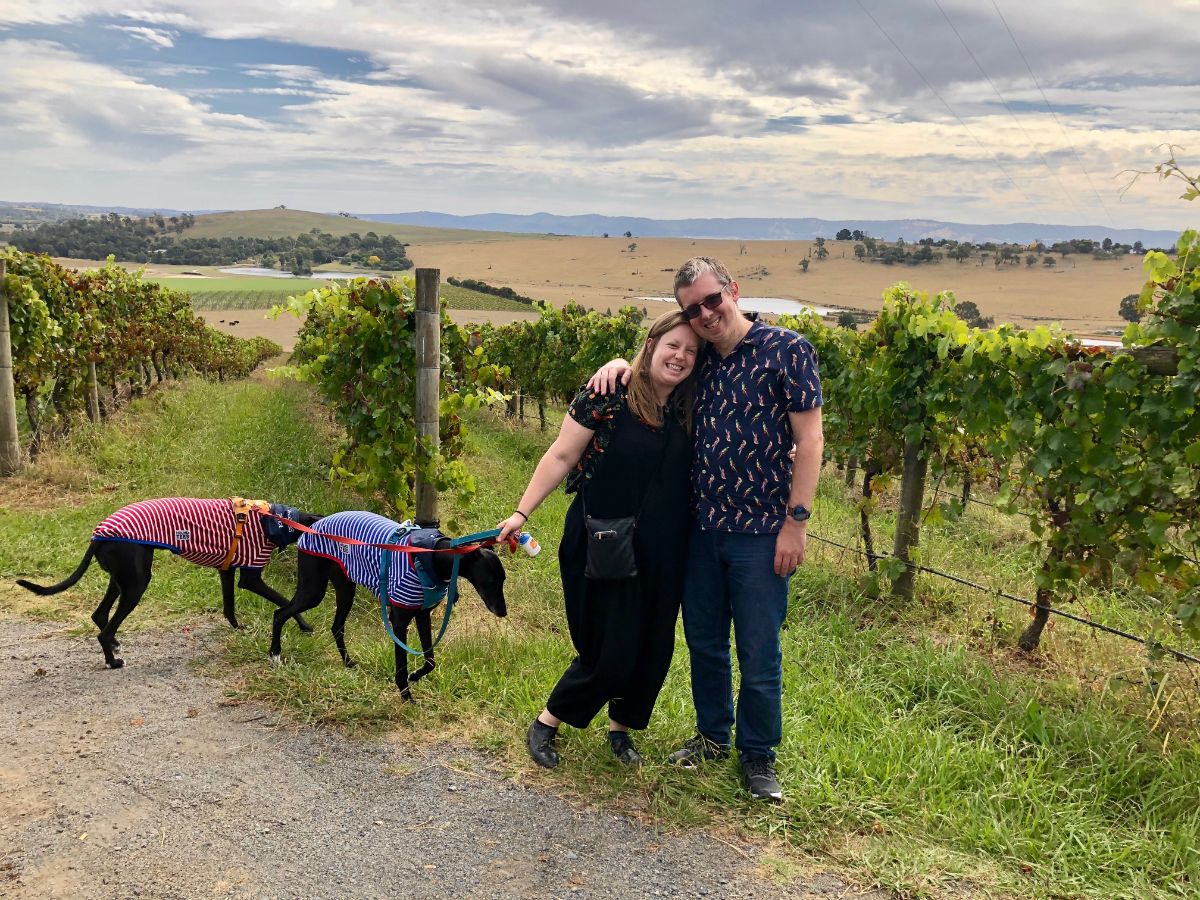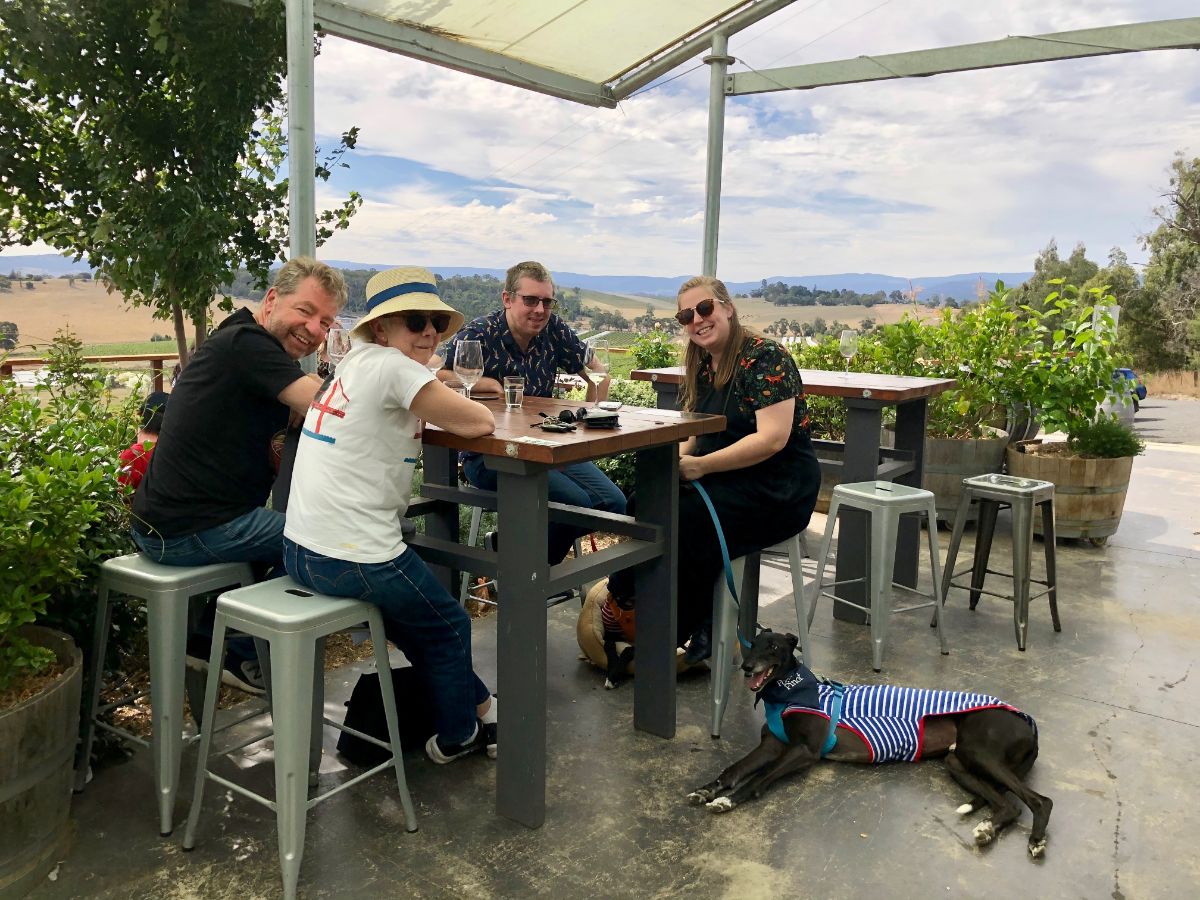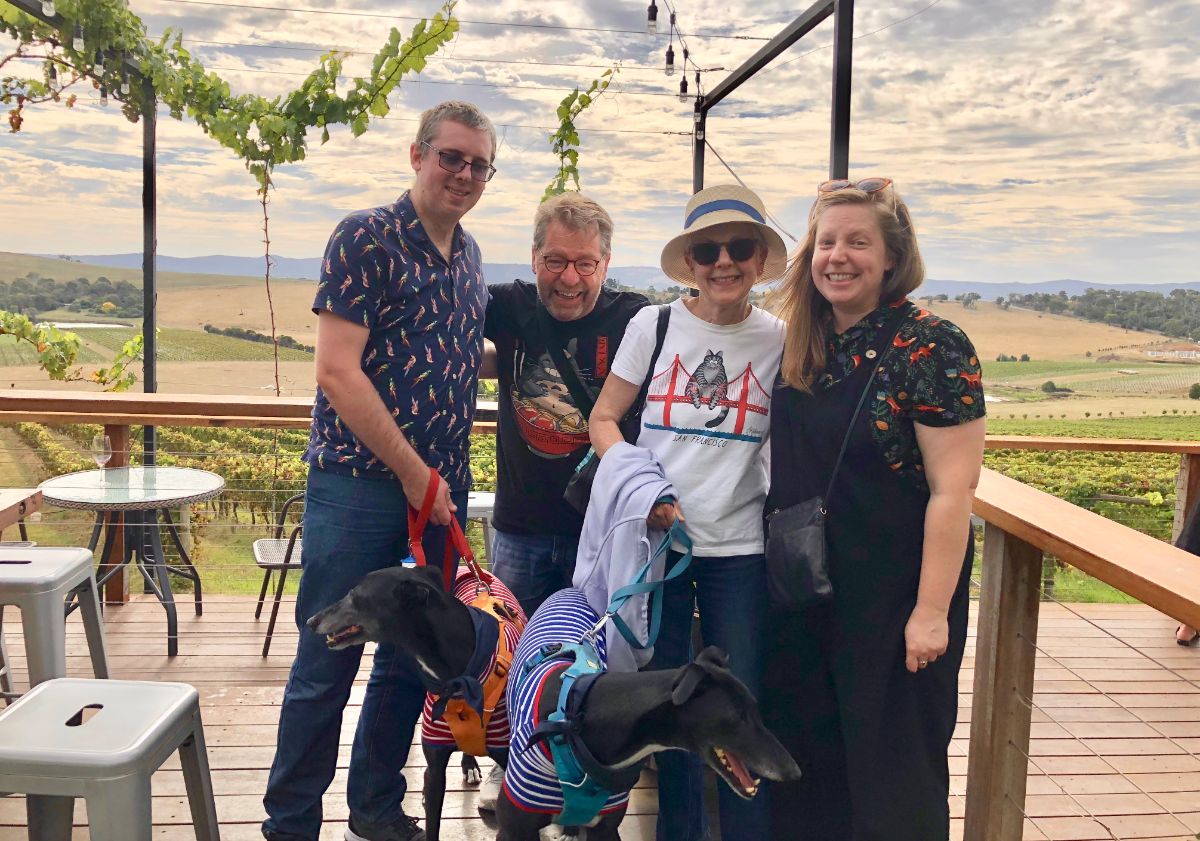 It was now time to pile back into the van and set off for home.  There was much laughter and chat all the way, including how proud Greg and Jean are that their son Oscar has been offered a place at UVA, tho let's face it, it's not Yale, and honestly, how will their slippers, socks, ties and scarves compare?!
Jeff dropped the happy mob back to Fawkner and big hugs were had all round and Jeff plotted all the way home to find his HMS Pinafore programme from 34 years ago so he could send them all this picture.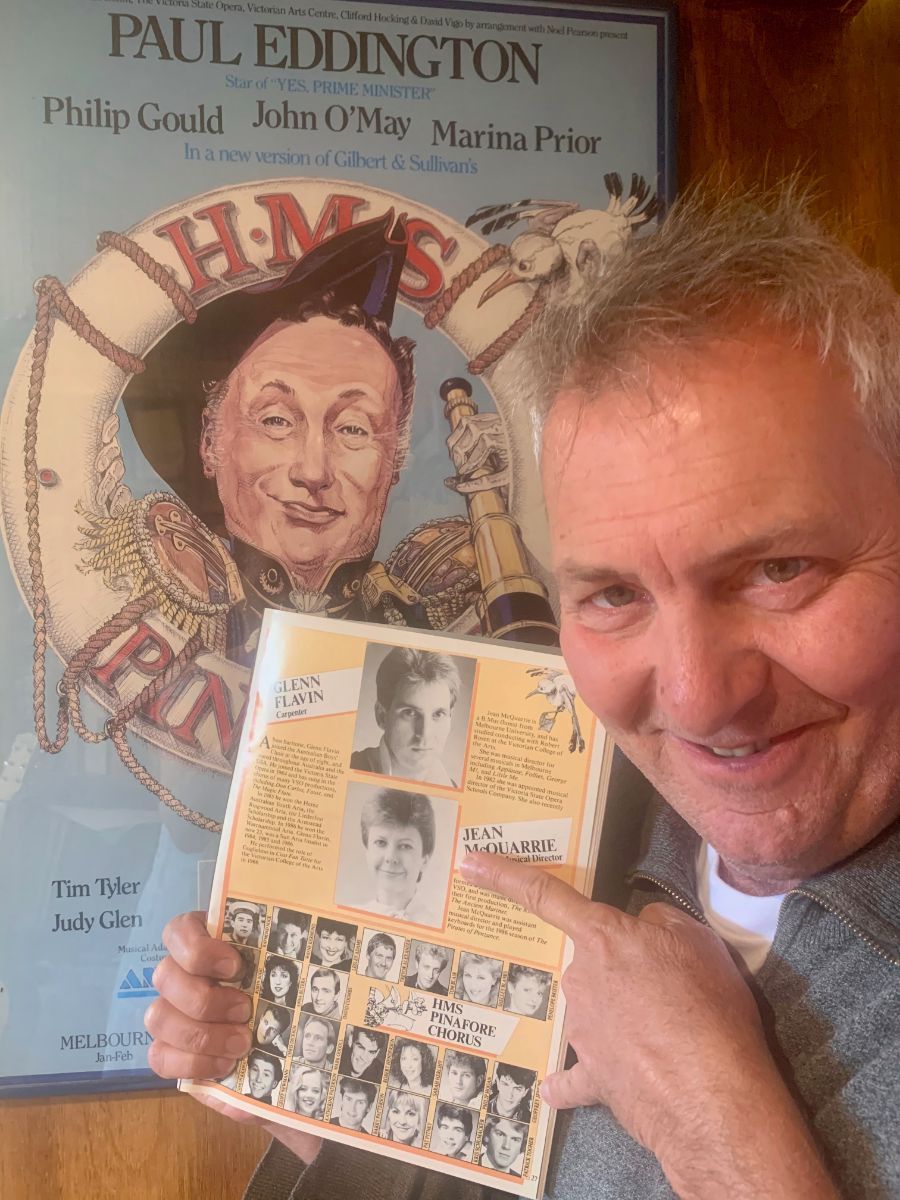 Quote from the day – Family are those you go on tour with.  34 years ago and again today!!
What happy times.