Hi fans, I'm Massimo and I'm a tiny bundle of Cavoodle fluff from East St Kilda.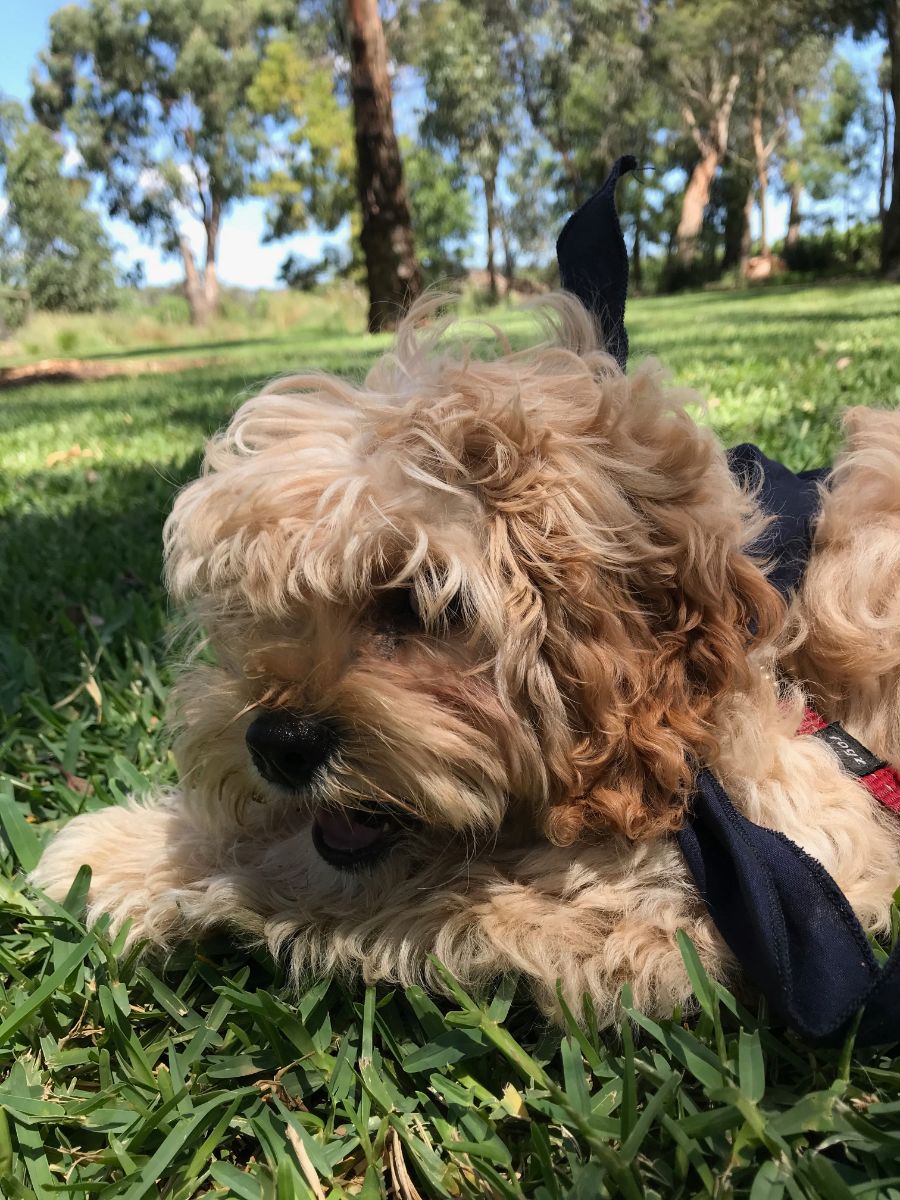 I've only been alive a short while, but already I've proved to be a total party animal, I had a huge Christmas and New Year at all these parties with my pawrents (Johanna and Myles) and we're still partying now – on a Pooches & Pinot wine tour for my Papa's belated birthday – he was born on Boxing Day which Mamma says is a silly day to be born, as no-one wants to party with us.  So we're partying a month later with Papa on a private wine tour just for us, with me, (bcs I go everywhere with them), in the Yarra Valley. And then tomorrow, I'm having a sleep over at Nonna's while Mamma and Papa party on again with more friends!!  What a huge weekend for a tiny pup.
So here's what happened, I woke up on Saturday morning and instead of heading over to the park like usual, my folks are all busy 'getting ready' and I didn't know what was happening?  Getting ready for what, with whom?  Were they going off without me, were they going to work, what's going on – and then things improve dramatically as they put me on my lead and off we go outside and we meet a lovely lady called Helen who has brought us a shiny black Mercedes van to get into!  It's HUGE and we have it all to ourselves and I get to sit in the best seat between my Mamma and Papa and we chat to Helen like we're old friends, all the way to our first winery, in Warrandyte called Rob Dolan Wines.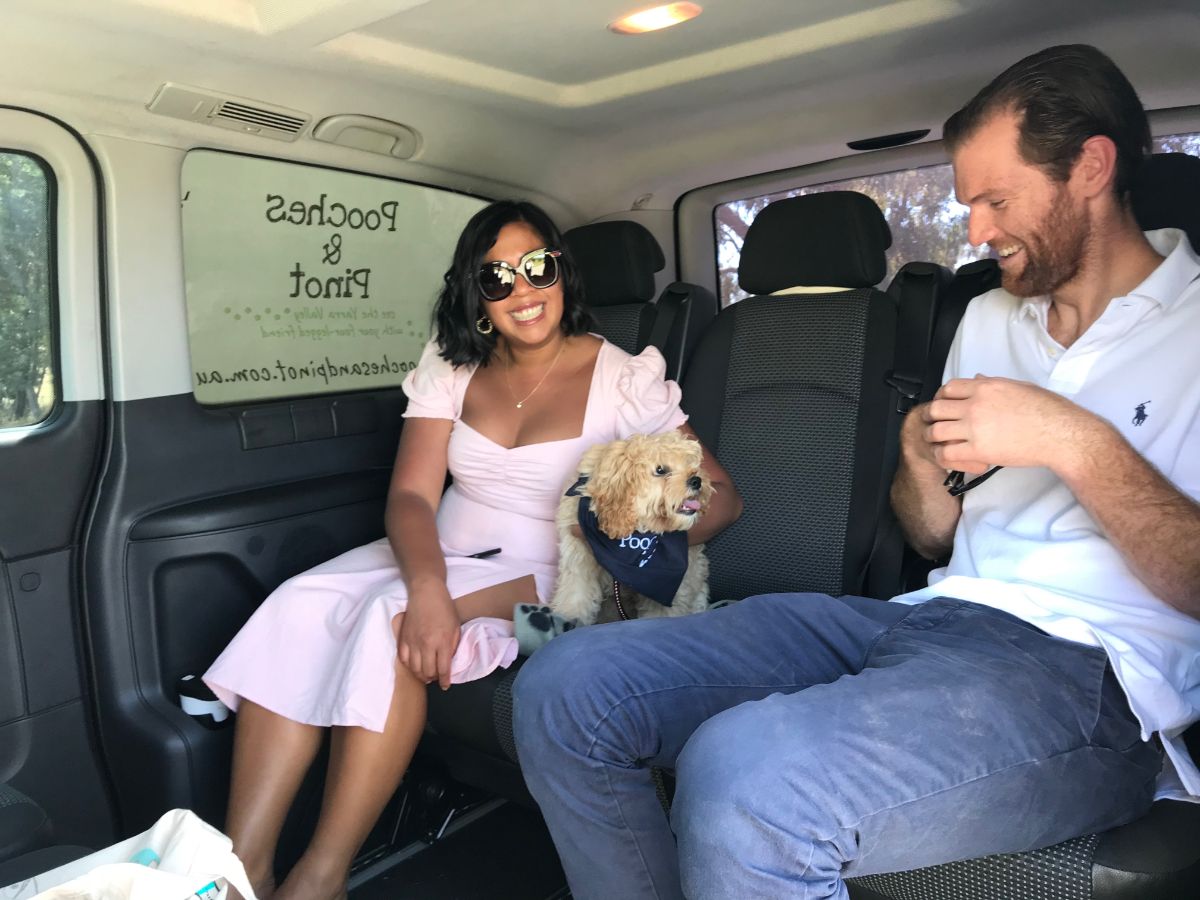 Papa grew up around here but he's never been to this winery so he's excited.  We go inside this lovely room with a cool brick floor and a lovely lady called Tayla does a wine tasting with Mamma and Papa while I sit patiently for the count of three –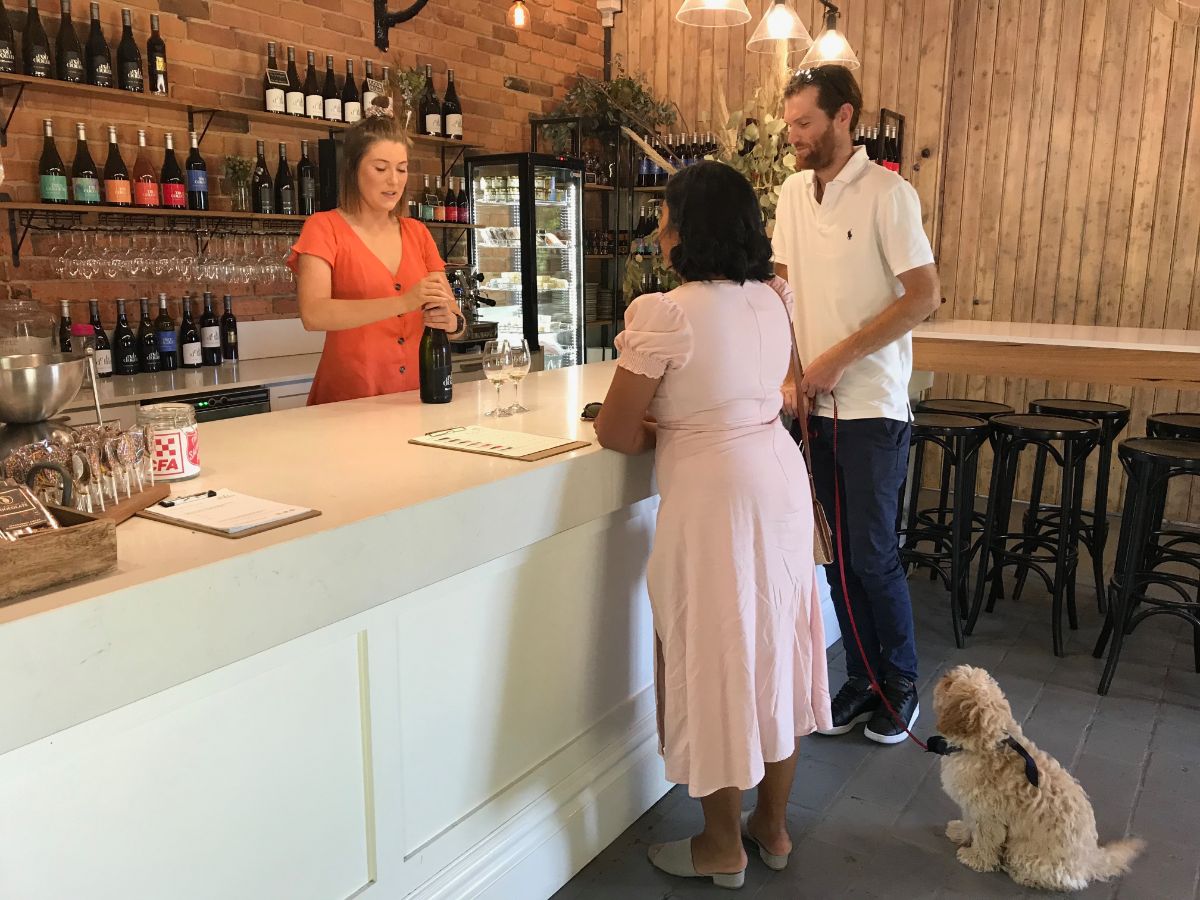 then I'm off, sniffing every nook and cranny,
standing up at the window to see who's going by,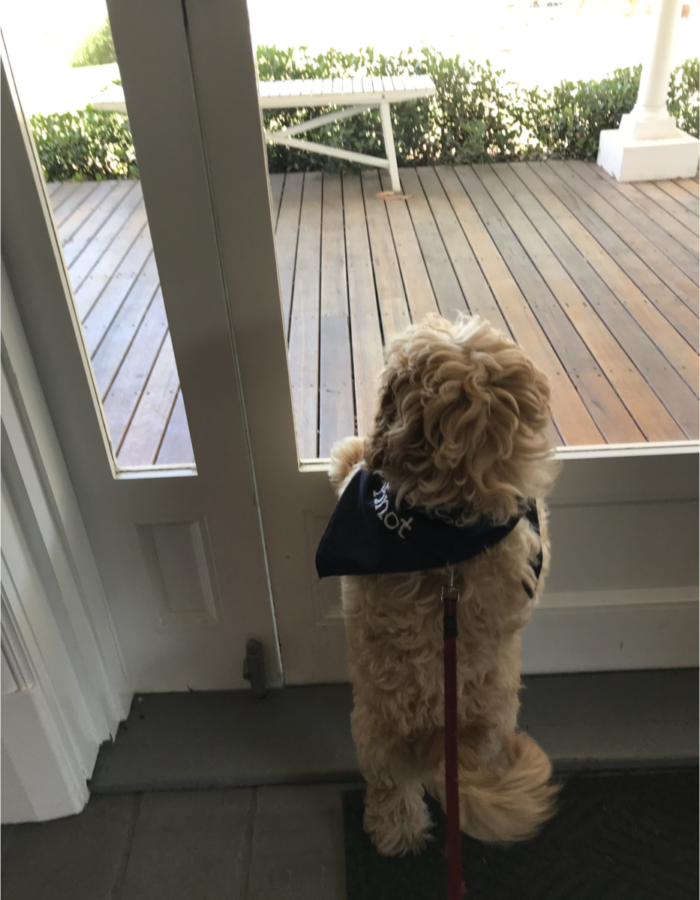 chewing my lead,
racing into the back office as I suddenly smell french bread,
chewing Helen's fingers because she clearly likes it,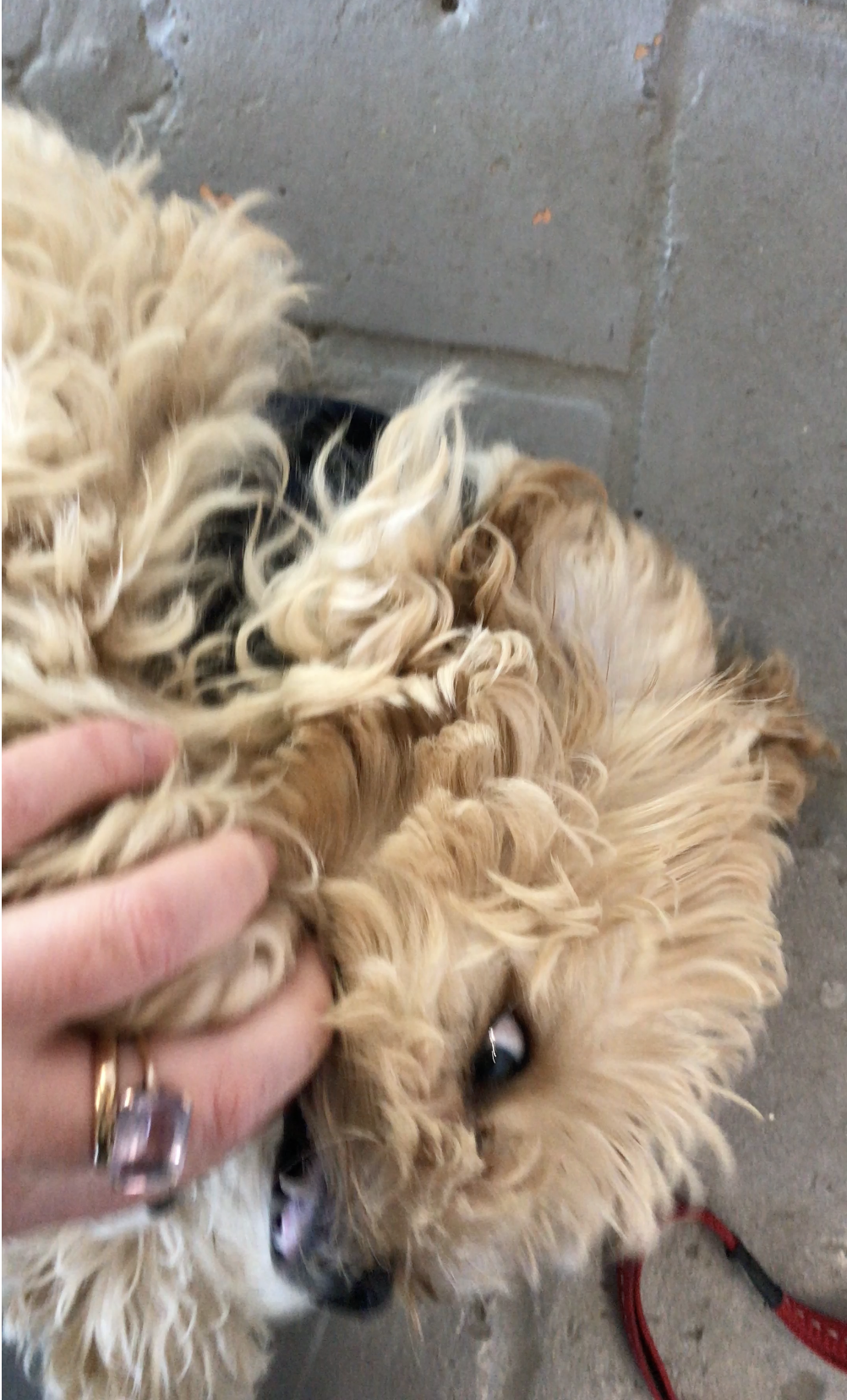 popping behind the counter to help Tayla with the tasting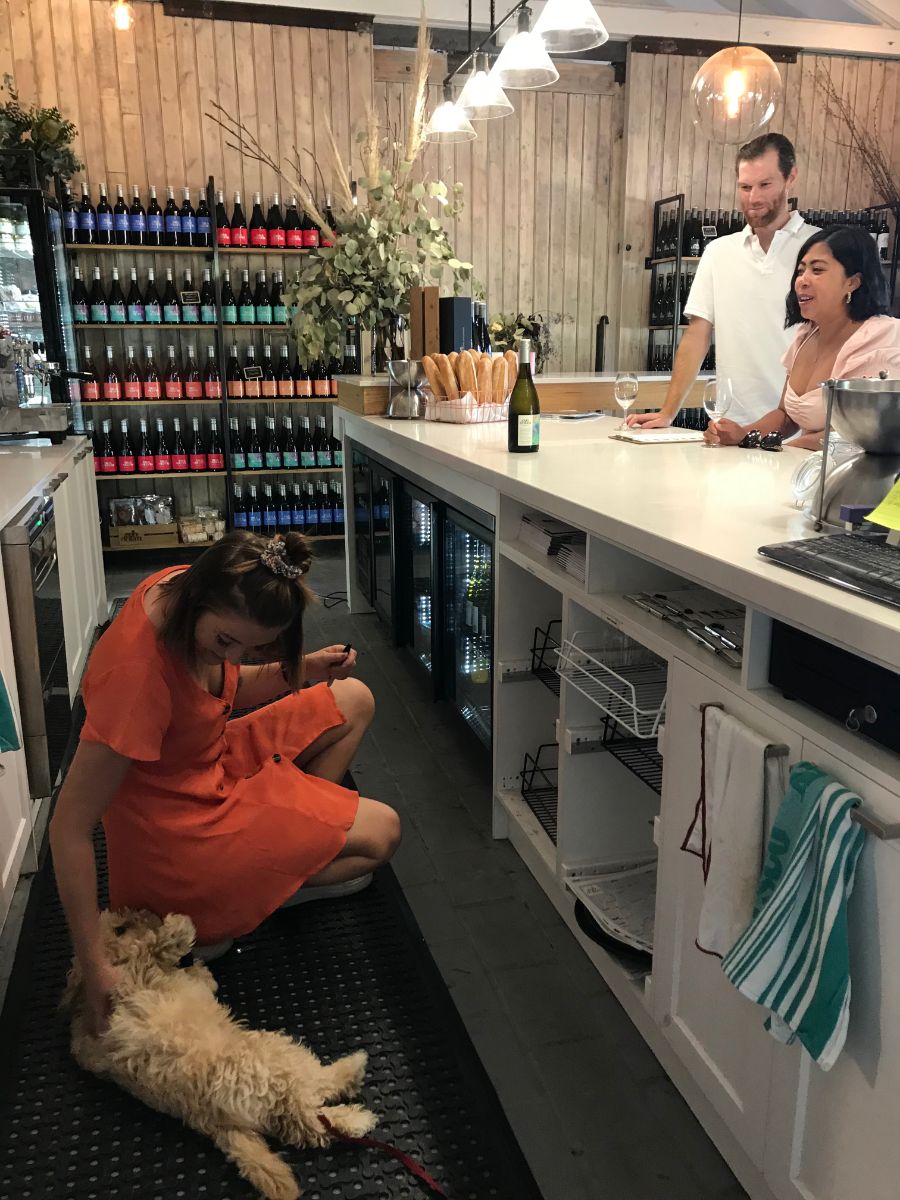 and then hiding up Mamma's dress.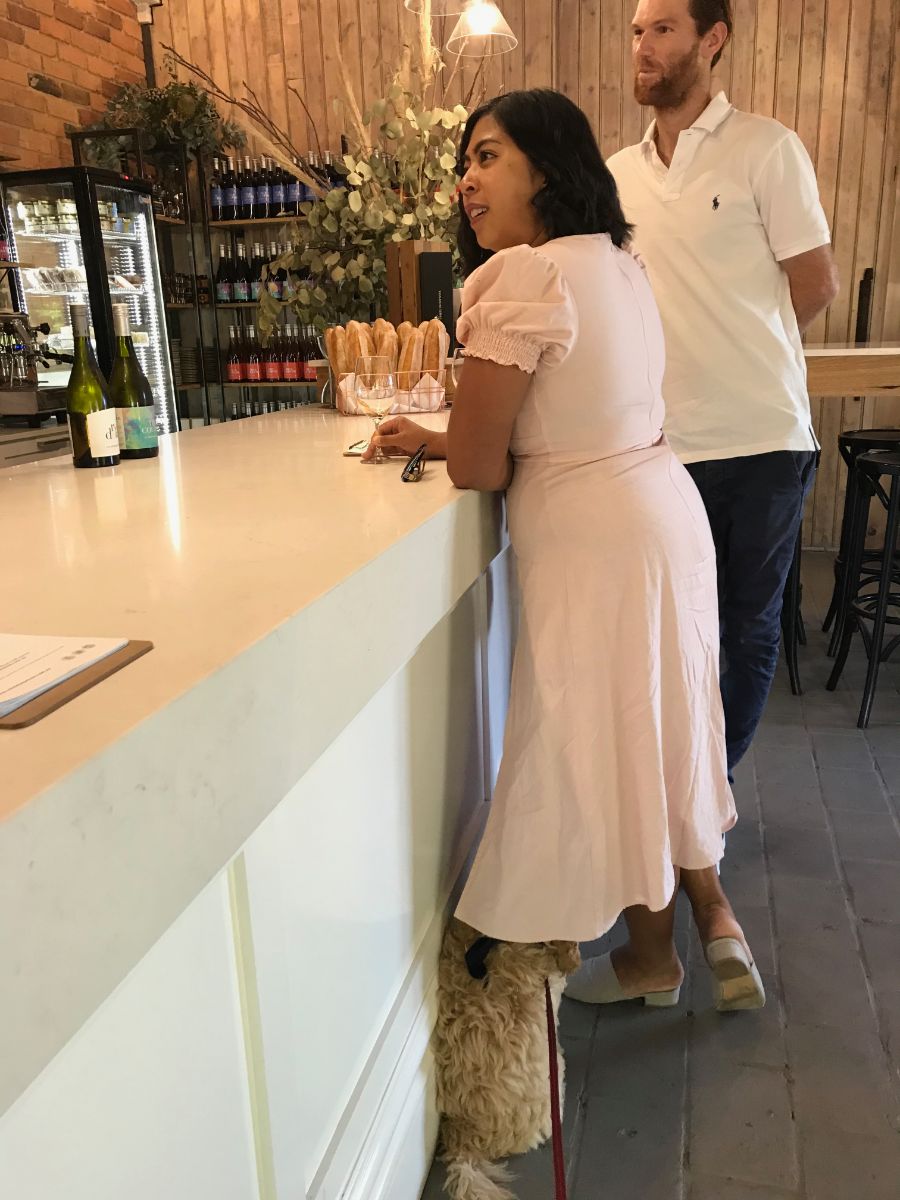 I'm so loving this day already.  Then, a lovely lady called Dane is setting up for a wedding and keeps walking past the window, so I smile at her and wave my tail til she HAS to come inside to meet me bcs I'm so irresistible!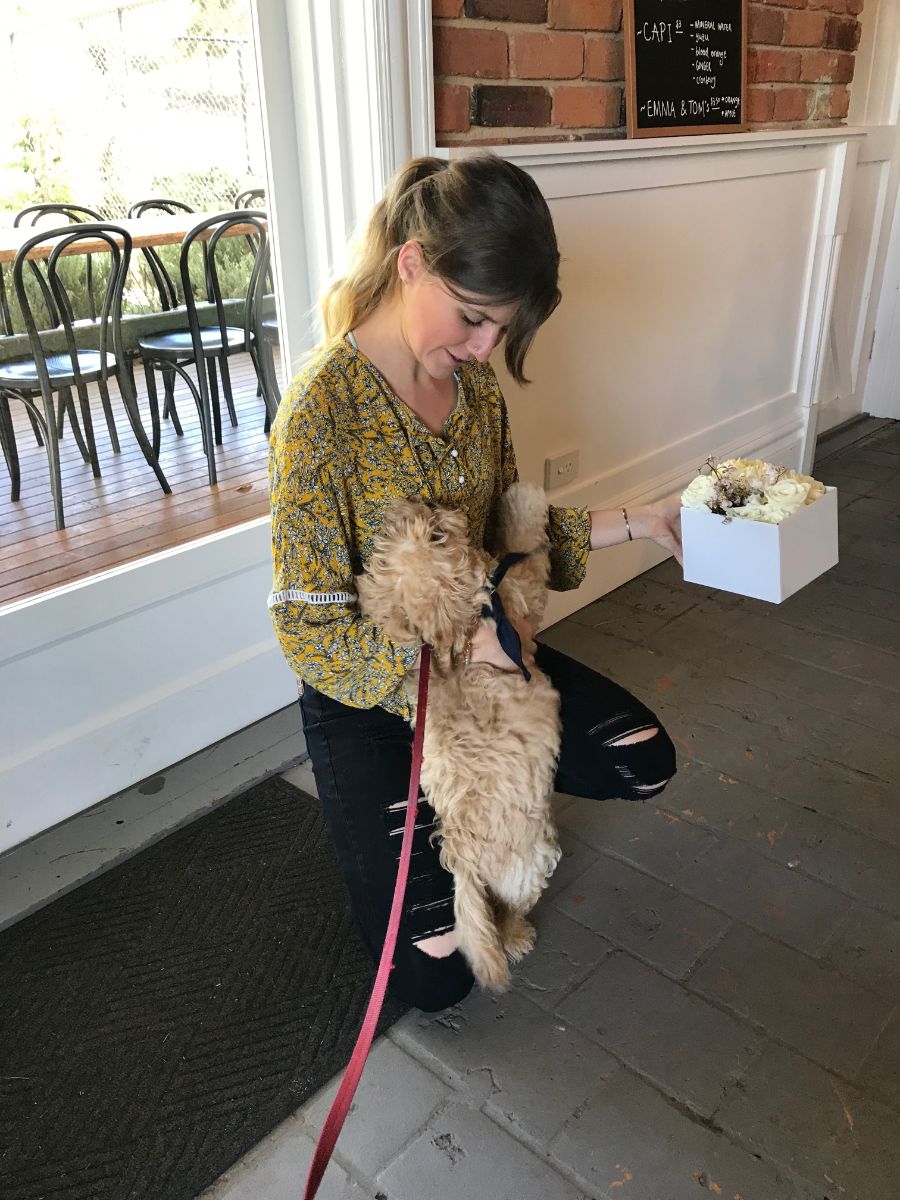 We jump back in the van and we're off to Helen & Joey's winery next where two cellar door staff fight over who's going to do the tasting with us because they both instantly love me. Tory wins and so I give Ali a consolation hug and look up at her with my best sad puppy dog eyes and promise I'll be back another day for her to do a tasting with us.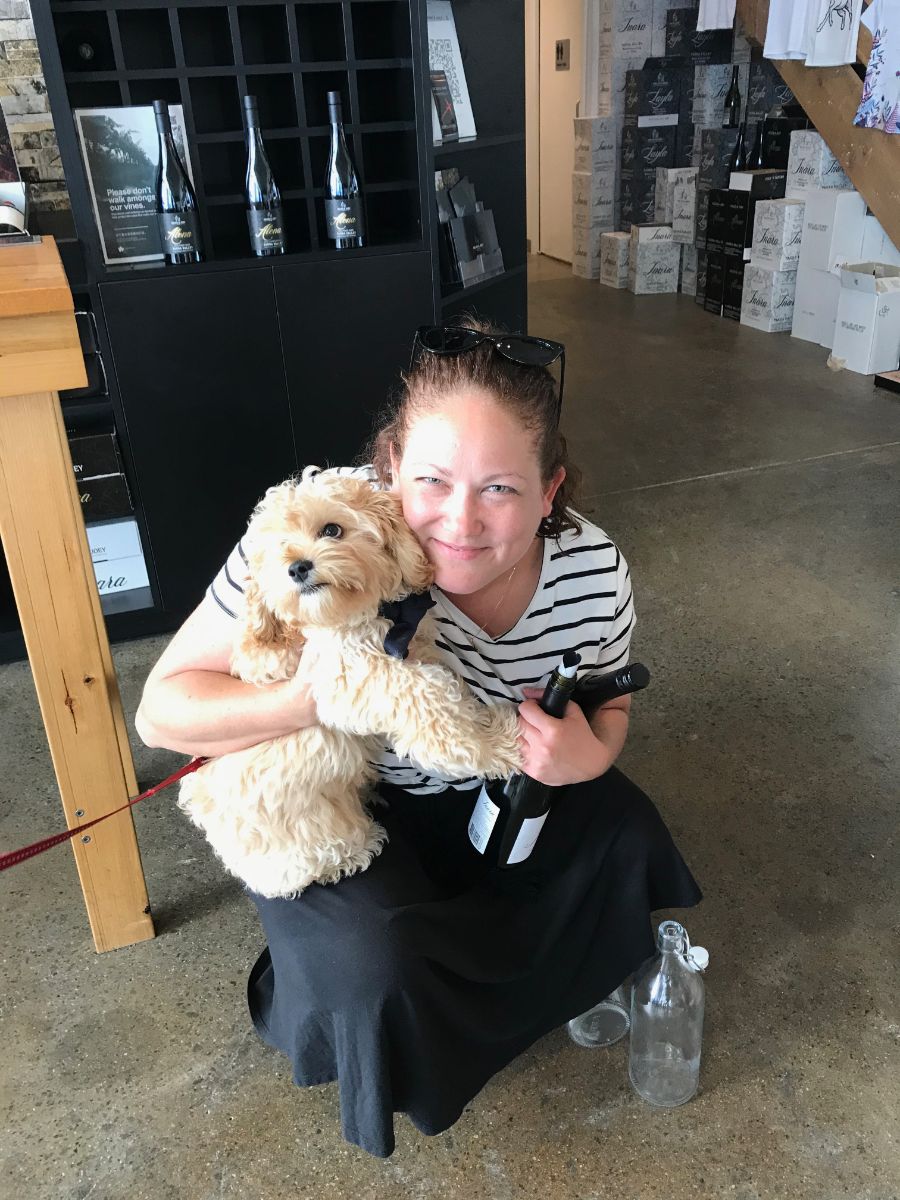 Tory gives my parents all these different wines to try and me a bucket of water, which I straight away tip all over the deck and then lie down in the puddle I've created – it's ace and so lovely and cool and then I drag my lead through it too and get it caught up around the chair and table legs and run around excitedly getting everyone wet.  Can this day get any better?!?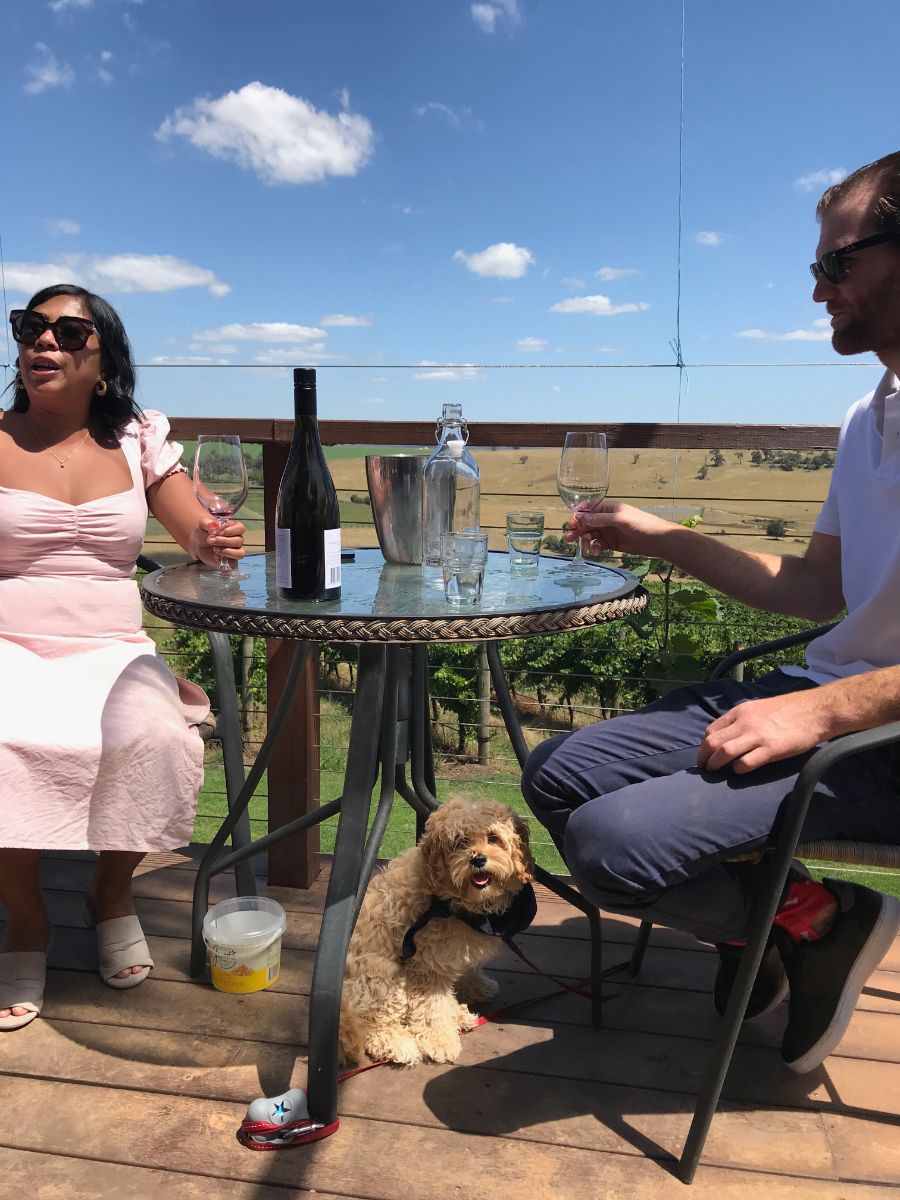 Women all want to hug me and look, this is not new to me, it's been happening since I was born, but get this, one group of chicks ask me to get on their bus with them!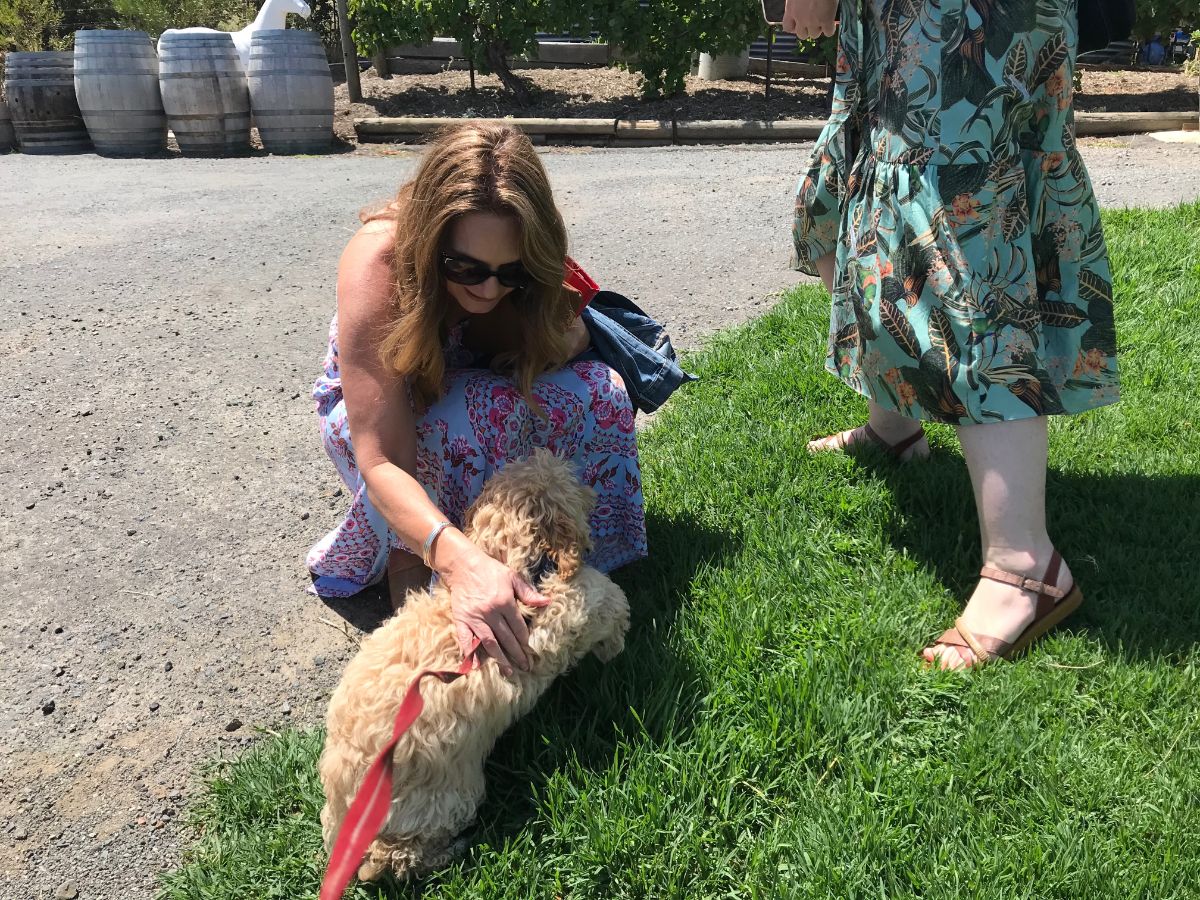 I turn around to ask Helen if this is a good idea when I see my parents coming towards me and the girls are forgotten in an instant and I greet my parents like we've been apart for years, not minutes.  God I love them.
It's time for my pawrents to have some lunch (Papa's not used to drinking wine at 10am) so Helen takes us to a great place called Helen's Hill (not her hill, another Helens' Hill) and while a lovely lady called Marissa pours them heaps more wines, I do the rounds of the groups of people who are dying to meet me.  I ambush one group – I see them as they arrive and get picked up and cuddled and photographed and then Helen leads me back inside the cellar door and I make for the other door and appear in front of them as they come round the corner and it's like they've won a prize, they all cheer and shout my name and make a fuss of me and say things like 'Can I have him?' 'Would they mind do you think?'  'Can we just have him for the day?' and Helen has to be quite firm with them that I'm not for sale and can't be pimped out!  Glad she's here as my pawrents are up at the bar drinking with their backs to me!  Err hello – parenting?!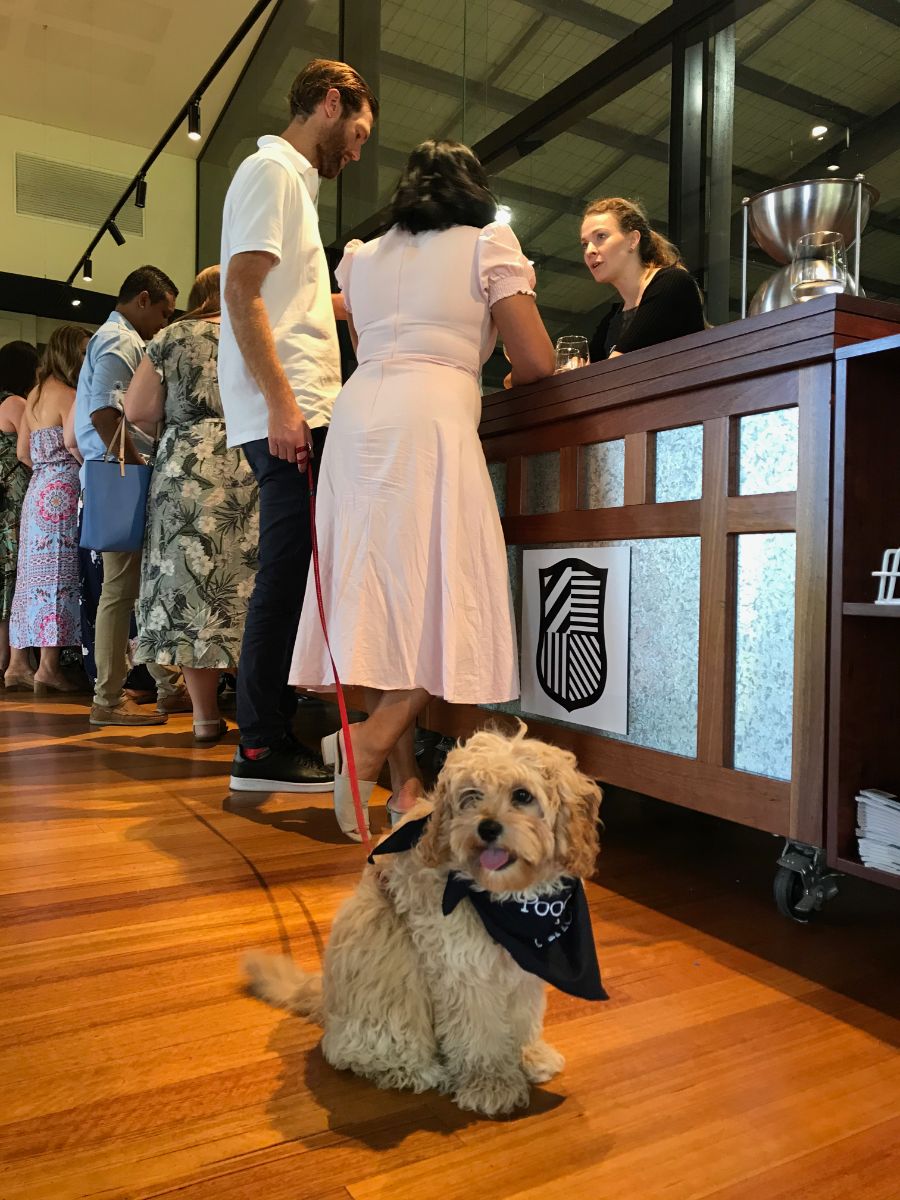 There was so much fun to be had in the cellar door – here's me disappearing under the counter!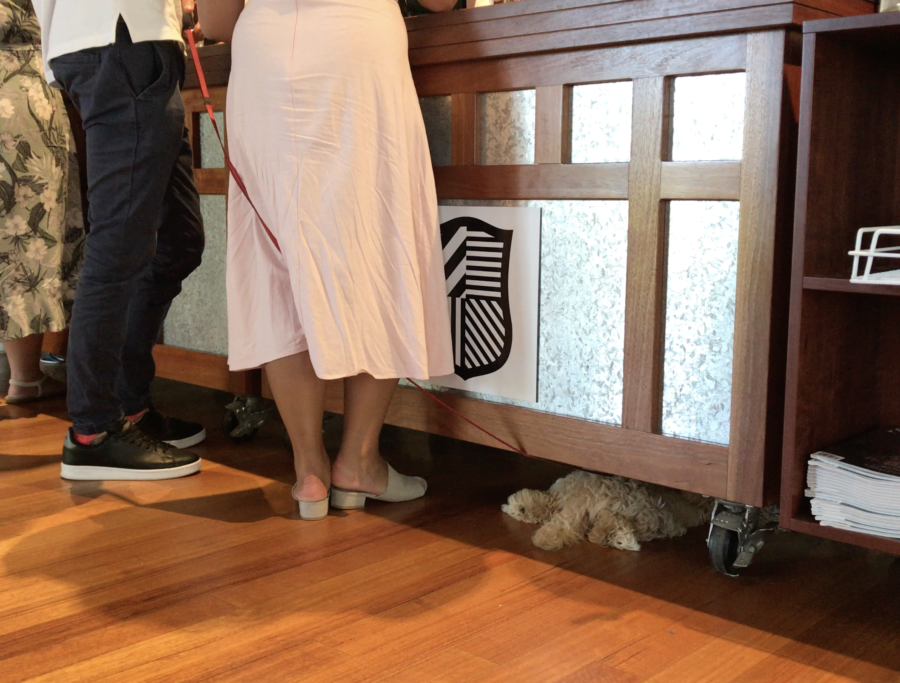 Once my pawrents had finished guzzling wine, they chose some to have with lunch and we are shown to our table on the deck.  I'm pretty exhausted by now, so I lie under Mamma's chair and have a much needed power nap.  As my Mamma and Papa eat their platter and pizza, I snooze, and then Helen appears as if by magic and asks if I want to go for walk, like doh! OF COURSE I DO.  So I take her down some stairs onto the lawn where we can sniff everything and run in zig zags and meet small children and help them with their treasure hunt and let them stroke my tummy and be hugged by them.  Best Day Ever People.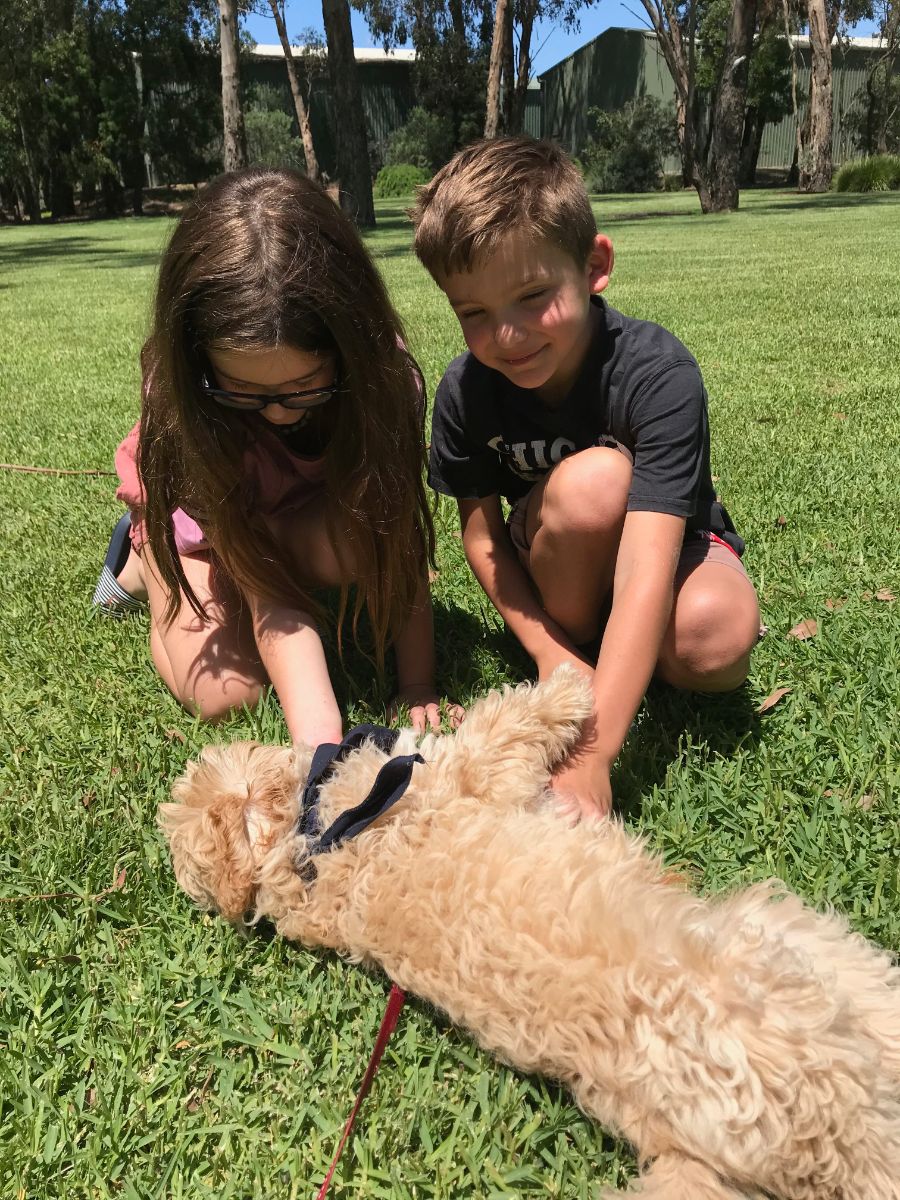 Helen and I go back to the table and she tells my pawrents where we're off to visiting this afternoon and they are really keen to get in the van and do more exploring so we go a few miles down the road to a tiny boutique cellar door called Maddens Rise on some of the finest terroir in the valley (see, I was listening) and we walk in and this lovely lady called Emma greets me and speaks Italian to me while she tickles my tum.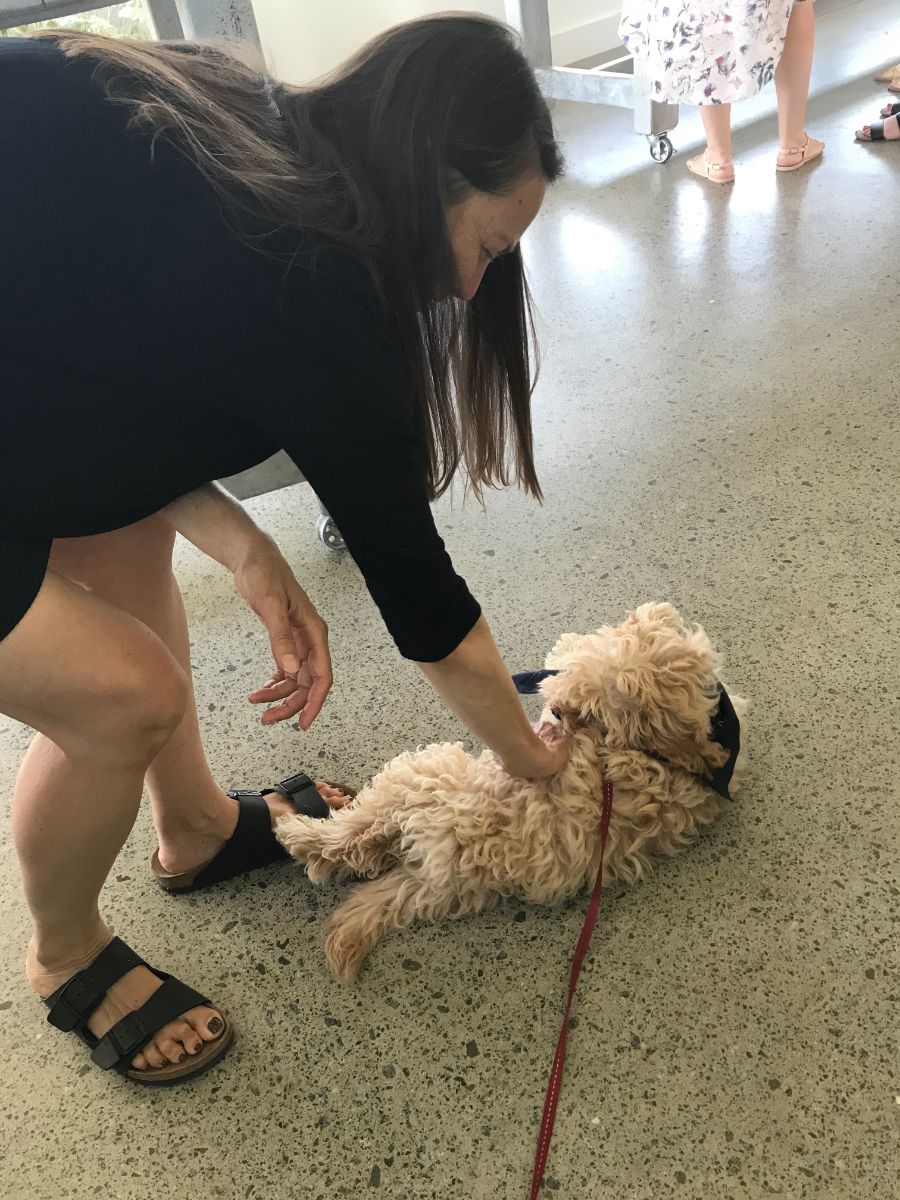 Now I have to clear this up – I'm not Italian, I'm merely named after a nice Italian waiter!  Also, neither of my pawrents are Italian, even tho they love Italy and keep going there and took Italian language classes for a year, but they love it when Emma says things in Italian – like when Emma sings Happy Birthday in Italian for my Papa as Helen brings out a cake that Jeff (the other half of Pooches & Pinot) has made for him.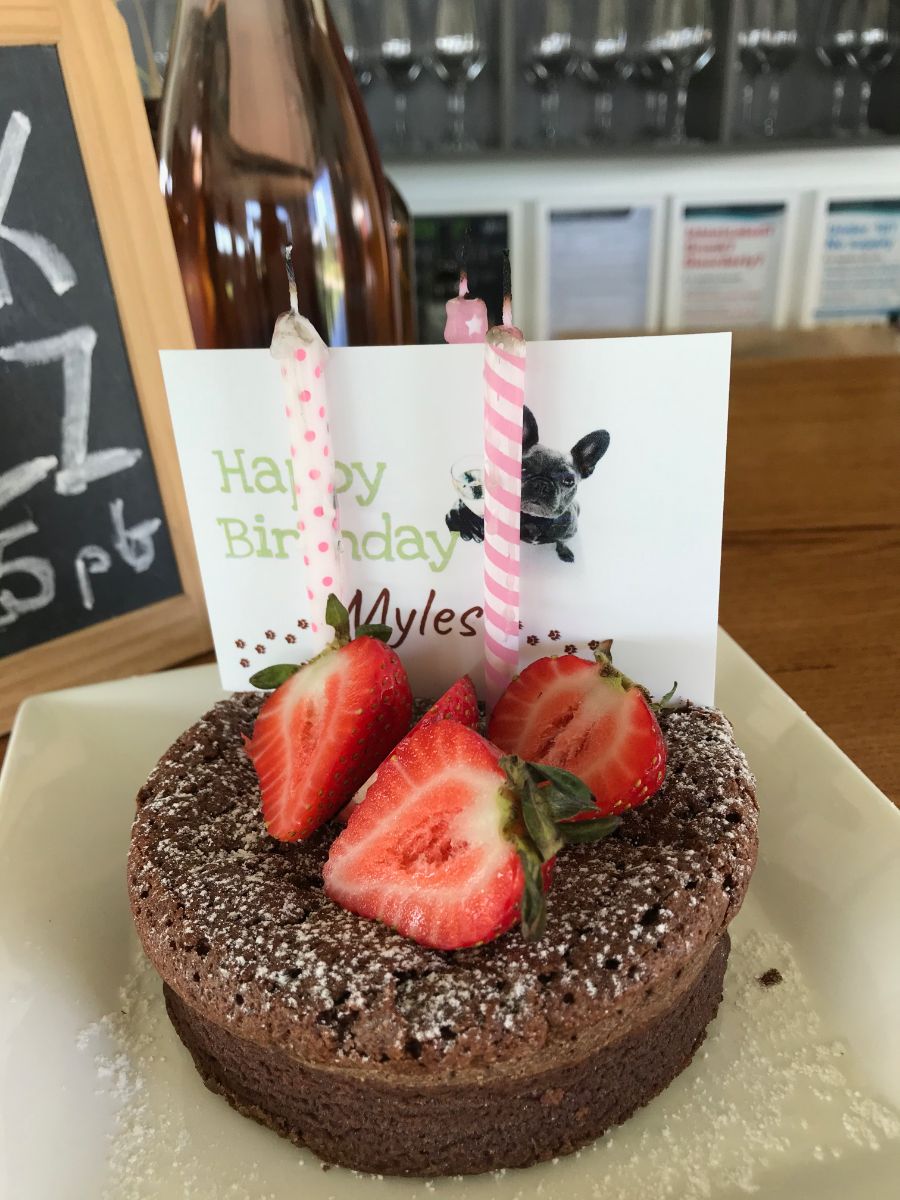 Papa's blown away.  As am I – it looks fab but I fear I won't get any, as someone once foolishly said chocolate isn't good for dogs!  But guess what, once my dad has blown out the candles and Helen is cutting up the cake, I escape outside for an unsupervised run around and find this lovely lady who has a picnic spread out on the deck and she gives my Mamma some cheese to give to me – how did she know, I ADORE CHEESE?!?
So, as the pawrents eat choccie cake with strawberries and cream washed down with sparkling wine, I eat cheddar – YAY.  Everyone's happy.  A little girl called Isla plays with me and feeds me the cheese, and likes to hug me, so I hug her back til it's time to leave.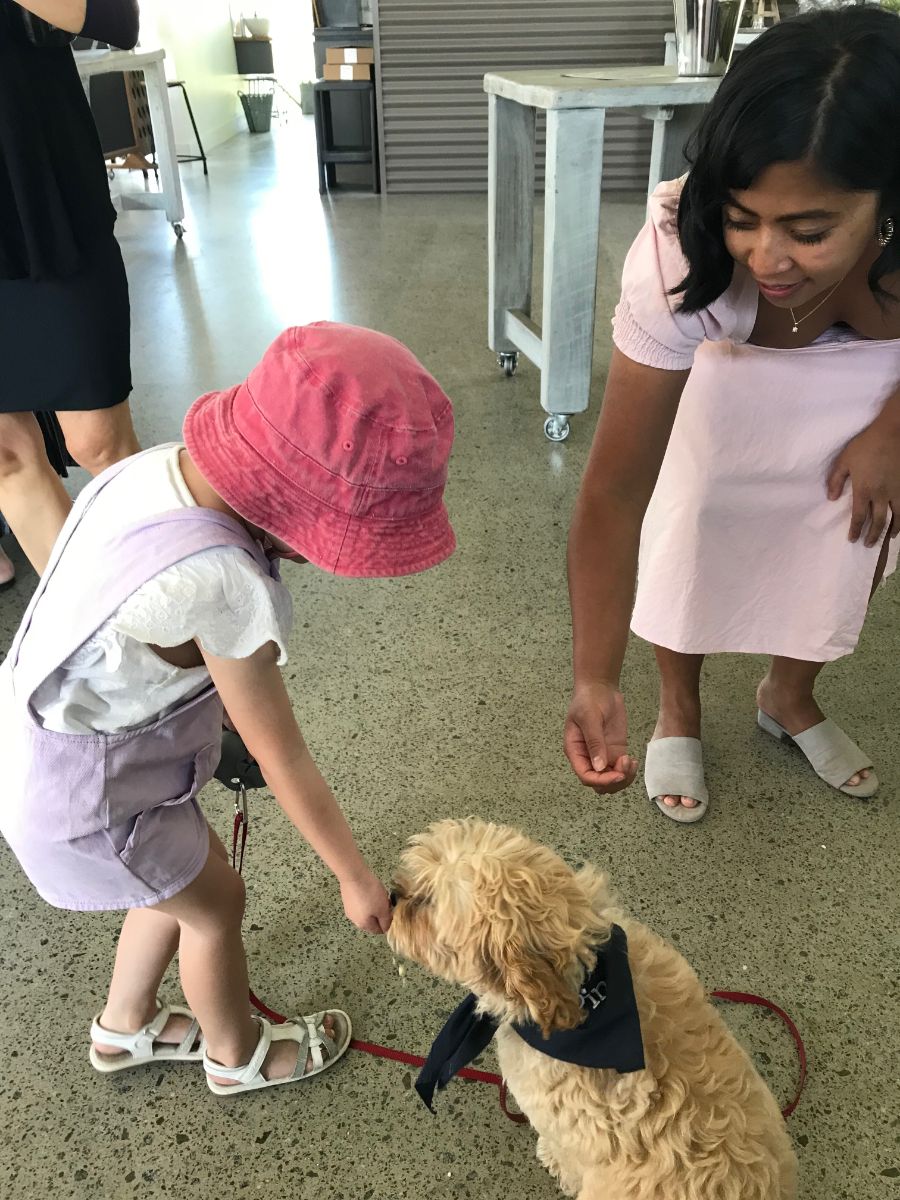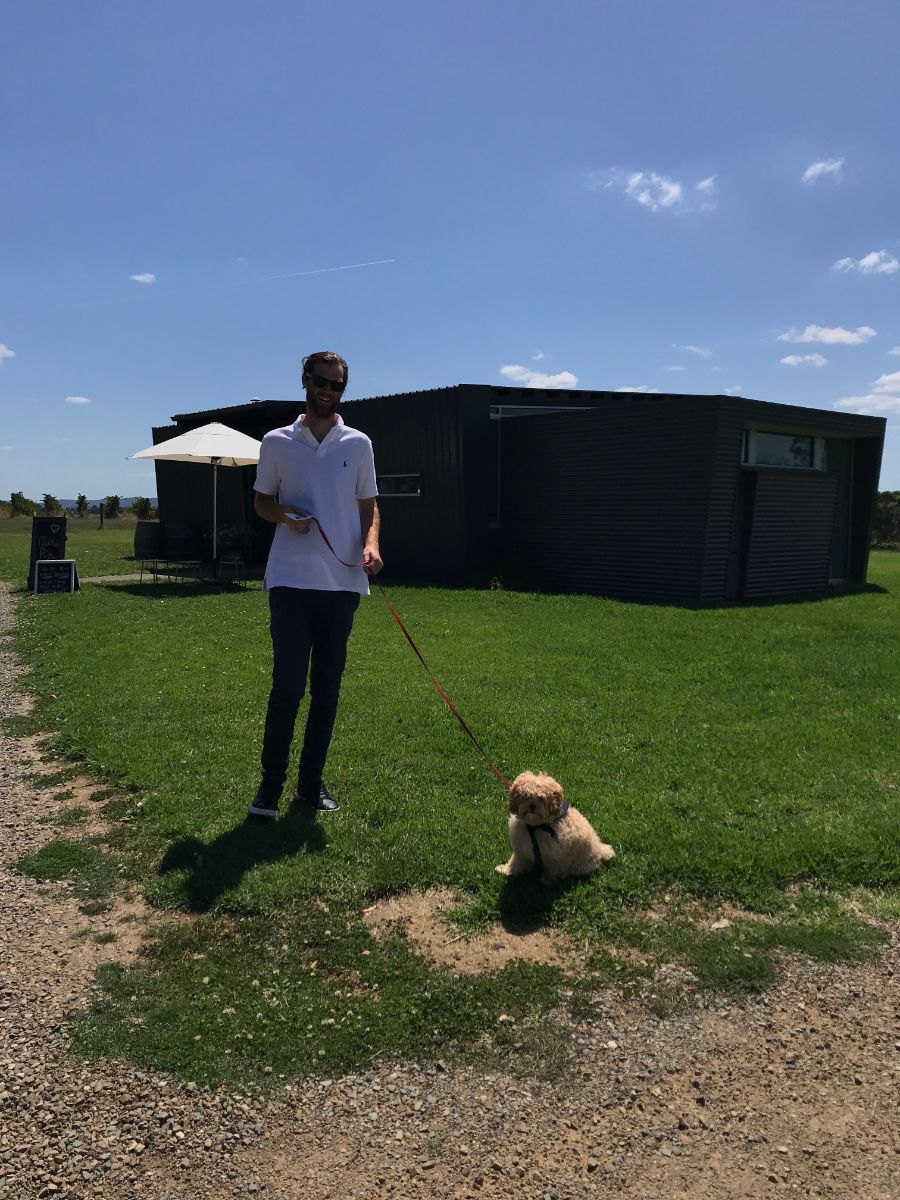 Next we head into Healesville so my alcohol soaked pawrents can drink some beer! I am fed Laila & Me dehydrated pilchards on the way there – first time I tried fish and I like it very much.  My pawrents will be buying these for me – Helen says how good for me they are – thanks Laila.  Then I tried the Lamb's Liver too and LOVED them.  My day just keeps on getting even betterer!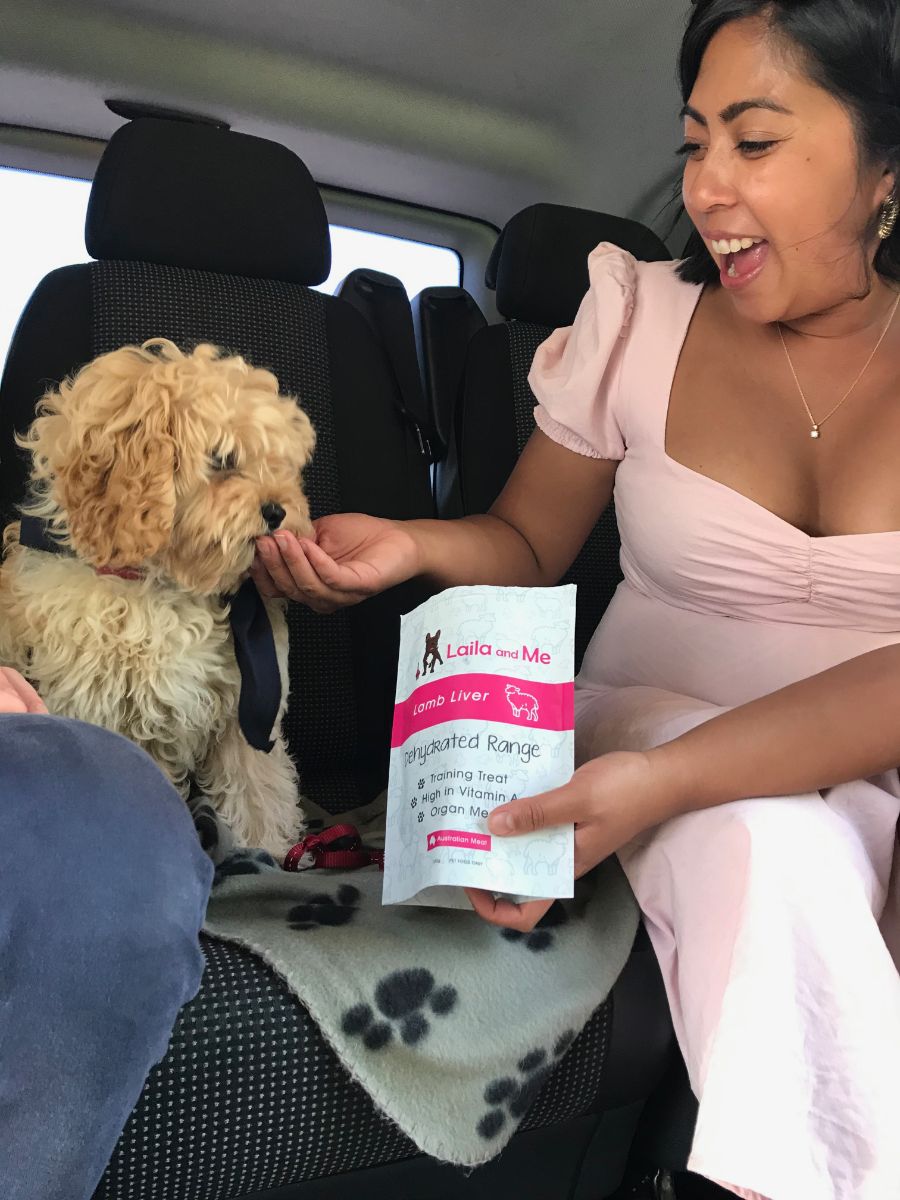 We go to Watts River brewery which is this really funky laid back craft brewery where dogs and children just cruise around and while my pawrents are up at the counter learning all about and tasting their different beers, I have a sniff around and have yet another drink of water.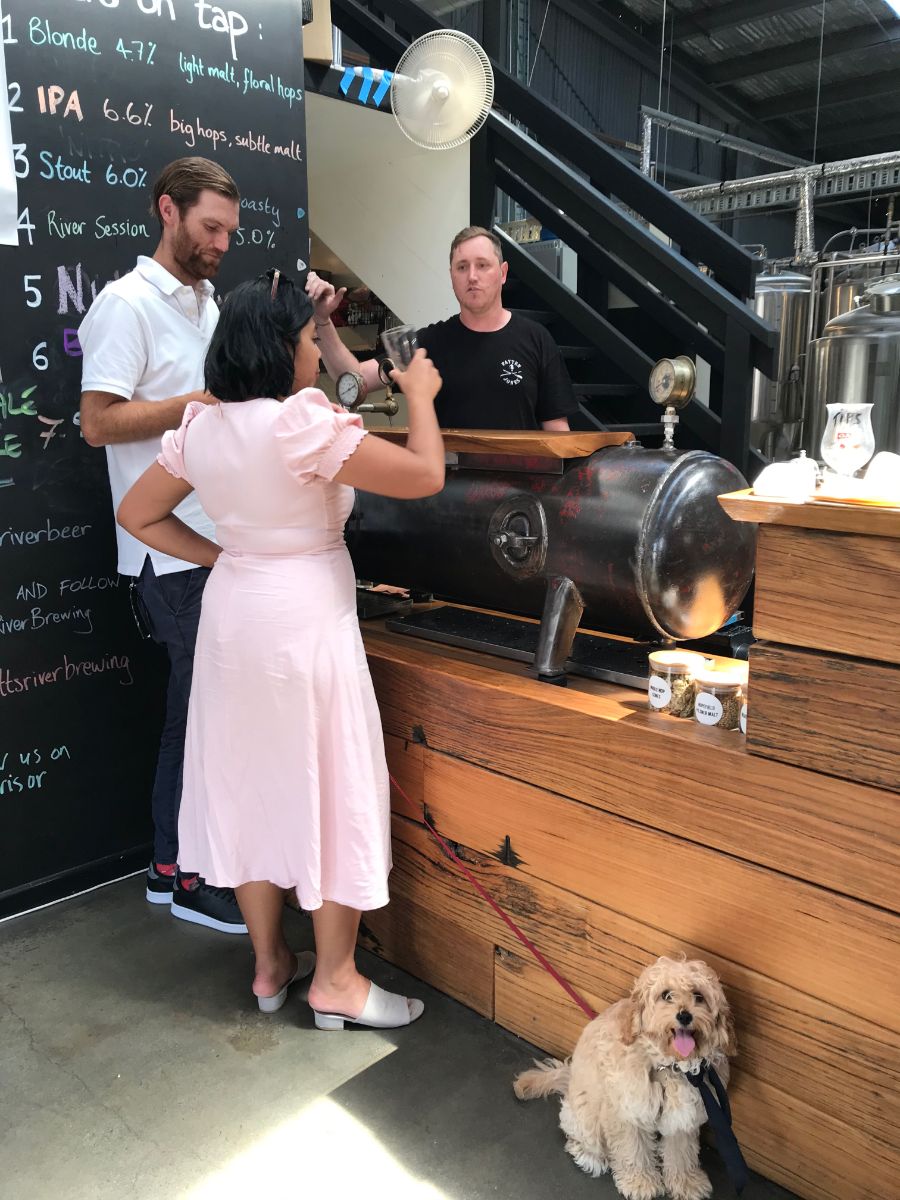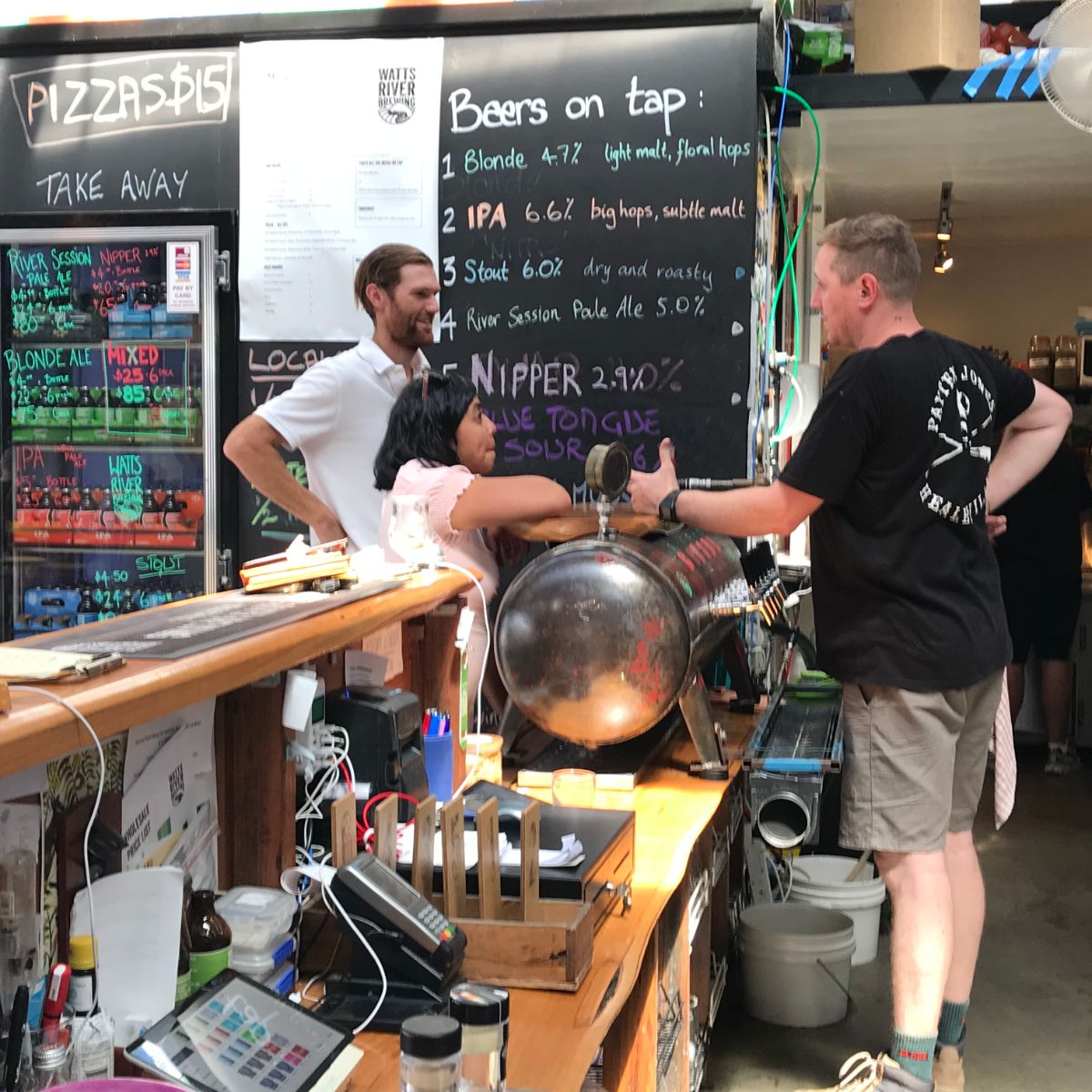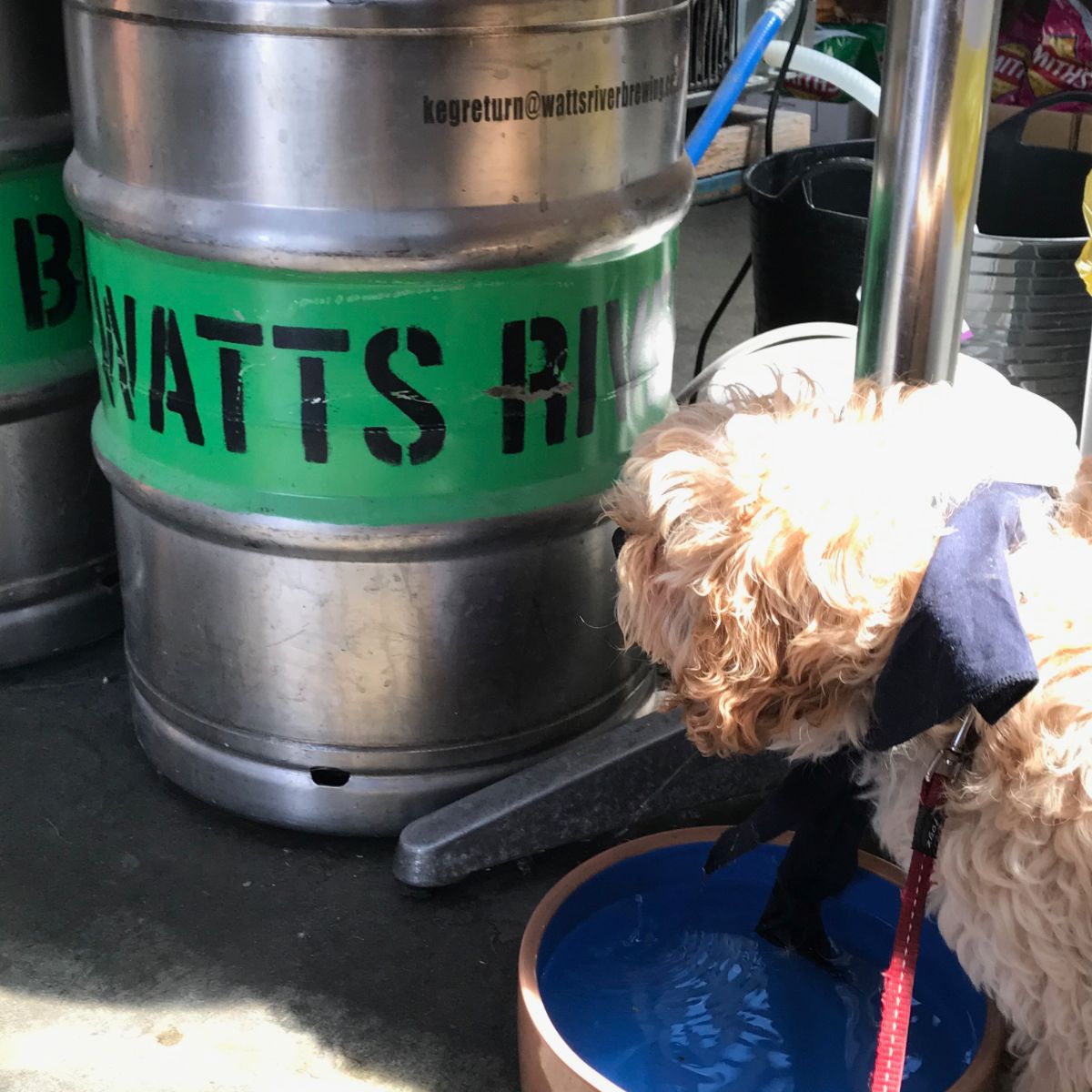 and before I know it I'm having a giant wee next to the beer barrel and it feels SO good.  I'm not good at weeing in public, but everyone's so relaxed and no-one minds and Helen gets a mop and my Mamma in her pretty pink dress does some quick housekeeping and we're all good and everyone's really proud of me for weeing and not in the van!
Helen buys us all drinks and we sit outside in the courtyard swapping stories and as I'm so young still, I don't yet have any destination wedding stories to swap, so I take the opportunity to lie and snooze under my Mamma's chair again, building up my energy again as I hear we're off to Payten & Jones next, Healesville's funkiest cellar door.
It's kind of round the corner so we're there in no time and it's too hot to be out in the courtyard so we check out the graffiti murals and then opt to stay inside the cool cellar door and I hear Helen promise the lovely French lady Manu that I will behave and not distract the other people who are meant to be listening to their wine tasting.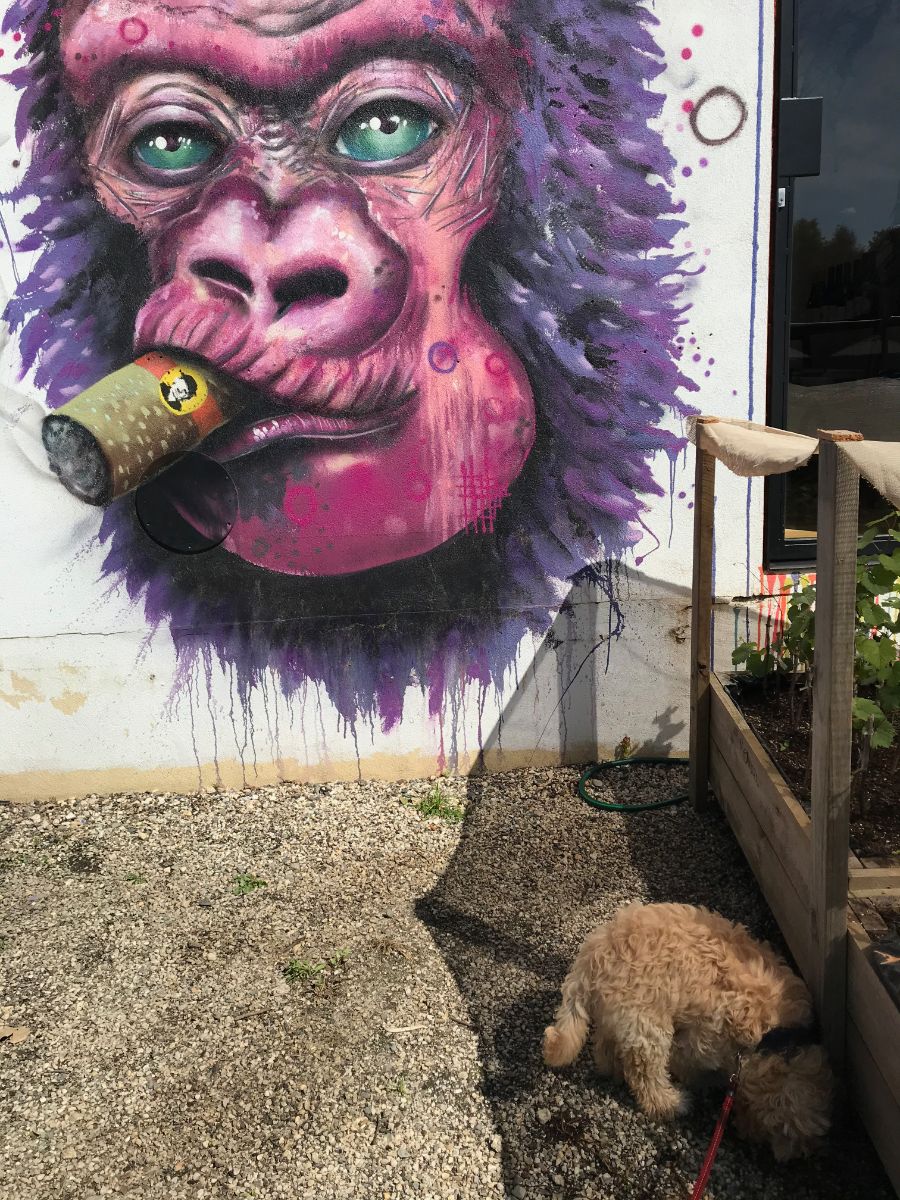 I try not to distract them but what am I meant to do, put on an ugly wig?!  I mean, I'm sweet and it shows.  But, I tried not to flirt with them too much.  But I sure as hell flirted with Ovarn and Kayla and Kayla asked Helen if she would let her have me and Helen said no she was having me and so then they decided they would dog-share and I would live with both of them part-time.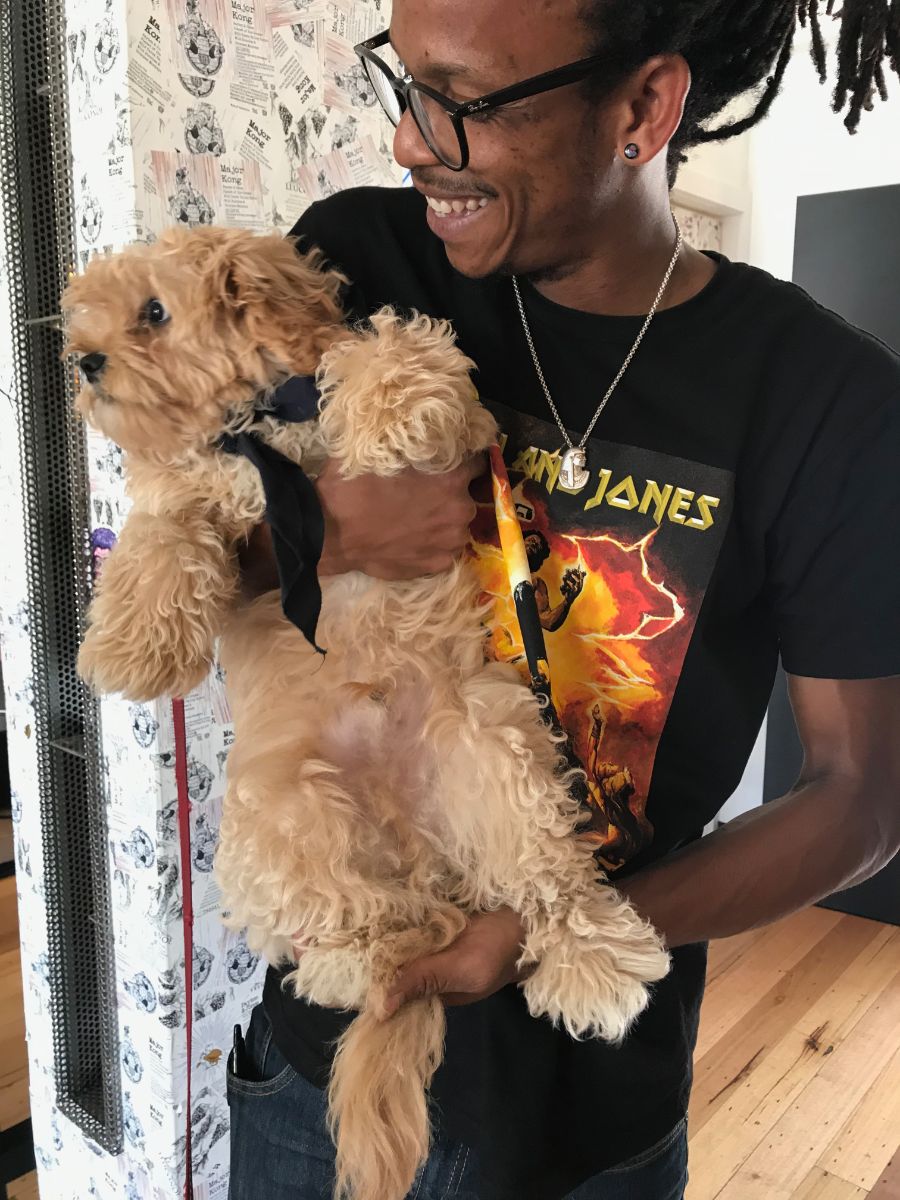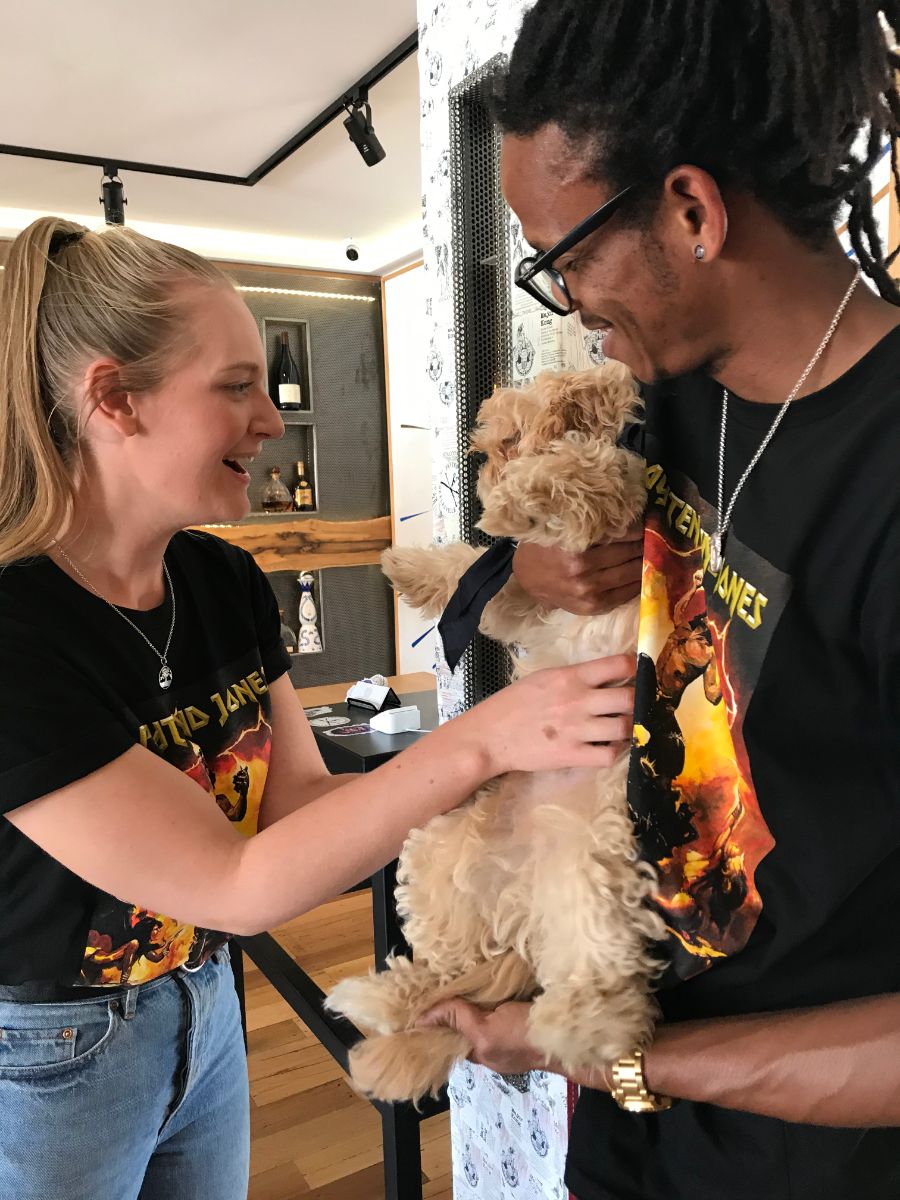 My pawrents seemed to be oblivious to all this plotting – too busy buying wine!  I just lay under the table – I haven't had a drop of booze to drink all flipping day, yet I'm the one 'under the table' – look at me learning to crack jokes!!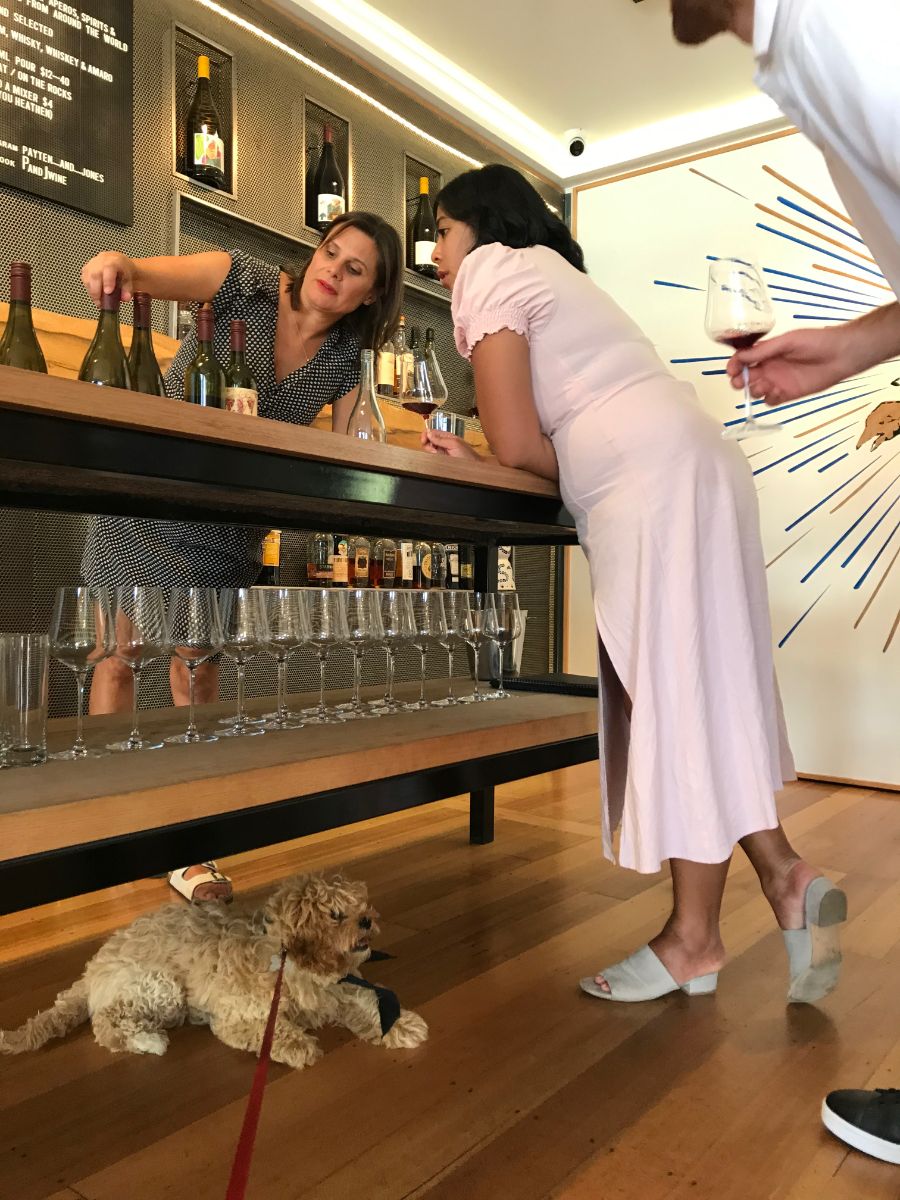 We then climbed back in the van and Helen drove us back to our house in St Kilda East.  My Mamma fell asleep on Papa in the back seat (she's old, this is what old people do) while I stayed wide awake and listened to Papa and Helen talk about a man they both know called Bob Dylan for an hour.  It was fascinating, apparently he's really old and can't sing and they love him!  Sounds rivetting!
Helen presented us with a bottle of Yarra Valley Shiraz with a dog on it and the rest of the birthday cake with all the cream and strawberries and we all hugged her goodbye.  My Mamma couldn't stop telling her how much she'd loved the day and thanking her for driving us home and saying we would be back to do it again with friends and Papa was so happy he couldn't stop grinning.  I love seeing them both so happy, even if they were plotting to drop me back into the house and then go off to yet another party!  I would normally go too, but I am seriously worn out and need some shut eye.
Do the tour – you won't regret it – we knew it was going to be good but had no idea just HOW good.  Helen had thought of everything and planned a really good itinerary for us and yes, even came and got us from our house!  Pretty VIP really.
As it should be for rock stars like my Mamma, Papa and irresistable me!